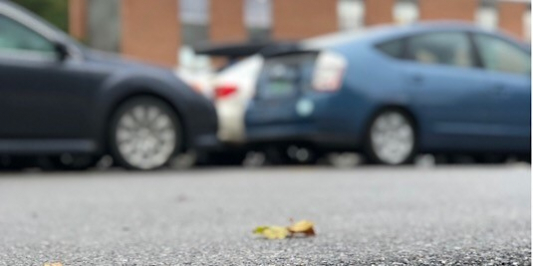 UVM campus lots are enforced for parking permits during restricted hours, which are clearly displayed on signs at the entrances to campus lots.
Student parking permits are defined as either residential (on-campus residence) or commuter (off-campus residence).
Eligibility for the purchase of a parking permit is determined by the student's local address and class status. Whether a permit is applied for on-line or in our office, verification of the address which is claimed on the student's application is necessary either by data imported by the Department of Residential Life, or in the case of commuters, by a copy of a signed lease or two pieces of mail addressed to the applicant.
Communication concerning parking announcements is always via uvm.edu email accounts. Parking options are always offered with deadlines, and first come first served.  Please monitor your email regularly for updates if you are interested in a parking permit for campus lots.
There are currently limited parking permits available for purchase (3rd and 4th year medical students ONLY). Plans for the release of additional types of parking permits for the 2020-2021 academic year are currently underway. Notification will be provided by an announcement at our website and an e-mail from our department. In the meantime, credits are in process for students with spring semester 2020 permits, beginning March 23, 2020, when students were encouraged to return home.  Please also note the announcements at our website for current information on parking enforcement and lot restrictions due to COVID.
PLEASE NOTE: All student applicants must complete the "Parking Permit Course" at uvm.edu/transportation/required-parking-permit-course. A copy of the Certificate of Completion must be attached to your application. 
2020-2021 Residential Student Parking Permit Information
Please regularly check your uvm.edu email account to monitor news of permit sales. It is expected that there will be two residential options available when on-line permit sales commence. The Offsite Lot parking permit will be offered first; campus resident lot parking permits will be offered later.
A new option, parking available at an off-campus location suited well for those with a need for intermittent access for a lower price:
All residence hall addresses are eligible
OR parking for three on campus residential parking areas:
Redstone Campus addresses (Wing-Davis-Wilks; Christie-Wright-Patterson; Simpson-Mason-Hamilton; Slade; Coolidge, Redstone)
and Athletic Campus addresses (Harris-Millis; Marsh-Austin-Tupper; University Heights; Living/Learning)
Trinity Campus addresses (Cottages; McAuley; Mercy; McCann; Hunt; Ready; Sichel; Richardson)
Jeanne Mance
Converse and Central Campus Residence Halls
2020-2021 Commuter Student Parking Permit Information
There are three types of student commuter permits: the Commuter Brown permit, the Commuter Evening permit and the Commuter Yellow permit.
The Commuter Brown permit allows parking during all enforced time periods in a business day; the Commuter Evening permit is limited and is restricted from parking in campus lots between 9 am and 1 pm. The Commuter Yellow permit is limited to 3rd and 4th year medical students ONLY.
Commuter Brown and Commuter Evening: Eligibility is Address Dependent
We are prohibited from selling Commuter Brown permits to students whose local address is within the area enclosed by the blue circle on the Commuter Evening Map (PDF). Campus is accessible to students who reside in this area by other means, including public transportation.  If your local address is within the blue circle you must select a "Commuter Evening" permit.
Proof of residency is required if applying for a Commuter Brown. Please be prepared to show a lease agreement or two CURRENT pieces of mail (example: current utility bill) with your name on them confirming residence when picking up a purchased permit or applying for a permit in our office. Please read the agreement carefully when you apply. It is a declaration you understand you must not misrepresent your local address in order to obtain a parking permit you do not qualify for.
Misrepresenting your address is a parking violation, with University sanctions, including, but not limited to, a referral to the Center for Student Conduct and your revocation of parking eligibility.
Commuter Brown Parking Permit
Commuter Evening Parking Permit (Gold) (limited daytime, evenings)
Commuter Yellow: Medical Students, 3rd and 4th Year, ONLY
In order to be eligible for this type of commuter permit, a student must have 3rd or 4th year medical student status.
Commuter Yellow  (3rd & 4th Year Medical Students)
Other commonly asked questions about student parking:
Are exceptions ever made for First Year students to have a parking permit?
The University may grant a waiver in particular circumstances, where a student has:
1) verified and eligible employment need; or
2) verified and approved medical need(s).
Both circumstances require application and verification of eligibility by University authorities. The waiver must be approved prior to parking the vehicle on campus; any citations incurred prior to approval are the responsibility of the student, as is where the vehicle will be parked if the waiver is not approved.
Waivers will not be granted for:
Housesitting
Illness (personal, friends, or family)
Status checks on relatives/friends
Continuation of hobbies
Unpaid internships
Volunteer work
Please follow the links below if you wish to pursue an application for:
I'm a transfer student. Is there anything special I should know regarding parking?
I live in Redstone Lofts/Apartments. May I purchase a parking permit?
Tenants or subtenants: UVM parking permits are not available for Redstone Lofts or Redstone Apartments tenants or subtenants.  This includes warehousing.  Please check with your individual main offices for your parking options.
Why do parking permit sales cease, when it looks like there are still empty parking spaces in UVM parking lots?
You may notice there are still empty spaces on campus (equally distributed in residential and employee lots). UVM is obligated to maintain 200 empty parking spaces by the City of Burlington in order to issue UVM construction permits for the expansion of the College of Medicine project slated to begin spring of 2020, in addition to the construction project at Gutterson (Athletics).  These 200 spaces are required with the intention that they will be available for displaced employees and students who already have permits to migrate to during each phase of construction.
Our parking challenges have required us to locate off-site resources for our parking needs, and fortunately, we were able to locate a lot on Pine Street available to us without a significant increase in fees or adding transportation at an additional cost.
What about Move In/Move Out? What is the plan for parking?
The Office of Residential Life reserves the right to specify days and times which students are scheduled to move into or return to residence halls. Traditionally, each semester, this is a Friday for Transfer and First Year students, and the following Sunday for Upperclassmen. Move-out officially occurs the last Friday of the exam periods for the Fall and Spring semesters. Parking Services supports this schedule.
Move-in
Please adhere to parking directions provided for move-in activity. This includes, but is not limited to, signs at lot entrances, notices placed on vehicles, and e-mail instructions by University departments.
You will not need a parking permit to park in regular spaces in residential lots on Move-In day. To be considerate of others, you must pull up to the residential hall as space allows, remove your items from your vehicle, and move to an alternate space away from the building. Anyone moving into a residential hall during a non-traditional time is encouraged to call the Parking Office for further instruction.
Parking officers will be checking to ensure emergency equipment has access through these areas, as well as the campus shuttle. Parking regulations are enforced as usual in non-residential lots. Enforcement starts on the first day of classes. Visit our website or call our office for extended hours for permit sales and permit sale locations.
Move-out
You will not need a parking permit to park in regular spaces in residential lots on Move-Out day.  To be considerate of others, you must pull up to the residential hall as space allows, load items into your vehicle, and move to an alternate space away from the building.
Parking officers will be checking to ensure emergency equipment has access through these areas, as well as the campus shuttle. Parking regulations are enforced as usual in non-residential lots.
Students will be receiving further information concerning the Move-Out process in their uvm.edu email account shortly.  We thank you for your patience as we consider all parking options available.  Any available parking will be designated by Parking Services.
I just need a place to store my car. Do you offer an option like that?
This would be considered "warehousing". We do not provide an option for "warehousing" vehicles on a regular basis, but will consider requests on a case by case basis. You must ask for availability by contacting the Parking Services office, and if approved, you must give Parking Services a contact person and phone number to someone who has keys to your vehicle in case it needs to be moved.
When approved, this special permit is sold at a price of $8 per day ($40 per week) and must be parked where designated by Parking Services.
Please note: Commuter permits are not intended for overnight parking.
Do I really need to bring my car to campus? What other options are available?