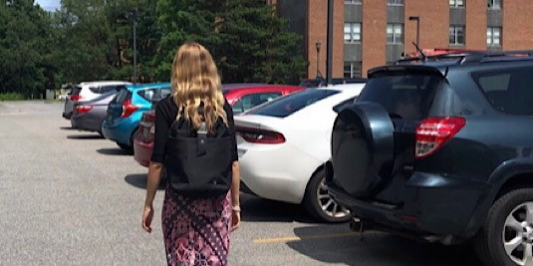 INFORMATION YOU SHOULD KNOW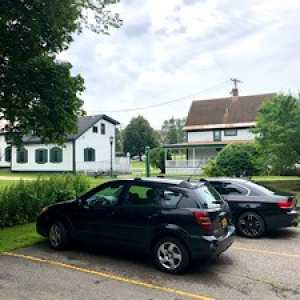 Parking Permits Go Virtual!  Parking permits are required, hangtags and stickers are no longer necessary. The license plate number of the vehicle you register for campus parking will serve as the key identifier for your assigned campus parking privileges. Read more regarding our important information about virtual permits.
TPS 001: Parking Permit Course All permit applicants must complete this course & submit a certificate of completion: you must have an electronic copy handy to attach to your online application when purchasing your permit.
Other important details:
You must monitor your University email regularly for updates and important notices. 
Parking options may contain deadlines, and in most circumstances, be available on a first come, first-served basis unless noted otherwise.
Eligibility to purchase a parking permit is determined by the student's local address and class status. Verification of the address on a student's application is necessary either by data imported by the Department of Residential Life, or in the case of commuters, by a copy of a signed lease or two pieces of mail addressed to the applicant.
Student parking permits are defined as either residential (on-campus residents residing in campus housing under the authority of University Residential Life) or commuter (off-campus residents). Please scroll through the sections below to identify the parking permit that applies to you, select the appropriate permit, and review the details.
Residential Student Parking Permit Information (Undergraduate & Graduate)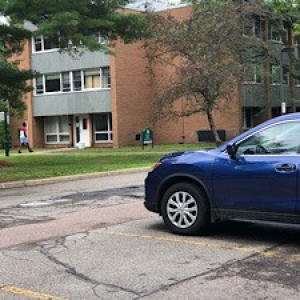 Commuter Student Parking Permit Information (Undergraduate & Graduate)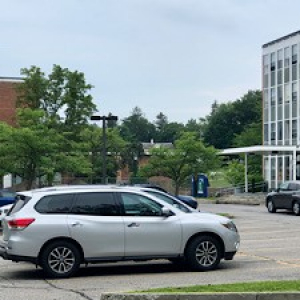 First, to determine which commuter permit is relevant, consider eligibility requirements, then select the link which applies to you below.
COMMUTER BROWN and COMMUTER EVENING: ELIGIBILITY IS ADDRESS DEPENDENT.  University policy prohibits us from issuing Commuter Brown permits to students whose local address is within the area enclosed by the blue circle on the Proximate Zone Map (PDF). Campus is accessible to students who reside in this area by other means, including public transportation. If your local address is within the blue circle you must select a "Commuter Evening" permit.
Proof of residency is required if applying for a Commuter Brown. Please be prepared to attach a lease agreement or two CURRENT pieces of mail (example: current utility bill) with your name on them confirming residence when you apply online. Read the agreement carefully when you apply. It is a declaration you understand you must not misrepresent your local address to obtain a parking permit you do not qualify for. Misrepresenting your address is a parking violation, with University sanctions, including, but not limited to, a referral to the Center for Student Conduct and your revocation of parking eligibility.
Click here for more information on the Commuter Brown Parking Permit (full day parking) (commuters residing outside of Proximate Zone)
Click here for more information on the Commuter Evening Parking Permit (Gold) (limited daytime, evening parking) (commuters residing inside Proximate Zone)
COMMUTER YELLOW: 3rd and 4th YEAR MEDICAL STUDENTS ONLY. In order to be eligible for this type of commuter permit, a student must have 3rd or 4th year medical student status.
Click here for more information on the Commuter Yellow Parking Permit (3rd & 4th Year Medical Students)
Other Commonly Asked Questions About Student Parking:
Are exceptions ever made for First Year students to have a parking permit?
University policy prohibits First Year students (living in residential halls) from registering a vehicle for campus parking. Waivers may sometimes be granted and authorized for eligible employment and documented medical need. Waivers must be approved and permits obtained before parking a vehicle on campus. Citations incurred prior to approval as well as where the vehicle is parked if the waiver application is denied are the responsibility of the driver of the vehicle.
Please note, waivers will not be granted for:
to look for employment, or to prepare for subsequent employment
work locations downtown Burlington and other locations accessible by public transportation
for employment less than ten hours per week
for jobs of "on-call" status (low and inconsistent hours)
for cash payments or non-taxed income (under the table)
convenience
housesitting
illness (personal, friends, or family)
status checks on relatives/friends
continuation of hobbies
unpaid internships
volunteer work
for employment that does not provide timely, consistent paystubs (for example, a position where you get paid at the end of a job)
See below for information and links to applications for First Year employment/medical waivers:
Verified and eligible employment need. These applications are reviewed and administered by Parking Services and require authorization and regular proof of hours to maintain eligibility. Once an First Year employment waiver is approved, parking permits are administered as follows:
Initially, a two-week probationary parking permit will be arranged for purchase, to allow time for a few paystubs to substantiate hours and establish an on-going monthly renewal schedule. After the probationary period, then monthly parking permits will be arranged/purchased as long as paystubs continue to prove ten (or more hours) weekly.
Employers may be contacted to verify on-going employment, or unclear/questionable employment situations.
If employment is terminated, parking permits will be deactivated five business days following the last day of employment. Failure to do so will result in citations, removal by towing, and may result in the suspension of future parking eligibility and referral to the Center for Student Conduct.
Link to Employment Waiver Application
Verified and approved medical need(s). Applications are reviewed and authorized by either Student Health Services or Student Accessibility Services. The waiver must be approved prior to parking the vehicle on campus; any citations incurred prior to approval are the responsibility of the student. If the waiver is not approved, the student is responsible finding alternate parking for their vehicle; campus parking requires a permit and is not available if a student's application is denied.
Link to Medical Waiver Application
I'm currently experiencing mobility issues and need assistance with accessing campus buildings. How can I arrange for a temporary accessibility permit?
Students with accessibility parking needs must apply with Student Health Services in order to be considered. Find the application at this link:
https://www.uvm.edu/health/short-term-accommodations
The application will be reviewed by staff at Student Health Services and, if approved, an email will be sent to the applicant and Parking Services authorizing the distribution of an accessibility permit. Parking Services is not involved in the decision, and is only able to provide what is authorized by Student Health Services.
I'm a transfer student. Is there anything special I should know regarding parking?
Eligibility for a campus resident (campus housing under the authority of Residential Life) parking permit requires that a student must have completed two full-time semesters and obtained a minimum of 24 credits at an institution of higher education. On occasion, transferable credits may not be on file with Parking Services which may result in rejected attempts to purchase a permit.
Do not worry! Most times you can provide us with your transcripts through the University's student portal or through records you may obtain from your previous institution of higher education. Please email parking@uvm.edu or call us at (802) 656-8686 for assistance, and be prepared to email copies of your transcript to us so that we may assist you.
I'm a graduate student, what parking options do I have?
All graduate students can purchase a commuter parking permit if living off campus (COMMUTER BROWN or COMMUTER EVENING, based on off-campus address), or a residential parking permit if living on campus. In addition, graduate students have access to the graduate student single use parking program. Want to learn about ways to get around campus and town without a car? Graduate student have access to a suite of alternative transportation programs.
I live in Redstone Lofts/Commons. May I purchase a parking permit?
Tenants or subtenants: UVM parking permits are not available for Redstone Lofts or Redstone Commons tenants or subtenants per University policy. This includes warehousing. Please check with Redstone Lofts or Apartments administrative office concerning your need for parking.
What about Move In/Move Out? What is the plan for parking?
The Office of Residential Life reserves the right to specify days and times which students are scheduled to move into or return to residence halls. Traditionally, each semester, this is a Friday for Transfer and First Year students, and the following Sunday for Upperclassmen. Move-out officially occurs the last Friday of the exam periods for the Fall and Spring semesters. Parking Services supports this schedule.
Move-in
Please adhere to parking directions provided for move-in activity. This includes, but is not limited to, signs at lot entrances, notices placed on vehicles, and e-mail instructions by University departments.
You will not need a parking permit to park in regular spaces in residential lots on Move-In day. To be considerate of others, you must pull up to the residential hall as space allows, remove your items from your vehicle, and move to an alternate space away from the building. Anyone moving into a residential hall during a non-traditional time is encouraged to call the Parking Office for further instruction.
Parking officers will be checking to ensure emergency equipment has access through these areas, as well as the campus shuttle. Parking regulations are enforced as usual in non-residential lots. Enforcement starts on the first day of classes.
Move-out
You will not need a parking permit to park in regular spaces in residential lots on Move-Out day.  To be considerate of others, you must pull up to the residential hall as space allows, load items into your vehicle, and move to an alternate space away from the building.
Parking officers will be checking to ensure emergency equipment has access through these areas, as well as the campus shuttle. Parking regulations are enforced as usual in non-residential lots.
Students will be receiving further information concerning the Move-Out process in their uvm.edu email account shortly.  We thank you for your patience as we consider all parking options available.  Any available parking will be designated by Parking Services.
Why do parking permit sales cease, when it looks like there are still empty parking spaces in UVM parking lots?
You may notice there are still empty spaces on campus (equally distributed in residential and employee lots). UVM is obligated to maintain 200 empty parking spaces by the City of Burlington in order to comply with construction permit requirements. These 200 spaces are required with the intention that they will be available for displaced employees and students who already have permits to migrate to during each phase of construction.
I just need a place to store my car. Do you offer an option like that?
This would be considered "warehousing". We do not provide an option for "warehousing" vehicles on a regular basis, but will consider requests on a case by case basis. You must ask for availability by contacting the Parking Services office, and if approved, you must give Parking Services a contact person and phone number to someone who has keys to your vehicle in case it needs to be moved.
When approved, this special permit is sold at a price of $8 per day ($40 per week) and must be parked where designated by Parking Services.
Please note: Commuter permits are not intended for overnight parking.
Do I really need to bring my car to campus? What other options are available?