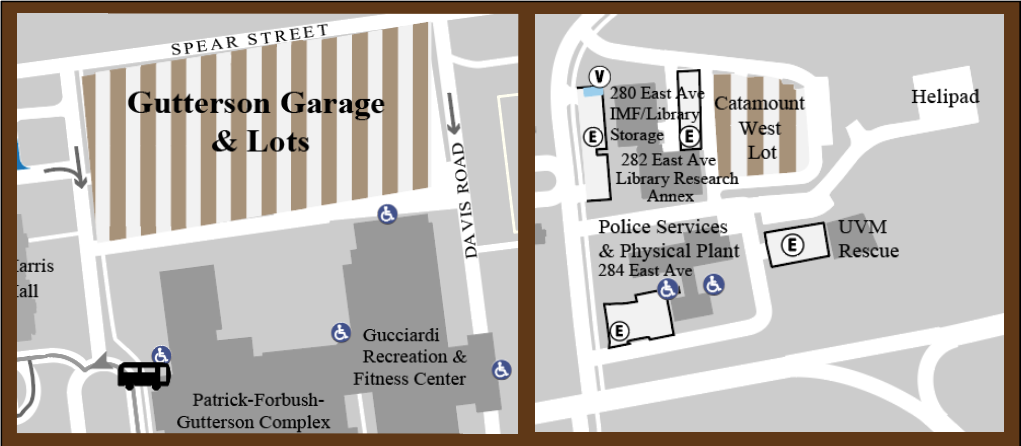 Permits must correspond with the lot restrictions as posted.
Your Commuter Brown Parking Permit allows you to park:
In Gutterson Garage and lots in the following locations: all valid, non-reserved, non-numbered parking spaces inside the garage and adjoining the garage;
Near UVM Police Services, where the signs at the entrances indicate "Catamount West Lot";
In lots marked "Faculty/Staff" on signs at the entrances to lots (but not those that also include the word "Resident") starting at 3:30 pm.
The Commuter Brown parking permit does NOT allow you to park:
In any lot designated "Faculty/Staff" weekdays between 7:00am and 3:30pm;
In a Pay-by-App/Parkmobile signed space.
In any residential lot, at any time.
Winter Parking Policy Reminder: No overnight parking on the top deck of the Gutterson garage between 11:00pm and 7:00am from November 15 through April 1. Check for posted "Lot Closing" signs indicating partial lot closure due to special events.
Pay-by-App/Parkmobile payment is acceptable for short-term parking for student in spaces with ONLY green and yellow labeled Parkmobile signs. See Pay-by-App web page for more information and pictures of student-appropriate Parkmobile signs/spaces. Citations may result if students utilize Parkmobile spaces that are designated for visitors/staff!