Greensboro Bend
Historic Preservation
Written by Lauren S. Sopher and Samantha Ford
"Buildings trigger memories and memories trigger stories."
—Mary Humstone
"We shape our buildings, and afterwards, our buildings shape us."
—Winston Churchill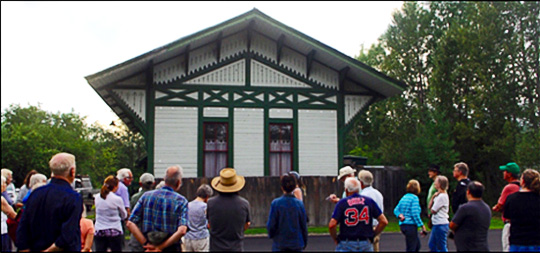 PLACE Program field walk "Greensboro Bend's Historic Gems" | Photo Credit: Lauren Sopher
What is historic preservation?
Historic preservation champions historic buildings that are well designed, expertly crafted, and reflective of the changing needs of our communities. These historic resources connect us with our past in meaningful ways and can be adaptively reused to fit modern needs. Historic preservation can meet a wide range of public goals, including small business incubation, affordable housing, sustainable development, neighborhood stabilization, job creation, promotion of the arts and culture, small-town renewal, heritage tourism, and economic development. Most historic preservation guidelines are established at the federal and state levels of government; it is up to local communities to promote and pursue historic preservation on the ground. Unfortunately, historic preservation efforts are often misunderstood as conflicting with present-day progress and civic development. Rather, it is an invaluable tool and community asset that balances old with new.
Source: Ford, S., & Jaouen, M. (2017). Historic Preservation 101. Jackson Hole Historical Society & Museum, 37(4).
What are character-defining features? Why are they important?
Historic preservation retains character-defining features; these features are specific elements of a building's structure that reflect its historic context or significance. Historic context is the role a particular building or structure played in the larger themes of history at its construction. Cultural values and trends influence architecture. Our buildings are a reflection of the priorities, ethics, and aesthetics of our ancestors. Historic significance is the relationship of the building to its context. Is it the first or only remaining example? Is there something about the construction or ownership that makes it stand apart from other buildings in the community? What would be lost if this building were to be removed?
Architectural Styles in Greensboro Bend
Greek Revival: circa 1825-1860
Gothic Revival: circa 1840-1880
Stick Style: circa 1860-1890
Shingle Style: circa 1880-1900
Queen Anne: circa 1880-1910
American Foursquare: circa 1900-1930
Background Information
This information on historic preservation comes from a pamphlet that was created by the authors, Lauren Sopher and Samantha Ford, as supplemental material to the field walk "Greensboro Bend's Historic Gems," led by Samantha Ford on August 15th, 2018. Sam is an alumna of the University of Vermont's Historic Preservation Graduate Program. The walk was co-sponsored by the Greensboro Historical Society and the Greensboro Bend Revitalization Initiative. The event was a part of the Greensboro Bend PLACE Program. The Greensboro Bend PLACE Program's goal is to expand the community's relationship with their surroundings through concurrent social and landscape analyses. Lauren Sopher included this work as part of her Master's of Science degree in the Field Naturalist and Ecological Planning Program at the University of Vermont.
---
Architectural Style: New England Barn

Silver Family Farm Barn | 189 East Main Street | circa 1860
Photo Credit: Lauren Sopher
Character-Defining Features
Cupolas
Doors located on the gable end are unique to the New England barn style
Milking shed addition, circa 1920s
Window orientation: few on original, multiple on ground-level addition
General
The first barn type to be built in New England was the English barn. It was usually 30'x40', with few to no windows, vertical plank siding, and two doors located on the eaves sides. The doors would allow a horse and cart to pull straight through the barn, without a need to turn around. In England, these barns functioned well in their mild winters without much snow. In New England, the snow presented a new challenge for this type of structure. Every morning, farmers were forced to shovel snow away from both doorways to access the barn. A new style emerged, the New England barn, where the doors were located on the gable ends, where the snow from the roof could not block access. These were modest barns without need for surplus storage. They serviced subsistence farms, which only need to produce enough to support a family through the winter. As roads and transportation corridors improved, selling surplus at market became more common. In the 1920s, new regulations for cleanliness marked a major change in barn construction. Concrete floors, windows for ventilation and light, and a separate milking parlour were now required. The old timber-framed English and New England barn styles were either lifted up to create concrete basements or given large additions where the new materials could be implemented. This barn demonstrates the changing landscape of Vermont farming culture. The original timber frame coexists with the later concrete flooring, with cupolas added for additional ventilation.
---
Architectural Style: Greek Revival and Queen Anne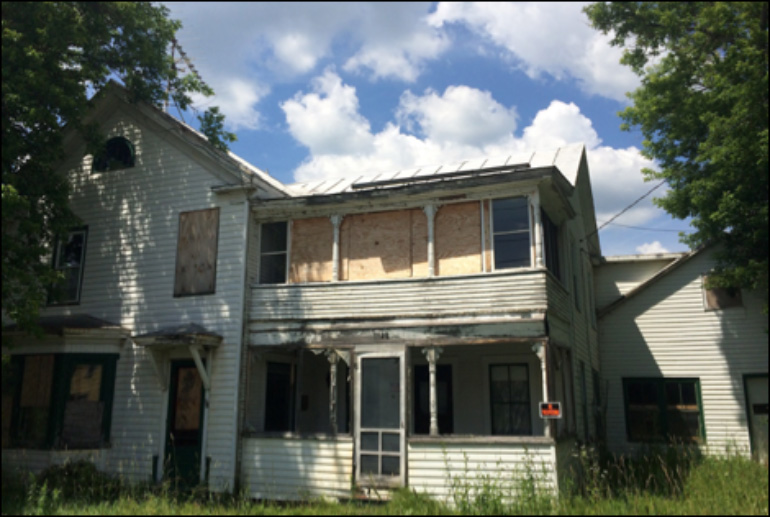 Gile Family Home | 1128 Main Street | circa 1850-1875
Photo Credit: Lauren Sopher
Character-Defining Features
Front gable orientation, eaves returns
Two-story porch
Bay window
Ell addition
General
This Greek Revival home incorporates a Queen Anne two-story porch and bay window. The front porch is a transitional space, where an individual can be both inside and outside. The columns are slightly decorative, meant to draw the eye to the porch without being ostentatious. These would have been a more expensive, but practical, choice for an industrious community. Preliminary research hints that this building may have housed Greensboro Bend's first library in the downstairs front room. The bay window and two-story porch would have made excellent reading locations and would have been immediately recognizable from the street.
---
Architectural Style: Greek Revival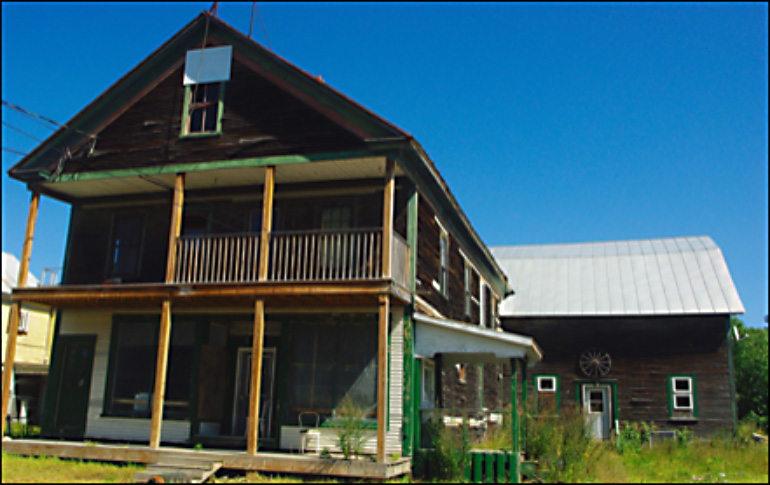 Pope Hardware Store | 1119 Main Street | circa 1892
Photo Credit: Lauren Sopher
Character-Defining Features
Large two-story front porch
Storefront: large windows flanking door
Projecting attic pediment with eaves returns
General
There is community value and energy in this building. It was built from local old growth wood, which can't be replicated. If the building were removed, the value and energy would be lost forever. This building closely resembles storefront architecture in Vermont (i.e., Vermont Country Store). The large two-story portico porch, large front windows, and extended attic pediment made this building stand out on the street. The porch offers respite from the elements for neighbors and visitors to exchange news or view goods within the store. This area is a natural community gathering space.
---
Architectural Style: Greek Revival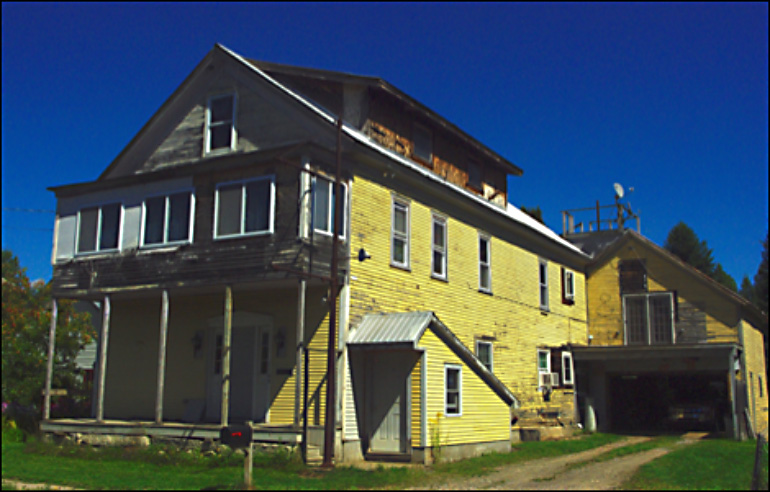 Davis' General Store | 1109 Main Street | circa 1893
Photo Credit: Lauren Sopher
Character-Defining Features
This building was modified to an extent where the original character-defining features are no longer defined. The large front porch was modified to enclose the upper story, the original storefront entrance and windows were removed, and a dormer was added onto the roofline. The original attic pediment remains the same, although the enclosed second-story porch makes the eaves returns difficult to see. This building now serves as a private residence and the original store-use is now hidden behind modifications necessary to change the function of the structure.
General
The store sold groceries and clothing; everyone bought woolens in the fall. In the early days, refrigeration in the store was by ice, in sawdust, which was cut from Caspian Lake. Farmers paid for their groceries with eggs; they charged 8 to 15 cents per dozen and shipped to New Hampshire and Boston. Warner Davis peddled papers for the store on the weekends; he got on the train in Greensboro Bend and also biked through Greensboro Bend, Stannard, and Walden. (From a Greensboro Historical Society interview with Warner Davis.)
---
Architectural Style: American Foursquare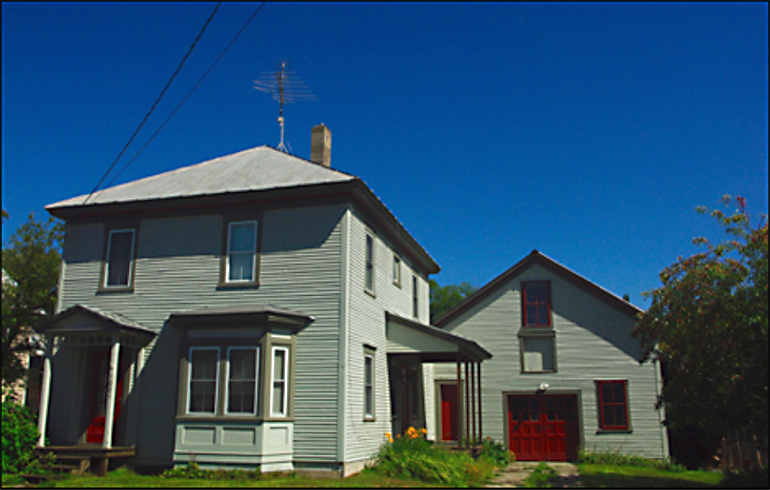 Devlin Family Home | 1089 Main Street | circa 1910s
Photo Credit: Lauren Sopher
Character-Defining Features
Hipped roof
Square massing
Absence of decoration
Eaves overhang
General
American Foursquare was a practical response to the high-styled Revival and Queen Anne houses that dominated the Victorian Era. Around 1900, the Foursquare became the most popular American architectural style. The style was known for its efficient use of space and absence of superfluous materials. It was sold in kits. Companies like Sears and Roebuck sold thousands of these house kits, with pre-cut materials and a thick instruction booklet. Options like bay windows, dormers, porch columns, and brackets could be added per the homeowner's individual taste. These extras would have cost additional money and would have been a message to neighbors that the owners had the resources to add extra elements.
---
Architectural Style: Greek Revival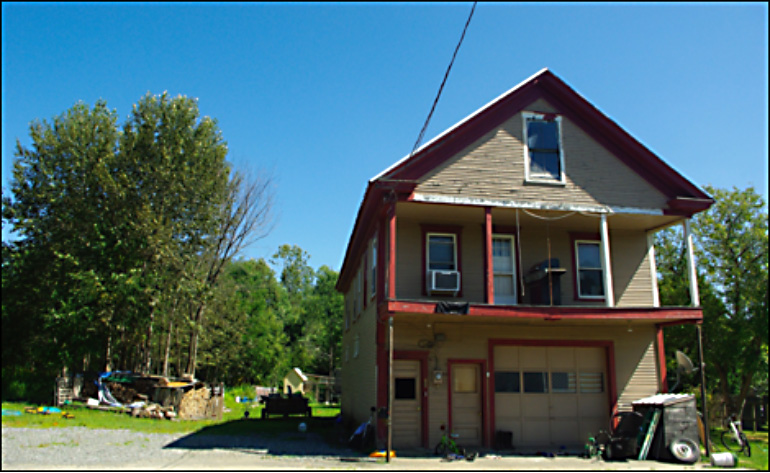 Tanguay Garage | 1075 Main Street | circa 1870s
Photo Credit: Lauren Sopher
Character-Defining Features
Large two-story porch
Projecting attic portico with eaves returns
Garage bay on first floor
General
Much like the Pope Store building, this building's use of a large, two-story portico porch and projected attic pediment demonstrates its use as a business. The large garage bay on the first floor demonstrates the building's historic use as a repair garage. The bay is located at ground level, without any steps or columns to support the second-story of the porch. Two metal poles on either end replace the original support columns; this was necessary to allow vehicle access to the front of the building. There is evidence on the north side of an original garage bay opening, but this was covered up with clapboard. The building currently serves as a residence and the garage is used for storage.
---
Architectural Style: Stick Style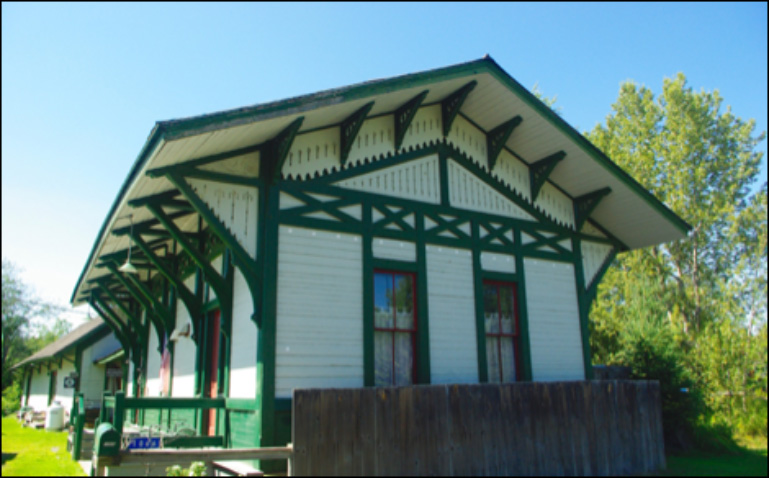 Train Station | 1066 Main Street | circa 1872
Photo Credit: Lauren Sopher
Character-Defining Features
Large eaves overhang
Stick-style brackets and pseudo-framing
Decorative stickwork frieze
General
Greensboro Bend's train station is the highest-style building on Main Street. Its original architectural features are highly intact and offer a true glimpse into what visitors in the 19th century would have seen. A train station is a building of function, this one built with a purpose to ferry passengers and goods in and out of Greensboro. The building is highly decorated, with many superfluous materials that do not serve a structural purpose. The people of Greensboro Bend wanted to make a statement about their community in this first-access-point for most visitors. This is also the only remaining intact train station on the St. Johnsbury and Lake Champlain Railroad. The interior also retains a high level of integrity—few changes have occurred to the original features.
---
Architectural Style: Greek Revival, Gothic Revival, and Queen Anne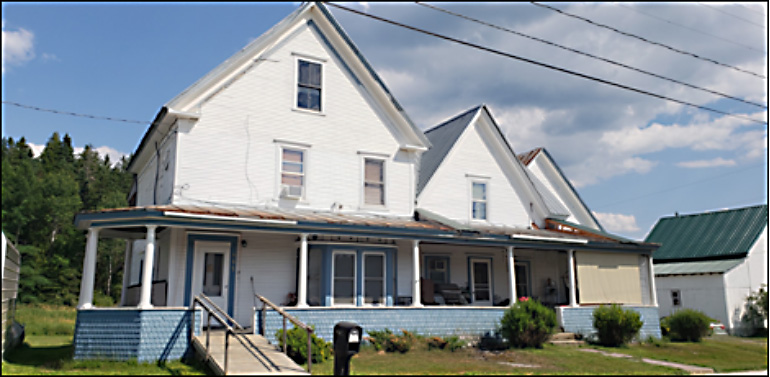 Queen Anne Blue & White | 905 Main Street
Photo Credit: Samantha Ford
Character-Defining Features
Greek Revival eaves returns and gable end orientation
Large wrap-around front porch with shingles and doric columns
Steep gothic gable on ell addition
Bay window and decorative trim
General
This house displays the changing national trends in architecture. The original Greek Revival gable-front block retains the eaves returns and corner pilasters. An ell was constructed to the south, with a steeply pitched Greek Revival gable dormer. A large Queen Anne-style wrap-around front porch, with turned doric columns, was added with decorative shingles. The bay window likely dates from the Queen Anne era, with decorative upper trim. Greensboro Bend's proximity to a railroad and local sawmill allowed this small rural village the ability to regularly update their architecture; materials were easily brought in and installed. This house displays the owners' ability to update every decade or so.
---
Architectural Style: Greek Revival, Gothic Revival, and Queen Anne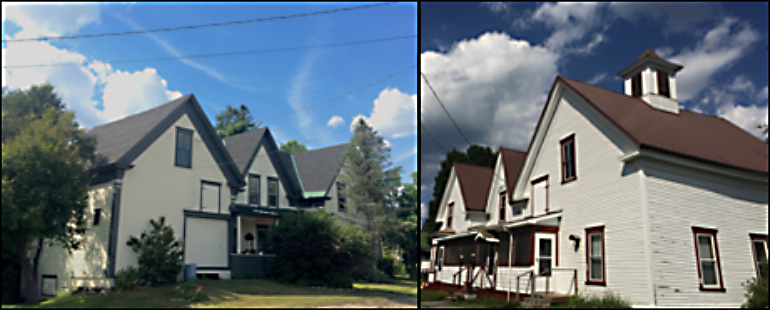 The "Twins" | 855 Main Street & 862 Main Street
Photo Credit: Lauren Sopher
Character-Defining Features
Steeply pitched central gable dormer
Shingle and columned front porch
Corner pilasters and eaves returns
Raking cornice in gable ends
General
These two buildings present mirror images of each other and stand out on Main Street for their similarities. Their transition from Greek Revival (gable-front orientation, eaves returns, corner pilasters, and details like raked cornices in the gables), to Gothic Revival (ell with steeply pitched gable dormer), to Queen Anne (shingled front porches) demonstrates the ability of the community to access goods from the nearby railroad. For such a small rural community, Greensboro Bend was able to reflect the changing national architectural trends, on par with metropolitan areas. Although these styles were applied in a vernacular form (practical rather than ostentation decoration), they offer a unique commentary on the priorities of the community. Bend residents demonstrated their wealth via the resources they used to decorate their homes. This was a thriving and bustling area, where attention to image was plainly visible.
---
Architectural Style: Cape Cod Classic Cottage

Cape Cod & Classic Cottage | Throughout Greensboro Bend | circa 1800s
Photo Credit: Lauren Sopher
Character-Defining Features
One to one-and-a-half story box or rectangle
Entrance on eaves-front
Corner pilasters
Entablature
General
The Cape Cod house is one of the oldest building forms in New England. Originating in Cape Cod, it was an easily transferable style to any New England farm. They were easy to construct, with straightforward internal plans. They are usually one, one-and-a-half, or one-and-three-quarters story buildings. Sometimes a three-quarter second story would include knee wall windows to let in more light. These buildings are known as Classic Cottages when Greek Revival style details are present. These include: corner pilasters, full entablature, sidelights flanking front doors, and Greek Revival door and window pediments. The front entrances were located on the eaves side, rather than the gable-front like most Greek Revival buildings. Greensboro Bend has multiple modified and intact Cape Cod and Classic Cottages. They were a functional farmhouse style and were easy to maintain. Older examples include a large, dominating central chimney that would have been the structural foundation for the house.
---
Architectural Style: Gothic Revival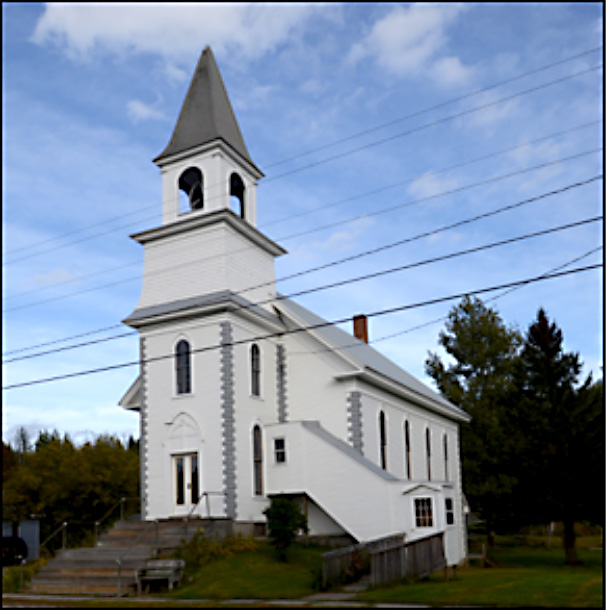 Greensboro Bend United Methodist Church | 813 Main Street | circa 1881
Photo Credit: Preservation Trust of Vermont
Character-Defining Features
Quoins
Gothic arch window surrounds
Hipped roof steeple
Shingle-cladded steeple base
General
This building follows traditional church style, with the steeple projecting from the end of the building. However, the use of quoins on the corners is highly unusual. Quoins are typically used on masonry structures, or on wooden structures meant to look stone-like. In this case, their use demonstrates the community's feelings of strength and permanence in this building.
A Game Supper was held in the church every fall, starting in 1923; it was a contest between the hunters in Stannard and Greensboro Bend as to who would produce the most game for the supper. (From a Greensboro Historical Society interview with Warner Davis.)
Resources