Dummerston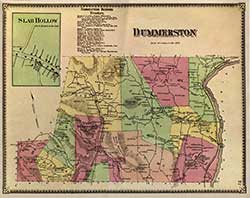 1869 Beers Atlas Town Map
When driving along Interstate-91 through southern Vermont, you might not even notice Dummerston is there. Yet if you slow down to explore a bit, you will begin to see that this inconspicuous small town, nestled between Brattleboro to the south and Putney to the north, is home to a diverse and fascinating landscape, deeply etched through time by the knives of natural and cultural history.
Sometimes referred to as "Little Connecticut" because of its shape, Dummerston covers roughly 30 square miles of land that hug the western flank of the Connecticut River, just a few miles north of the Vermont-Massachusetts border. Like many towns in the region, the topography ranges from low riverside valley to upland rolling hills. This variability in landforms has directly influenced the distribution of natural plant and animal communities, and consequently you can find fertile floodplain forests, upland hardwood stands inhabited by black bear, and rare assemblages of pitch pine all within a few miles of each other.
Topography and substrate have also had an impact on the social and economic development of the town over the course of the last two and a half centuries. In the east, the Connecticut River valley is dominated by fertile post-glacial sediments, which make for some of the richest farmland in the state, in addition to providing extensive sand and gravel resources. Heading westward the land rises into the foothills of the Green Mountains, upon whose rocky slopes orchards now dwell where once colonial hill farms survived. Cutting down through these hills are both small streams that just a century ago hosted a lively mill industry, and the powerful West River, which flows beneath a beautifully preserved wooden covered bridge. Humans, too, have carved into the hillsides in the not so distant past, extracting great quantities of rock from quarries such as those of Black Mountain.
Originally beginning with William Dummer in the early 18th century – one of a handful of the first colonial proprietors to purchase Massachusetts land grants that would later become Vermont – today the town is populated by almost 2000 people, scattered around the three cultural centers of East and West Dummerston, and Dummerston Center. As times continue to change, the town's demographics evolve as well; in addition to farming, current Dummerston residents earn their living as artisans, writers, professionals, and merchants, many of whom commute to nearby Brattleboro. Together, then, with the town's ongoing geologic and ecologic stories, local citizens weave vibrant threads of diversity into the tapestry of Dummerston's past, present, and future.