About the PLACE Program
In these times of economic and environmental challenges that are impacting the way we live – the ease with which we travel, eat, communicate – it is critical to look at the ecological potential of the local landscape. Our mission is to promote a sustainable relationship between people and their local landscapes by engaging community residents in exploring, understanding, honoring and celebrating the natural and cultural features that contribute to their town's character. Mitchell Thomashow writes, "People are typically interested in understanding who they are in relationship to where they live. By exploring the places that are most important to them, they are most likely to take an interest in the human and ecological communities of those places" (Bringing the Biosphere Home: Learning to Perceive Global Environmental Change, 2002). In other words, those members of a community who have learned about their surroundings have invested in them, developing a stronger sense of place and ownership. They will more likely take a role in sustaining and improving their place.
The goals of the PLACE Program are to:
Encourage exploration and understanding of the local landscape by providing an engaging and accessible framework for residents to learn more about their town's natural and cultural heritage


Showcase local knowledge and the efforts of individuals and organizations involved in local landscape stewardship and interpretation


Facilitate the integration of place-based learning into schools by providing local educators with information, resources, and curriculum development support


Support an informed and participatory community visioning process that builds upon an integrated interpretation of town landscapes and their transformation through time


Provide meaningful service-learning opportunities for graduate students involved in landscape analysis


Strengthen the sense of community identity and the connection between the past, present, and a sustainable future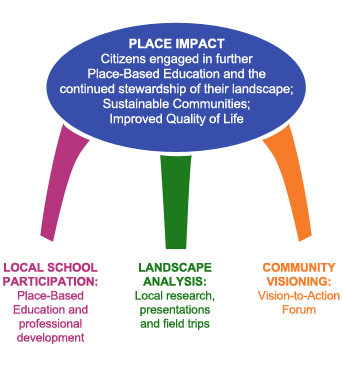 There are three core parts of the program that have come together to hold up these common goals: local schools and place-based education, landscape analysis, and community visioning. These core components of the PLACE program are the legs of the stool; they support a common goal of enabling sustainable communities and improving residents' quality of life. Each part is distinct and crucial to the program.
The PLACE program merges the distinct yet complementary characteristics of each of these conceptual elements in the design and implementation of a community outreach program focused on the community-landscape connection. These program components are used to inform the development of a civic engagement process tailored to the opportunities and issues particular to each community. Explore the Engage Your Community section for information about how these core components work on the ground in a PLACE community.