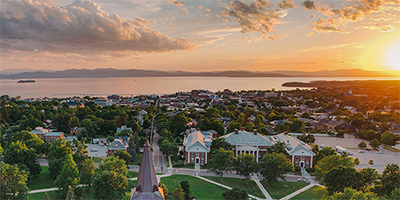 UVM offers a vibrant, inclusive community for Jewish students, faculty, and staff. Opportunities to connect in a variety of settings and organizations—religious, scholarly, and recreational—extend across the campus and into the Greater Burlington community.
This page is intended to serve as a reference for those who want to learn more about opportunities to explore, connect with, and celebrate Jewish life at UVM, and to provide information about resources the university has employed to combat antisemitism, to support our Jewish students within our diverse campus community, and to promote Our Common Ground values.
Student Engagement Opportunities
 
A home away from home where all are welcome no matter their background or affiliation. Provides religious, educational, social, and recreational programming for Jewish students.
A collaboration between Hillel and Residential Life, the Exploring Jewish Culture Program fosters students' broader and deeper understanding of what Jewish life can look like, including exploring their passions and how they connect to Jewish life.
Provides a safe environment where students can explore what being Jewish means to them, building Jewish experiences that are meaningful, relevant, and accessible and creating opportunities to engage their peers in Jewish life. 
The Interfaith Center fosters reflection, spiritual practice, education, and community building and provides programs, resources and events throughout the academic year.
Student Life supports clubs and programs that help students find friends and build community with peers while exploring a range of interests, identities, and activities. Students wishing to establish new clubs are encouraged to contact the Director of Student Life, Lina Balcom.
Student Educational Opportunities
 
The study of the Holocaust examines a range of issues, such as antisemitism, racism, xenophobia, militarism, homophobia, and the formation and functioning of stereotypes. Several courses and an academic minor in Holcaust Studies are offered at UVM.
Jewish Studies examines Judaism not only as a religion but as a civilization with deep roots, and as a culture encompassing a rich tradition in language, literature, philosophy and religion, customs and ritual, art, music and film. The Jewish Studies program offers an interdisciplinary Jewish Studies minor.
Middle East Studies tackles issues of definition, region, geography, religion, language, politics and political histories that span Greek and Roman empires to post-revolution Iran and beyond. The Middle East region is a kaleidoscope of religions and languages, defining the part of our world where East meets West. The program offers a Middle Eastern Studies minor.
UVM also offers popular language courses in Hebrew. Our faculty in these programs and across many other disciplines are committed to constructive debate in the classroom and support students in their exploration of new knowledge and greater understanding of the historical issues underpinning Judaism, the Israeli-Palestinian conflict, and the importance of faith traditions and practices in different religions.
Curricular enhancements planned for Fall 2023
We are instituting the Intergroup Dialogue model for conversation to improve the ability of students, staff, and faculty to engage in classroom conversations that support learning, raise self-consciousness, and ensure empathy. We are developing a three-credit course in the College of Arts and Sciences and developing trained peer mentors in Intergroup Dialogue, to support conversation outside the classroom; a cohort of faculty and staff have been trained in this model and our Division of DEI is collaborating with the Center for Teaching and Learning to support developing inclusive pedagogy using the principles of intergroup dialogue. We will be developing co-curricular activities around intergroup dialogue in the learning communities.
We have instituted a new general education requirement in global citizenship.
Professional Development Opportunities
 
DEI strives to make their work accessible, affirming, and action-oriented to help ensure excellence is inclusive of everyone. DEI is leading academic and administrative units across campus in a strategic planning process to ensure policies, programs and strategies are in place to achieve inclusive excellence. The division offers University-wide programming and educational opportunities that build inclusivity in higher education and also acts as a consultative resource to support the needs of individual units on campus.
The Division of Diversity, Equity, and Inclusion and the UVM Interfaith Center regularly offer programming and dialogue for students across religious sects and on Judaism specifically. This spring they offered, among other programs, a student-focused forum featuring local leaders from multiple religious communities and a special forum for our campus community called "Antisemitism 101: The Basics and How They Relate to Life at UVM" with Rabbi David Edleson from Temple Sinai in South Burlington. A panel of religious leaders in the community is also being planned for this semester.
The Miller Center promotes scholarship, education, and public awareness related to the Holocaust. The Miller Center hosts many public events at the university, including the annual Raul Hilberg Memorial Lecture and the Miller Symposium,which are important intellectual forums for leading scholars from around the world. The Miller Center promotes scholarship, education, and public awareness of the events that brought about, constitute, and continue to issue from the Holocaust, and its annual Bulletin provides valuable information about the work of this important asset of the College of Arts and Sciences. The Director of the Miller Center has committed to highlighting the historical and current context for antisemitism in their educational offerings and will provide education and research opportunities for students, faculty, and the community to explore the complexities around these issues. The Provost's Office will ensure there is campus-wide communication around these educational offerings.
Bias Training
UVM faculty, staff and students participate in required, annual training to recognize, address, and prevent bias incidents.
Educational Resources
UVM accesses educational resources and training through the American Jewish Committee (AJC) and the Anti-Defamation League (ADL). Faculty, staff, and senior leaders are encouraged to use resources and learn from materials that address antisemitism:
Reporting and Addressing Bias Incidents
 
University leaders work with multiple safety and support areas and programs to ensure students, faculty, and staff know how to report bias incidents and provide space for those directly impacted to be heard and to receive supportive resources tailored to the situation.
When a report is submitted, the Office of Affirmative Action and Equal Opportunity (AAEO) will take the following steps:
Review the report and determine whether Discrimination, Harassment, and Sexual Misconduct or other university policy is implicated;
Conduct initial outreach to the individual who submitted the report to seek additional information and/or make them aware of their options, including process referrals for potential policy or legal violations when appropriate; and
In partnership with other campus offices, offer supportive measures to individuals impacted by a reported bias incident or incident of discrimination, harassment, or sexual misconduct.   
AAEO is hiring an Equal Opportunity Outreach specialist to specially provide outreach to those who have filed a bias, discrimination, or harassment report. A bias education and resource team is being formed that includes multidisciplinary representation from DEI, Student Affairs, Legal and Employee Relations, Communications and faculty and student representatives. This team is developing a campus-wide consistent vocabulary and philosophy of living and working in community with one another, as well as what a supportive and educational response looks like, consistent with One UVM and Our Common Ground.
We are also developing a new reporting portal to simplify and unify our reporting mechanisms ranging from student conduct to sexual violence to bias reporting.  A variety of reporting tools and forms are being replaced by a single landing page and unified form to lower barriers to reporting
Recent and Continuing Actions in Support of UVM's Jewish Community
 
Senior university leaders have been meeting with members of our campus community, with a focus on student engagement and support, connection with Jewish community leaders and representatives from Burlington and within Vermont, and communication with prominent national organizations who have graciously offered their time and counsel.
There will always be more we can do to ensure that the UVM community is inclusive of everyone. Some specific examples of meetings that have occurred that have led to meaningful actions include:
UVM leaders have met with Jewish students to better understand their experiences on campus related to their Jewish identity. Meetings generated numerous ideas for improving prevention, education, and training focused on ending antisemitism. These ideas are currently being turned into new programs and offerings.

UVM's Office of Institutional Research and Assessment has collaborated with Jewish students to explore this year's campus climate data and conduct charrettes to assess the comfort and safety of students who publicly express their culture, identity, ethnicity, and religion. This effort led to several recommendations and actions regarding curricular needs in our D1 and D2 courses, student sponsored university-wide events celebrating Jewish traditions, a re-examination of our anti-retaliation policy, gathering Jewish student input on the Jewish Life website, forming a Jewish Student Club, among others. Faculty Senate will be revisiting our Diversity 1 and Diversity 2 courses to assess content needs across marginalized groups, including religious groups. Policies are being re-examined and updated. Jewish students are meeting with our webteam to improve the Jewish Life website. Jewish students have connected with Student Life to establish a Jewish Student Club that will create opportunities for campus wide celebrations and support from SGA.

UVM leaders have participated in national and international meetings to learn more about combating antisemitism on college campuses and how to support those who experience it. Conversations with Jonathan Greenblatt, Director of the Anti-Defamation League, and multiple leaders at AJC, and Hillel International have contributed to our evolving knowledge of the existence of antisemitism and its impact on our Jewish community. We continue consultation with local, regional, and national organizations to discuss greater engagement between UVM and their organizations in the interest of combating antisemitism and ensuring an inclusive experience for Jewish students at UVM.

The Provost , DEI, and Student Affairs co-hosted conversations with Hillel, the Interfaith Center to discuss Jewish students' individual and collective experiences at UVM.

The UVM Hillel board was briefed by senior leaders on recent actions and plans (pdf) for supporting our Jewish community and with recent updates to the board on current actions.