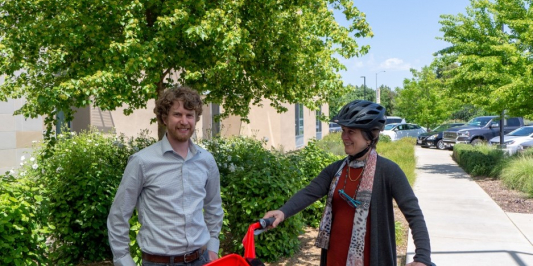 TRC Sends Dr. Aultman-Hall off on Sabbatical and Welcomes a New Director
On January 6, Dr. Lisa Aultman-Hall departed UVM to spend the spring semester at the University of California Davis where she will continue her research on intercity travel behavior and also work to build a sustainable aviation research collaborative. Lisa is an Associate Director of the National Center for Sustainable Transportation (NCST) which is led by UC Davis and which has supported her research on long distance intercity travel since 2013.
On January 16, Dr. Greg Rowangould, a new transportation faculty member in the Department of Civil and Environmental Engineering, accepted the Directorship of the UVM Transportation Research Center.  The TRC team is grateful for the interim leadership of Lisa Aultman-Hall, Glenn McRae and Mandar Dewoolkar in the last 5 years. Greg shares Lisa's passion that the TRC's work should promote well-being in Vermont and beyond by conducting impactful research, managing innovative outreach programs, and supporting UVM student education. Watch for the TRC to continue engaging with local and national stakeholders on the transportation challenges of small and rural communities, transportation sustainability and climate change solutions, and promoting equity and social justice in transportation policy and investment decisions.
PUBLISHED 1-29-2020