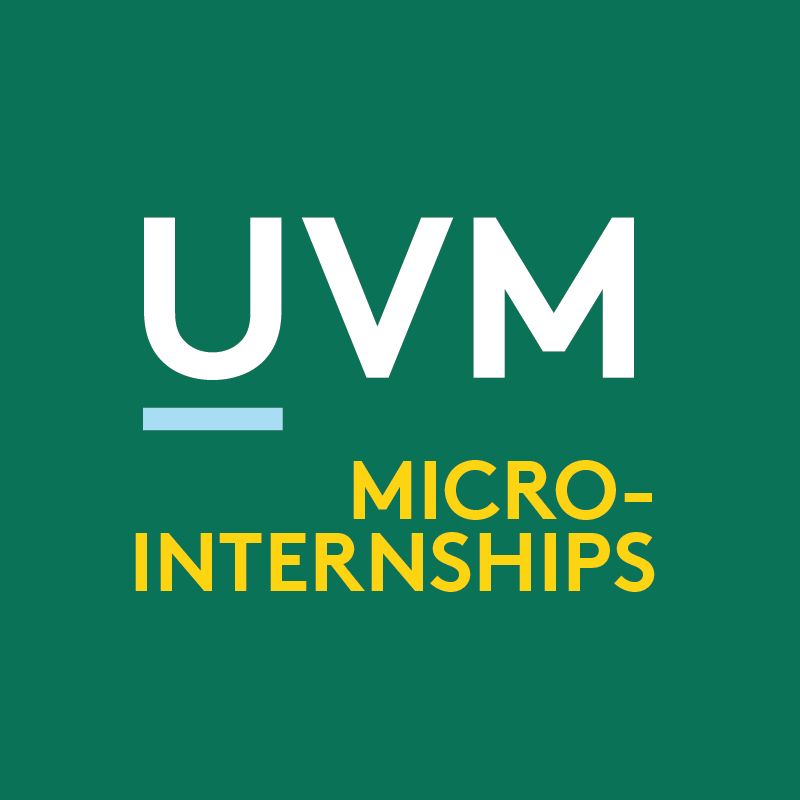 Local businesses are the heart and soul of Vermont and serve as an ideal place for UVM students to gain experience, build their networks, and launch their careers. 
In partnership with Vermont Center for Emerging Technologies and the Vermont Small Business Development Center, the UVM Micro-Internship Program identifies local startups, small businesses, and nonprofit organizations with specific project needs, supports them through the process of posting their projects, and markets these paid opportunities to UVM Students.
What is a micro-internship? 
A micro-internship is a short-term professional assignment offered by a company or organization. Unlike traditional internships, these paid projects can be offered at any point during the year, typically range from 5 - 40 hours of work, and are due to be completed within a week to a month from the time they are posted. Micro-internships are used by a range of companies who are looking to increase their talent pool and accomplish specific deliverables across departments - including sales, marketing, technology, HR, and finance. 
Micro-Internships are facilitated via the Parker Dewey platform, which connects students - called Career Launchers - with companies and organizations in need of support. 
How will micro-internships benefit my company? 
Micro-internships give teams the resources they need to complete projects that are vital to the organization's success.
For departments with open positions, micro-interns provide immediate on-demand support while building a pipeline of diverse talent for the host company.  
Parker Dewey will handle your HR needs, easing the administrative burden by handling payroll, legal, etc. 
Hosting micro-internships will increase your access to a diverse array of students. As flexible and paid experiences, these projects enable students from a wide range of backgrounds to participate. 
Micro-internships provide a way for UVM alums to connect with current students. Give your time and expertise back to our community while showing students how their classroom experiences connect to their career.
How do I get involved? 
If you are a Vermont start-up, small business or non-profit organization that seeks talent to complete short-term projects, contact Amanda Van Vranken to learn more about this unique opportunity.
The Career Center partnered with Parker Dewey to help enhance talent sourcing and candidate selection for micro-internships, and we look forward to working with local employers who will utilize our Parker Dewey page to create an account, post projects and search for prospective student candidates.
Note: Due to the ongoing public health concerns related to COVID-19, projects should be offered virtually.
If you have additional questions, visit Parker Dewey's FAQ page or consult their guide to hiring.