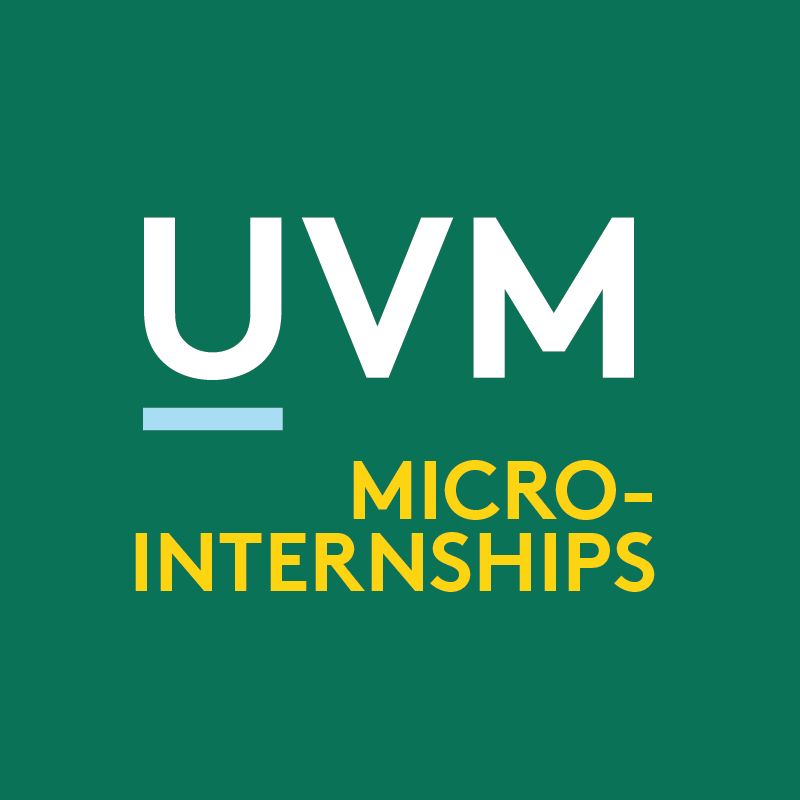 The UVM Micro-Internship Program, launched in partnership with Vermont Center for Emerging Technologies and Vermont Small Business Development Center, serves to connect businesses that have specific deliverables to UVM students seeking to gain experience and build their networks.
What is a micro-internship? 
A micro-internship is a short-term professional assignment offered by a company or organization. Unlike traditional internships, these paid projects can be offered at any point during the year, typically range from 5 - 40 hours of work, and are due to be completed within a week to a month from the time they are posted. Micro-internships are used by a range of companies who are looking to increase their talent pool and accomplish specific deliverables across departments - including sales, marketing, technology, HR, and finance. 
Micro-Internships are facilitated via the Parker Dewey platform, which connects students - called Career Launchers - with companies and organizations in need of support. 
How will micro-internships benefit my company? 
Micro-internships give teams the resources they need to complete projects that are vital to the organization's success.
For departments with open positions, micro-interns provide immediate on-demand support while building a pipeline of diverse talent for the host company.  
Parker Dewey will handle your HR needs, easing the administrative burden by handling payroll, legal, etc. 
Hosting micro-internships will increase your access to a diverse array of students. As flexible and paid experiences, these projects enable students from a wide range of backgrounds to participate. 
Micro-internships provide a way for UVM alums to connect with current students. Give your time and expertise back to our community while showing students how their classroom experiences connect to their career.
FAQs: Getting Started
The Career Center has partnered with Parker Dewey to help enhance talent sourcing and candidate selection for micro-internships. Employers utilize our Parker Dewey page to create an account, post projects, and search for prospective student candidates. If you have any questions, please feel free to contact Amanda Van Vranken. You can also consult Parker Dewey's FAQ page or their guide to hiring. Below, you will find more information about the concept of a micro-internship and the details of using Parker Dewey to host your opportunity.
Posting a Project
Micro-internships are facilitated via the Parker Dewey platform, which connects students - called Career Launchers - with companies and organizations in need of support.
Employers need to set up an account on Parker Dewey via the UVM Portal. Click on the dark green button Post a Micro-internship to be guided through the step by step process of creating an account and posting a project.
When you are posting your project, you will have the option to Limit to Specific Schools and/or Affiliations. To make your project only visible to UVM students, type University of Vermont and then select Add. This will allow your project to be "Featured" when students are evaluating opportunities on the Parker Dewey platform.
You can also choose to have your project open to all students nationwide. This will allow you to receive a larger number of applicants, and you can always sort applicants by a student's school when evaluating candidates.
We also invite you to use the UVM Micro-internship program logo when setting up your account to help drive UVM student traffic to your project. You can also choose to use your own company logo.
Writing Your Project Description
A brief description outlining the projects and deliverables is all that is needed. Parker Dewey has a variety of of sample project templates that can help you get started.
Note: Due to the ongoing public health concerns related to COVID-19, projects should be virtual at this time.
Searching for UVM Student Applicants
Parker Dewey is an open source platform. You can choose to make your positions only visible to UVM students to ensure that only Catamounts apply to your position. Alternatively, you may opt to broaden your applicant pool by allowing students from any institution to apply. When your position is posted, Parker Dewey will send a notice about your opportunity to all UVM students who are active on the platform. The UVM Career Center will also share relevant opportunities through a variety of communication channels.
Screening Applicants
Your company or organization is responsible for screening candidates. As your applicant pool grows, you will need to sign into your account and review applicants. Once you decide who you would like to interview or make an offer to, Parker Dewey will help facilitate the next steps of the paperwork process.
Average Time to Fill Positions
This can vary based on the specific position your are posting, but most projects are filled within a few days or a few weeks. As we build the presence of micro-internships on our campus, we hope you will consider building in a few extra days to your hiring timeline so that we can help get the word out to UVM students. Please contact us if you wish to discuss your projected timeline.
Payment Process & Timeline
There is no charge to post a project and your company will decide on what to offer as an hourly rate. Most projects pay between $15-$20 per hour, and 90% of the payment goes directly to the student. The remaining 10% goes to Parker Dewey to cover the costs of maintaining the platform and managing the hiring paperwork. Keep in mind when you set your hourly rate that the student's take home pay will be 90% of the rate you set. You will be billed when you select a student for a project, and payment will be held in escrow until the project is completed. Payments to students will then be issued by Parker Dewey at the end of the month.
Employer Support if Deliverables Aren't Met
Parker Dewey guarantees company satisfaction with a 98% success rate. Students usually surpass expectations and Parker Dewey vets projects to make sure they are appropriate (ie. not too advanced or just busy work). The Parker Dewey client success team is a point of contact for employer if the scope of the project changes or if deliverables are subpar. These are all handled on a case by case basis.