Research Professor ~ Director of the Proctor Maple Research Center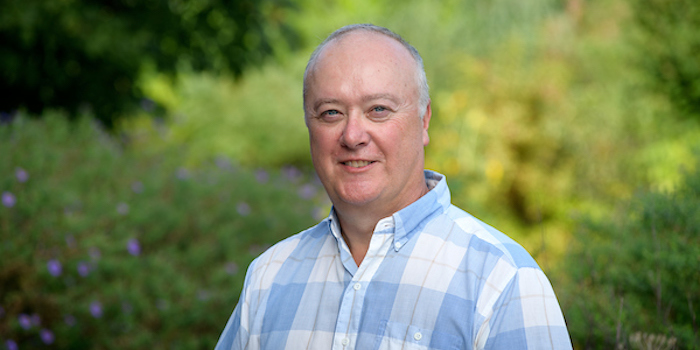 Contact
Office Location:
Proctor Maple Research Center
Areas of Expertise and/or Research
Forest physiological ecology, stress physiology
Education
Ph.D. 1991, University of Vermont
Research and/or Creative Works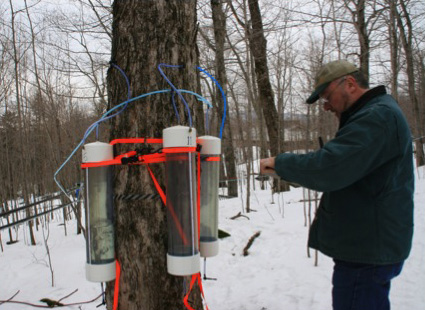 My research focuses on the physiological ecology of managed and unmanaged sugar maple forests. Recently my work has centered on elucidating the factors involved in maple sap yield during the spring, and ways to improve sap production through taphole/tubing sanitation practices and tubing vacuum transfer. This research has led to several changes in how maple syrup producers collect sap, and has also resulted in several patent applications, and one licensed product, the Leader Check-valve spout adapter.
In addition, research at UVM PMRC in collaboration with other scientists focuses on health of maple trees, how tapping of trees for sap extraction affects growth, chemistry of maple sap and syrup, fall foliage color development, and the effects of global change on timing and duration of maple sap flow.
Another interest is in the ecology of montane forests of the northeast, done through periodic vegetation surveys on Camels Hump mountain (Huntington, Vermont). These surveys originated in the 1960s, and formed the basis for multiple evaluations of acidic deposition impacts on forest ecosystems.
Publications
Heiligmann, R.B., M.R. Koelling, and T.D. Perkins (Editors). 2006. North American Maple Syrup Producers Manual. Ohio State University Extension Bulletin 856. 329pp.
Beckage, B., B. Osborne, D. Gavin, C. Pucko, T. Siccama and T. Perkins. 2008. An upward shift of a forest ecotone during 40 years of warming in the Green Mountains of Vermont, USA. Proc. Nat. Acad. Sci. 105: 4197 4202.
van den Berg, A.K., T.D. Perkins, M.A. Godshall, S.W. Lloyd, and M.L. Isselhardt. 2009. Metabolism off-flavor in maple syrup Part I: Identification of the compound responsible for metabolism off-flavor. Maple Syrup Digest 21A(1): 15-18.
Perkins, T.D. 2009. Development and Testing of the Check-Valve Spout. Maple Digest 21A: 21-29.
van den Berg, A.K., T.D. Perkins, M.L. Isselhardt, M.A. Godshall and S.W. Lloyd. 2009. Effects of air injection during sap processing on maple syrup color, chemical composition and flavor volatiles. Int. Sugar J. 111: 37 42.
Perkins, T.D. and A.K. van den Berg. 2009. Maple Syrup – Production, Composition, Chemistry, and Sensory Characteristics. pp. 102-144. In: S.L. Taylor (Ed.) Advances in Food and Nutrition Research. Volume 56. Elsevier, New York.
van den Berg A.K., Perkins, T., Isselhardt, M.L., Godshall, M.A. and Lloyd, S.W. 2009. Air injection into concentrated maple sap during processing: impact on syrup composition and flavor. Journal of the Science of Food and Agriculture 89: 1770-1774.
van den Berg A.K., Vogelmann, T.C. and Perkins, T.D. 2009. Anthocyanin influence on light absorption within juvenile and senescing sugar maple leaves – do anthocyanins function as photoprotective visible light screens? Functional Plant Biology 36: 793-800.
Perkins, T.D., B. Stowe, and T.R. Wilmot. 2010. Changes in Sap Yields from Tubing Systems Under Vacuum Due to System Aging. Maple Digest 22A: 20-27.
van den Berg A.K., Perkins, T., Isselhardt, M.L., Godshall, M.A. and Lloyd, S.W. 2011. Effects of producing maple syrup from concentrated and reconstituted sap of different sugar concentrations. Int. Sugar J. 113: 35 44.