What's Burning for You?
April — boxelders dangle yellow-green tassels over wet woods.  The last stragglers of the amphibian migration (often with help from their human allies) cross rainy roads to find their mates; peregrine falcons swoop above Lone Rock Point, guarding their nests. Queen bumblebees, miner bees, and cellophane bees are on the wing.
We of Field Naturalist Cohort AL have been as busy as those early bees. From preparing conservation tools and site assessments for local organizations and municipal agencies, to teaching, TAing, and leading public workshops, to preparing for field work in sites ranging from the city of Montpelier to the sagebrush sea, we've learned what FNEP alums mean when they talk about needing moxie in this field. As a team of five and as members of the much larger naturalist community, it sometimes feels as if we never sit still.
It was just 20ºF one December morning when the five of us, ensconced in our sleeping bags, gathered around a table to choose the theme for this issue. Our writing instructor, Josh Brown, supplied the front porch — and the coffee. As a light snow fell on the streets of Burlington, we put forth ideas: identity, hope, rewilding, ritual, release. A lot to cover, as usual. We needed one element to merge these early thoughts together.
Having all experienced the ecological grief, as well as the joy, that can come with being a naturalist, we realized that as readers we often craved something tangible to put the fire back into us. It was around our need to see and do the work of conservation that all of our curiosities coalesced. We had found our theme: hope through agency and action. 
Each of the pieces in this year's edition approaches this theme through a different lens. If despair looms, maybe it's time to try your hand at constructing a bat box. If the theme of extinction weighs heavy, consider planting a native tree in your yard. We hope you find reasons to crawl along the ground, scour the bottoms of vernal pools, stare into tree tops, and ultimately find actions that make a meaningful difference in your life and for the future of the planet.
We would like to end this note by appreciating the constant inspiration of our community. When surrounded by field naturalists, curiosity, wonder, determination, and optimism reign. It is this community that brings us the daily, weekly, monthly, and annual doses of hope that sustain us.
Happy reading,
Charlotte Cadow  & Hayley Kolding (Cohort AL '23)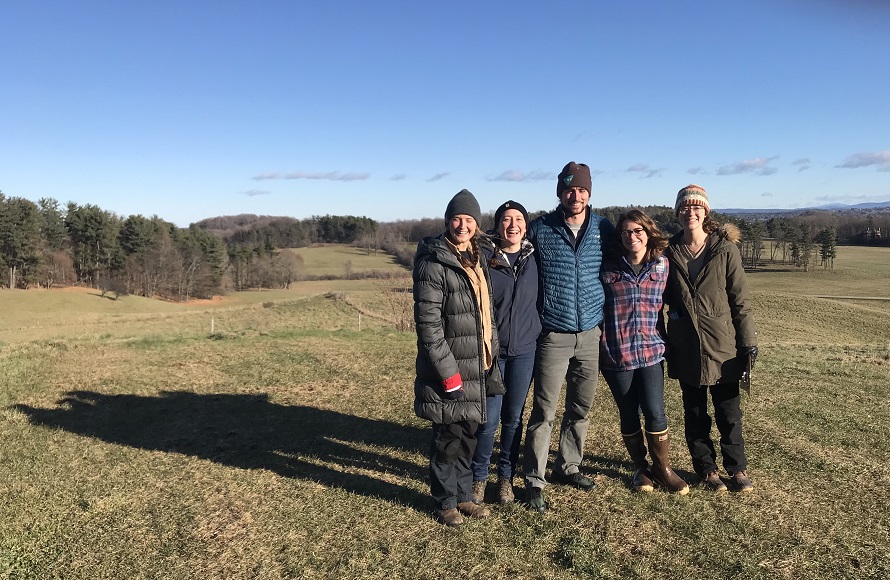 Cohort AL '23 in their natural habitat. (L to R: Charlotte Cadow, Sonya Kaufman, Dylan O'Leary, Erica Hample, Hayley Kolding)