After more than a year of social distancing and many online courses, University of Vermont graduates gathered at the UVM Athletic Complex for a series of in-person commencement ceremonies held Thursday, May 20, Friday, May 21 and Sunday, May 23. All ceremonies followed strict COVID-19 safety protocols and were broadcast live for graduates, family and friends joining virtually.
On Friday morning, President Garimella awarded Bachelor's degrees to more than 300 graduates of the College of Agriculture and Life Sciences under a bright and sunny spring sky. He awarded another 37 degrees to 33 masters and 4 doctoral students who studied in CALS during the Graduate College ceremony on Thursday evening.
In his address, Garimella commended the students for their exceptional achievements in a most unusual and challenging year.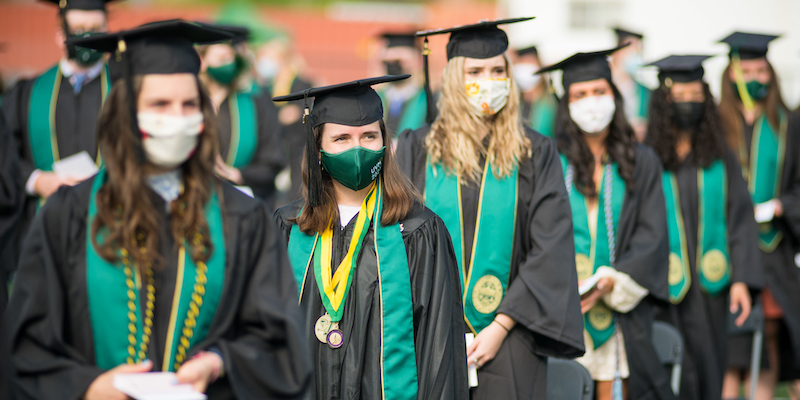 College of Agriculture and Life Sciences graduates stand to be recognized for their achievements.
"You sacrificed to keep one another safe, helping us find a way to not only make it successfully through this year, but to also prepare for our return to a near normal semester this fall. with your concern for those around you and your cooperation, you've already paid it forward. so yes, let us celebrate," he said.
In her first commencement leading the College, CALS Dean Leslie Parise echoed Garimella's sentiments, acknowledging the challenges of the past year and praising students for their resilience.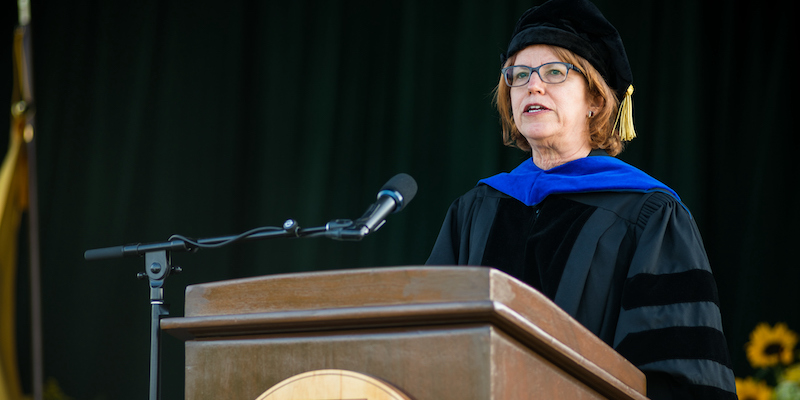 Dean Leslie Parise delivers commencement remarks.
"If there's anything this past year has taught us, it is that we can innovate, adapt and overcome," said Parise. "Perhaps now more than ever, the world needs graduates like you – young leaders who have demonstrated resilience and possess a shared commitment to building a better future."
The Class of 2021 has excelled both in and out of the classroom. Over 30 students received awards from their academic departments and programs in recognition of their scholarship and academic achievements, 20 were members of the UVM Honors College and 15 students completed Distinguished Undergraduate Research. See a complete list of honors and awards.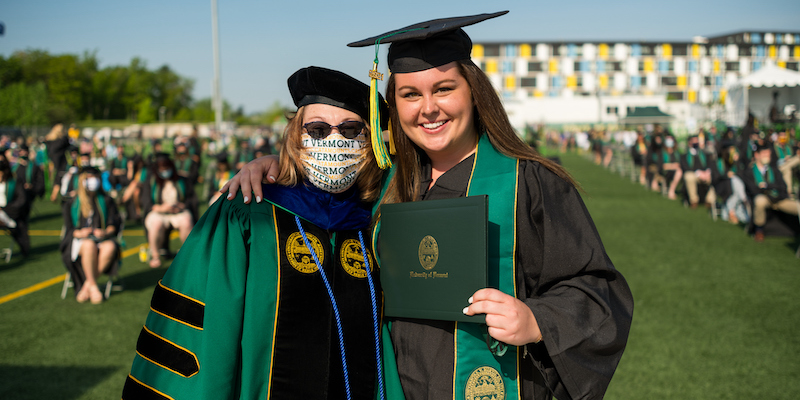 Janet Murray, associate professor in the Department of Microbiology and Molecular Genetics, and daughter Jenna Murray, who graduated with a B.S. in Nutrition and Food Sciences.
Community and international development major Margit Burgess was recognized as the 2021 Lawrence K. Forcier Outstanding Senior. The award is given annually to one student in the CALS graduating class for their academic excellence, character and leadership abilities. Read more about Burgess' achievements.
Senior Skyler Nash, also a community and international development major, was awarded the Elmer Nicholson Achievement Prize, one of UVM's most prestigious student awards. Awarded at the university level, the Nicholson Prize recognizes the greatness of the recipient's total UVM experience and, based on that greatness, the potential for that student to make a major contribution in their field of interest. Read more about Nash's achievements.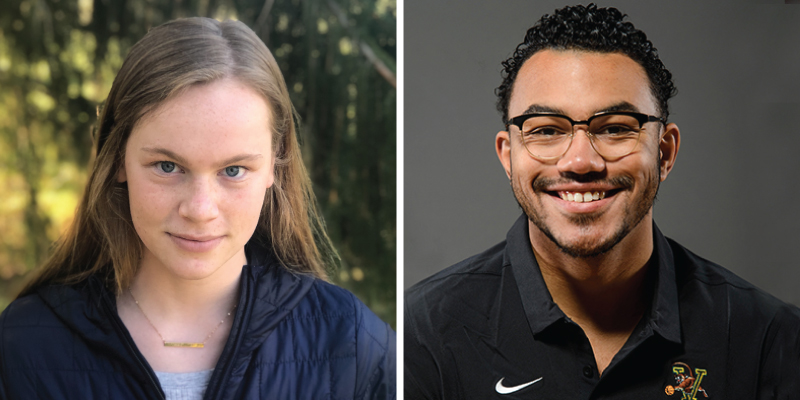 Margit Burgess '21 and Skyler Nash '21.
Friday's commencement ceremony also included the presentation of a posthumous degree to Sarah "Sas" Starion, a food systems major who passed away during her junior year at UVM. Starion was remembered for her success, humorous and insightful personality, and many contributions to the UVM community.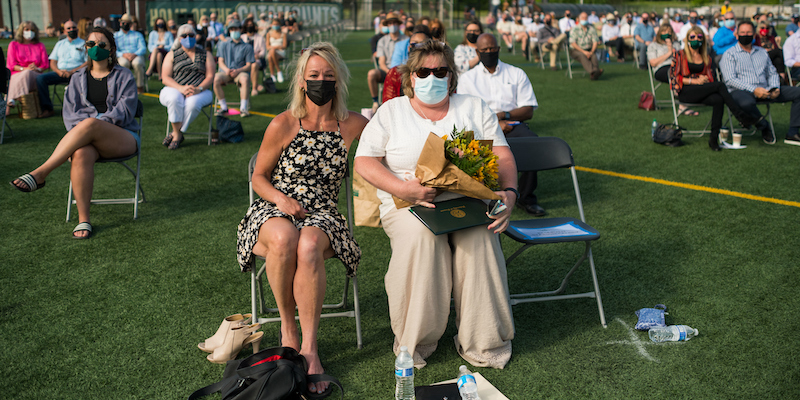 Sas Starion's mother, Jane Starion, was presented with her daughter's diploma.
A recording of the CALS ceremony will soon be available on the UVM Commencement website.