NOT YOUR TYPICAL MBA COHORT
We believe that in order for business to be better for the world, it needs to welcome more diverse perspectives. Many of our students come from professional backgrounds that would be considered atypical in other MBA programs — and that's by design. We welcome applicants with experience in the nonprofit sector, sustainable development, government, and education, as well as traditional business backgrounds.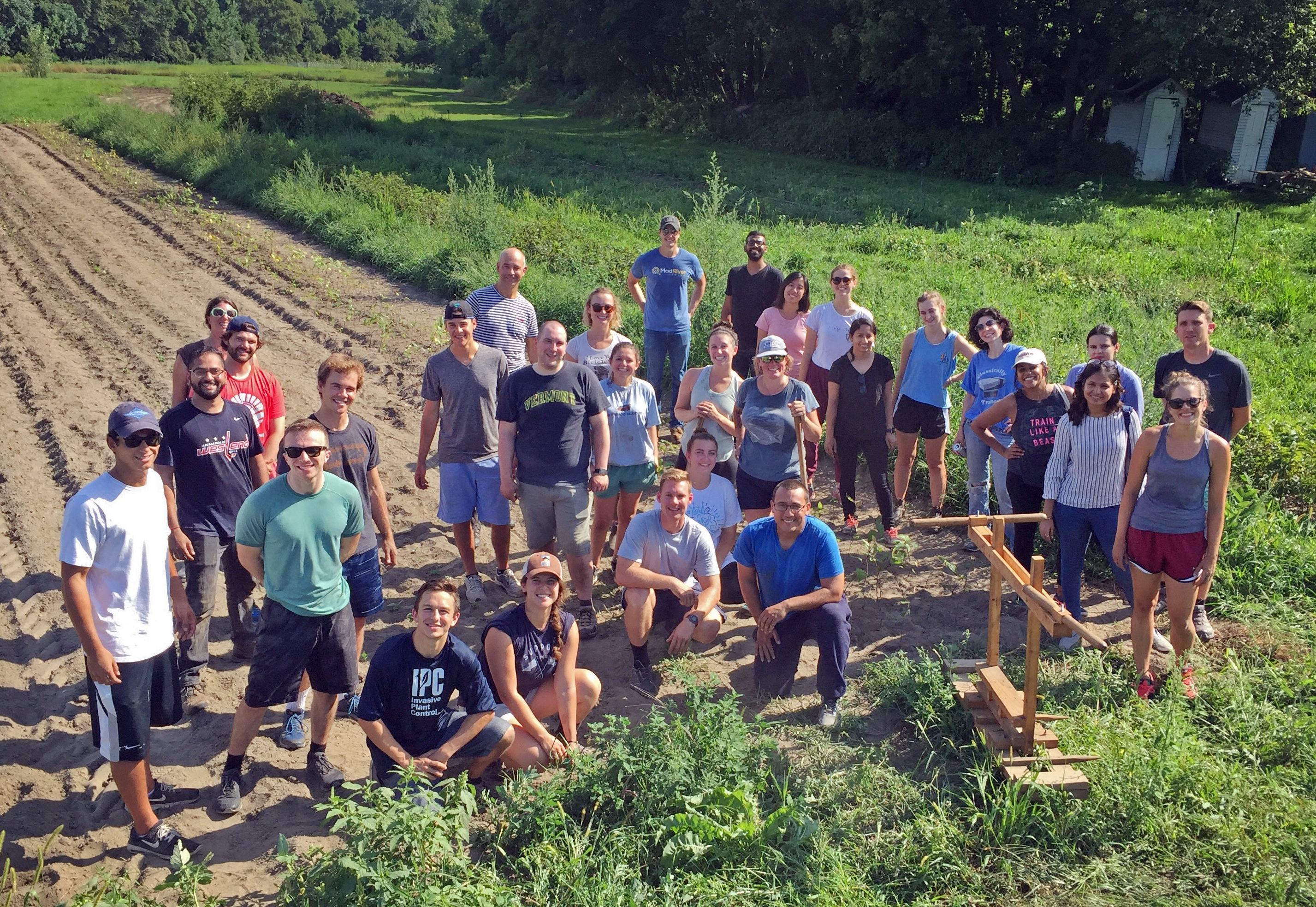 SI-MBA field trip to the Intervale Center in Burlington, VT; summer 2019.
READY TO APPLY?
We're looking forward to hearing from you! Click below to begin the application process, this will take you to the Graduate College applications page, which also contains more information on what to include in your application.
DEADLINES
The Sustainable Innovation MBA program is an intensive 1-year accelerated degree, starting at the end of August. Admission to the program is on a rolling basis.
Applications for the 2023-24 cohort will close July 14, 2023. International student applications to close June 24, 2023. This means you want to click "submit" on the application before this date.
PREREQUISITES
Due to the interdisciplinary nature of the program, applicants are drawn from a broad range of backgrounds and therefore we have no particular prerequisites in regards to prior coursework or degrees. We welcome applicants directly out of undergraduate programs who demonstrate one or more of the following in their application: a strong academic record, internship or other work experience, extracurricular involvement and/or research experience.
Each applicant is evaluated holistically, focusing on the applicant's achievements and strengths as a person, which include but extend well beyond a collection of academic transcripts, test scores, and work experience. GMAT or GRE scores are not required, but applicants are welcome to submit test scores if they feel it will strengthen their application. Applicants often submit test scores when they have a less strong academic record, or little to no quantitative coursework.
Applicants for whom English is not their primary language are required to submit proof of English proficiency. The UVM Graduate College requires a minimum TOEFL score of 90, an IELTS score of 6.5, or a Duolingo score of 110. Application requirements also include 3 letters of reference and a statement of purpose.
To help prepare our students for success in the program, all incoming Sustainable Innovation MBA students are required to complete an introductory accounting course, as well as MBA Math. Both courses follow the UVM Summer Academic Calendar. Depending on your quantitative background, we may accept you conditionally and request that you take an additional quant course before enrolling in the program. Further information will be provided upon admission.

QUESTIONS BEFORE YOU APPLY?
If you have any questions before starting your application, please reach out to us at SI-MBA@uvm.edu. You do not need to apply all in one session, the application will give you the option to save and return to it later.
Once you begin the application, you will find guidance in the University of Vermont Graduate College application portal. You can also contact graduate.admissions@uvm.edu with any questions about your application.
Note: The University of Vermont's Graduate College offers a waiver of the $65 Application Fee for a number of organizations. Instructions and opportunities the Graduate College offers can be found here. Note that waiver requests through the Graduate College or through the MBA program must be submitted BEFORE submitting an application, no refunds will be given for payment of the application fee. If you don't qualify for any of the Graduate College waivers, MBA applicants may request an application fee waiver from the SI-MBA Program if they meet one of the following criteria:
Current or former member of AmeriCorps, Peace Corps, or Teach for America;
Employee of a non-profit organization; or
Experiencing financial hardship.
If you would like to request a waiver for a reason not listed above, please provide a brief description on the application waiver form. Application fee waiver requests are reviewed on a case-by-case basis.