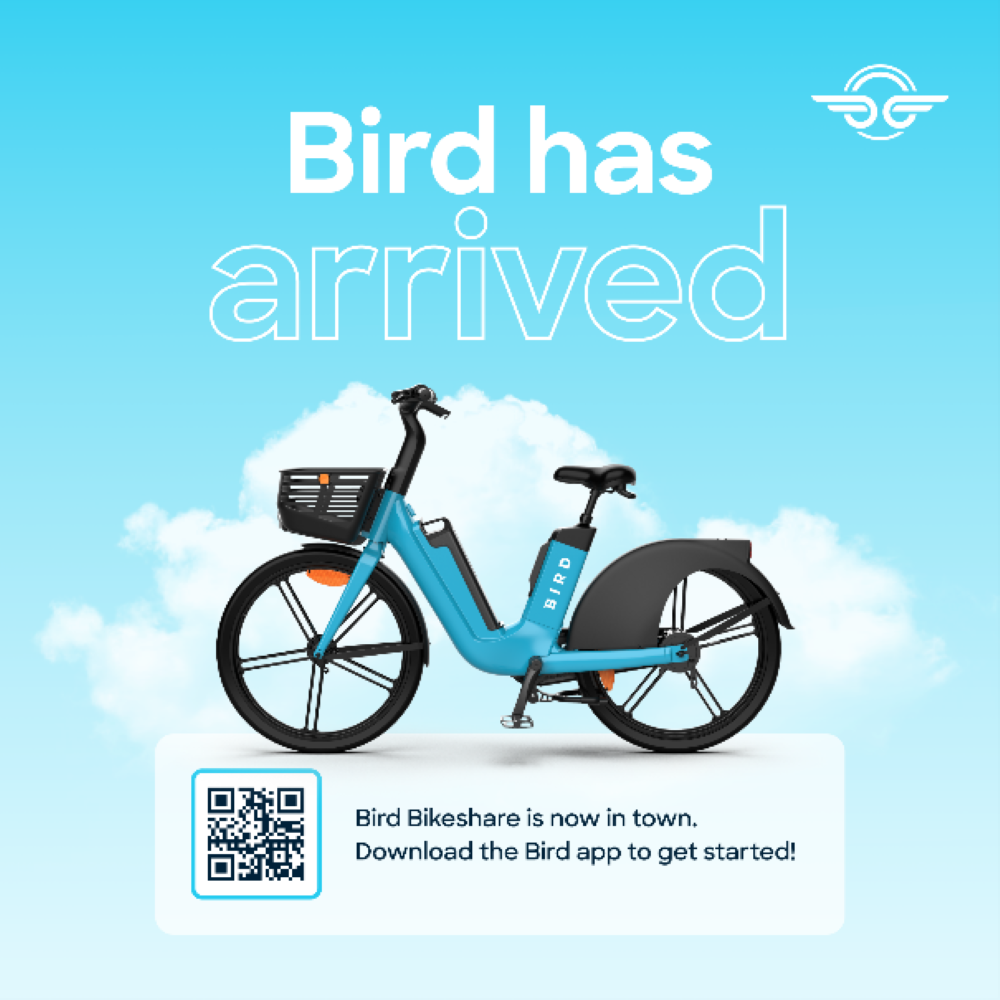 For Bird BikeShare FAQs click here. 
The Chittenden Area Transportation Management Association (aka CATMA) and Bird, a leader in environmentally friendly electric transportation, are teaming up to bring a shared electric assist bike system to the region. As part of a longstanding commitment to expand affordable, sustainable transportation choices, CATMA along with the cities of Burlington, South Burlington and Winooski, and its institutional partners at the University of Vermont (UVM), Champlain College and the UVM Medical Center, are thrilled to have the Bird bikeshare system in the community.
These electric assist bikes will provide another option for people to travel, whether it be going to work, appointments, the gym, errands, or activities. They will be a valuable part of the transportation network, replacing gas powered car trips and supporting personal mobility, environmental sustainability and economic growth in Chittenden County.
"CATMA's goal is to ensure our members and community have access to efficient, reliable, and sustainable mobility options. We selected Bird, who is known for implementing an excellent shared service, to create an electric assist bikeshare that will thrive and provide an active mode of travel", said Sandy Thibault, Executive Director at CATMA.
Bird's e-bikes will offer residents another transportation option, while making the region more livable by reducing car trips, traffic, and carbon emissions. Austin Marshburn, Senior Director, Government Partnerships at Bird, said: "We applaud CATMA, the cities of Burlington, South Burlington and Winooski and their partners for their commitment to offering convenient, environmentally friendly and reliable transportation solutions."
The Bird Electric Assist Bikeshare system will softly launch on June 29 with up to 200 e-bikes being rolled out offering a dynamic hybrid system of Nests and lock up zones.
$1 to unlock the bike, .49c per minute for the duration of your trip and easily accessible through Bird's free mobile phone application.  All UVM affiliates will gain the CATMA Member Discounts by using their uvm.edu to register. Any questions about the app or troubleshooting, contact Bird at vermont311@bird.co and use the Community Mode feature in app to report any issues with the system.
Please remember when ending a Bird Bike trip on campus, always park your bike in a bike rack. 
About Bird
Bird is an electric vehicle company dedicated to bringing affordable, environmentally friendly transportation solutions such as e-scooters and e-bikes to communities across the world. Founded in 2017 by transportation pioneer Travis VanderZanden, Bird is rapidly expanding. Today, Bird has facilitated over 175 million rides on Bird vehicles through its ride-sharing business and makes its products available for purchase at www.bird.co and via leading retailers and distribution partners. Bird partners closely with the cities in which it operates to provide a reliable and affordable transportation option for people who live and work there.
About CATMA
CATMA is a non-profit, membership-based organization established in 1992 to jointly plan and manage transportation and parking in ways that better coordinate land use and reduce environmental impacts. CATMA's suite of comprehensive transportation demand management programs and services provide simple transportation solutions to improve commutes, support healthy lifestyles and reduce congestion in Chittenden County. Learn more about CATMA and the bikeshare system at www.catmavt.org.