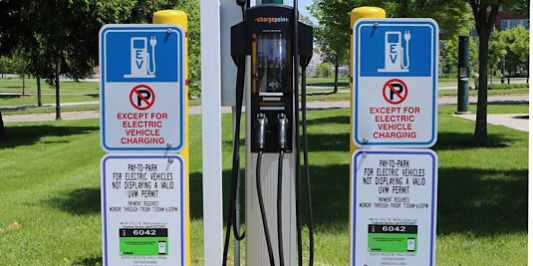 These resources are provided for informational purposes only. Please read all disclosures as you use these services at your own risk.
Electric vehicle (EV) charging stations have been installed in various lots on campus. Stations may be accessed by anyone at any time, except stations in Gutterson Garage which are reserved for UVM permit holders only. 
To access the EV stations, users must pay the established parking fees during posted hours of operation. Employees and students with a valid UVM parking permit do not have to pay through the Park Mobile application. Vehicles should be relocated as soon as possible following a charge to allow other users to access the stations (charging limited to 4 hours at all Level Two/Chargepoint Stations). To use the stations, register with ChargePoint. For questions about using the stations, call the 24/7 technical support hotline at 1-888-758-4389.
Off campus EV charging stations can be found on the PlugShare website.
Electric Vehicles Charging Station Locations Around Campus
Electric Vehicle Charging Station locations Map (link opens in new window).
Two Level 2 plugs at Aiken Building, 81 Carrigan Drive at the loading dock adjacent to Davis Center Oval.
Two Level 2 plugs at the Johnson House at 601 Main Street.
Two Level 2 plugs at the entrance to upper Trinity Campus at 208 Colchester Avenue.
Two Level 2 plugs on the east side of Morrill Hall at 146 University Place.
Two Level 1 plugs in the middle level of the Gutterson Garage in the southwest corner at 95 Spear Street. (UVM Parking Permit ONLY)
Two Level 2 plugs at the entrance of 109 S. Prospect Street
Two Level 2 plugs near the entrance to the Allen House 
Four Level 2 plugs in the Converse Lot 
Four Level 2 plugs in the Firestone Lot
About the Charging Stations:
Level 1 (120V): Slow-charging; expectation is that the vehicle will be there most of the day.
Level 2(240V): Quick-charging: allowing more turnover; expectation that the vehicle use the station for no more than 4 hours. Vehicles remaining in the space after 4 hours will be subjected to additional fees and ticketing.
Electricity is not free, service provided by the Burlington Electric Department.
Must be subscribed to use ChargePoint.
If user does not hold a UVM permit, user must be a subscriber of Parkmobile to pay for space.
Any non-electric vehicle using the dedicated charging station spaces will be subject to towing. 
Any permit holder can use any charging station on campus, but maximum parking time at these spaces is 4 hours, vehicles must be moved back to their regular parking assignments after vehicle is charged or 4 hours
Spaces are reserved for up to 4 hours and available to electric vehicles only. No parking payment is required after restricted hours as posted.
Read more about UVM and Burlington Electric Department history of working together for Electric Vehicle charging stations around campus.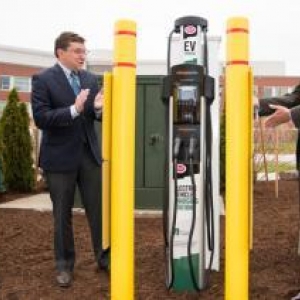 On May 4, 2016, Burlington Electric Department and UVM unveiled the installation of four Electric Vehicle charging stations on Campus.  Read more about the history of working together for Electric Vehicle charging stations around campus.