Fish Grow on Trees
Guest(s):
Will Eldridge and Bret Ladago (Vermont Fish & Wildlife Department)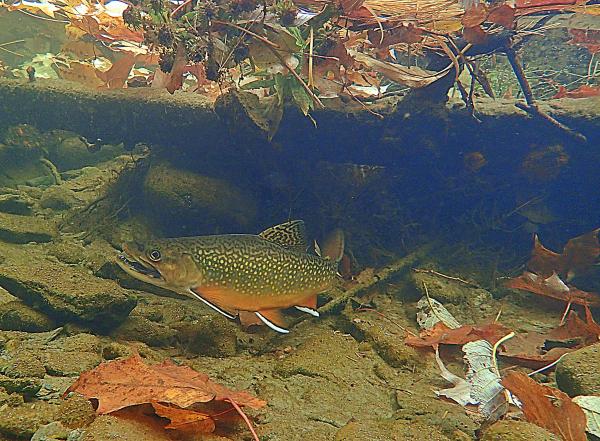 View or download a copy of the episode transcript here.
By Liz Woodhull
In our tenth episode we sat down with Bret Ladago and Will Eldridge, who both work with the Vermont Fish and Wildlife Department. Bret is a fisheries biologist, who's been working for the VFWD in different capacities for about 20 years and Will is an aquatic habitat biologist with the VFWD where he works to protect and restore habitat for fish and other aquatic organisms. He's been with the Vermont Fish and Wildlife Department for 5 years and has worked in fisheries for over 20.
Climate change poses serious threats to fish populations with rising water temperatures and altering the structure of their ecosystems, but riparian forests are one adaptive strategy to reduce these effects of climate change. Being adjacent to a body of water, restoring a riparian forest has major positive impacts on fish populations as trees play a critical role in the health of fish species; and some of the things we discuss are how the leaves from the trees carry the bugs fish eat to the streams, acting as the base of the food web, how the canopy cover reduces high water temperatures, and "fish hotels" - log jams that provide important habitat for fish populations which has shown to increase fish biomass by 300% compared to streams without wood log jams. Listen in on this episode to hear Bret and Will inform us on how fish rely on trees and what we can do to support their populations!
The bird featured in this episode was the Warbling Vireo. It was recorded by Ezekiel S. Jakub on June 6, 2013 in Northfield, Massachusetts. The song was downloaded from xeno-canto.org.
Image: A trout feeding during fall provided by Bret Ladago
This project has been funded wholly or in part by the United States Environmental Protection Agency under assistance agreement (LC00A00695-0) to NEIWPCC in partnership with the Lake Champlain Basin Program.
* * *
Get the RSS link to subscribe to the podcast
Go back to all episodes