Addressing the native tree stock shortage: the Akwesasne Native Plant Nursery
Guest(s):
Jessica Raspitha & McKay Burley (Akwesasne Native Plant Nursery)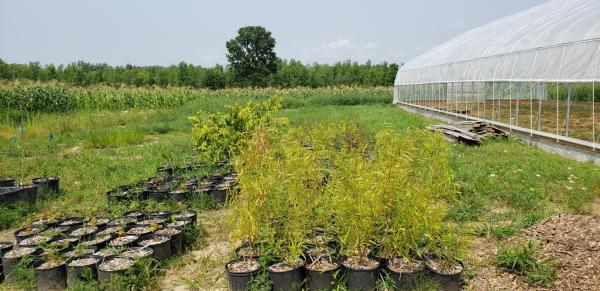 View or download a copy of the episode transcript here
By Alison Adams
In this episode we follow up on our discussion in episode 2: the shortage of native trees available for restoration projects in Vermont, the surrounding region, and nationally. We speak with Jessica Raspitha and McKay Burley, both of whom work at the new Akwesasne Native Plant Nursery in St. Regis, New York. Jessica is the Land Resources Program Manager of the Saint Regis Mohawk Tribe's Environment Division and a member of the St. Regis Mohawk Tribe. McKay is the newest addition to St. Regis Mohawk Tribe's Land Resources Program as the Plant Nursery Technician.
In order to provide enough plant material for the restoration projects our region plans to undertake in coming years, we will need many more nurseries, so we were very excited to hear about this one. In the episode, we discuss what it took to start a new nursery during the pandemic, and what the goals of the Akwesasne Native Plant Nursery (ANPN) are. The ANPN uses a unique community advisory committee model, wherein members of the community they serve provide guidance on what plants they should grow. We also discuss the nursery's role in preserving culturally-important species, like sweetgrass and black ash; the latter is seriously threatened by the arrival of emerald ash borer in our region.
Listen to the episode to learn more about the ANPN!
The bird featured in this episode was the Baltimore Oriole. It was recorded by Paul Marvin on May 30, 2012 at the Dead Creek Wildlife Management Area in Addison County, Vermont. The song was downloaded from xeno-canto.org.
This project has been funded wholly or in part by the United States Environmental Protection Agency under assistance agreement (LC00A00695-0) to NEIWPCC in partnership with the Lake Champlain Basin Program.
Image: Plants the Akwesasne Nursery have been growing by Jessica Raspitha
* * *
Get the RSS link to subscribe to the podcast
Go back to all episodes