Core Programs
Our K-12 programs are derived from the research happening on Lake Champlain and the current freshwater stressors facing the Lake Champlain basin. Our programs are facilitated by Watershed Educators, trained undergraduate students pursuing a degree in environmental science and/or education. Our current program offerings are listed below. These are subject to change based on current research.
Watershed Alliance provided hands-on experience that would not have been possible to provide in our watershed curriculum...The field experience would not have been possible without experts leading the data stations and providing all of the materials."

Gabriel Calvi, Teacher, Charlotte Central School
Watershed Alliance Core Programs
Stream Monitoring and Stewardship (SMSP)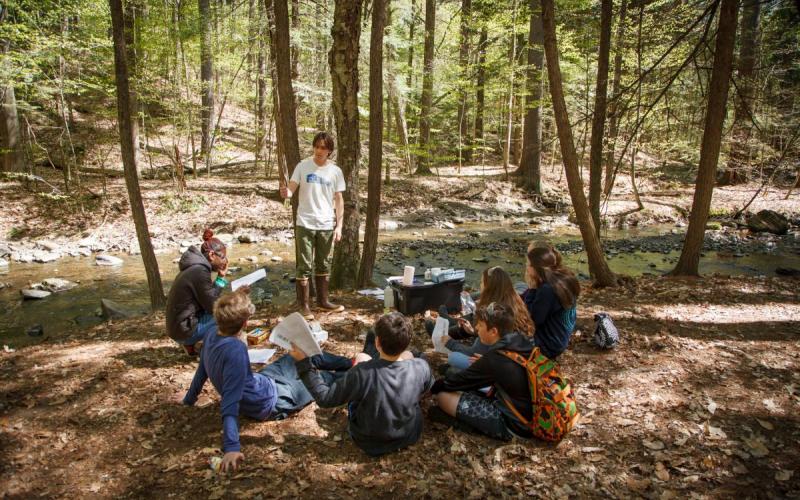 Each spring and fall, Watershed Alliance runs our flagship Stream Monitoring and Stewardship Program. This is an immersive multi-day learning experience that can be adapted to meet teacher and student needs. Our trained Watershed Educators visit schools all over the Lake Champlain watershed and lead interactive classroom lessons, stream monitoring field days, and help develop a community outreach project. Typical programs consist of 2 classroom sessions designed to contextualize the field science we will be conducting. After the classroom portion we run one field day where students become community scientists and assess the health of their local stream by measuring physical, chemical, and biological parameters. After monitoring, students prepare and implement a community outreach or stewardship project. We are proud to offer this program free of cost to any school in the basin! Photo: Brian MacDonald
---
Lake Champlain Live (LCL)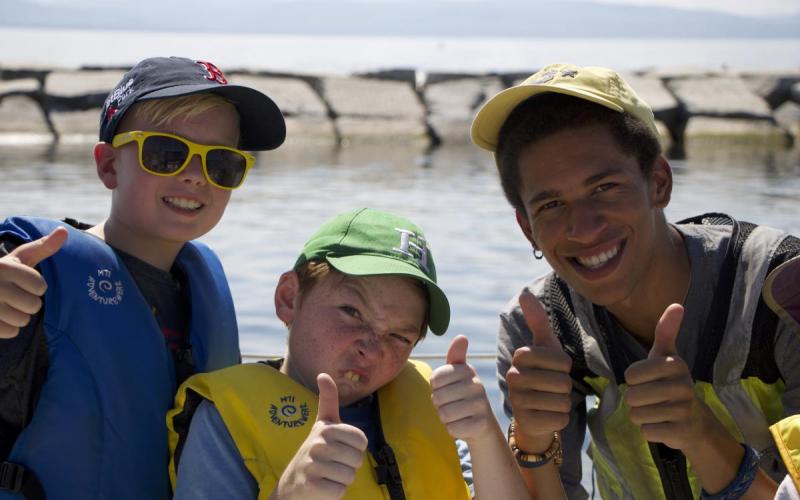 While aboard a research vessel on Lake Champlain, students will be guided by Watershed Educators as they learn about the unique properties of the lake and gather data that will help us understand the dynamic nature of the lake. Students learn about ongoing research being conducted based out of the University of Vermont and SUNY Plattsburgh. This program is an opportunity to gain experience with science on the lake and deepen our understanding of the interaction between the many physical, biological, chemical, and cultural variables that contribute to the health of the lake, and our watershed. Please contact us for program cost.
---
Keeping the Balance (KB)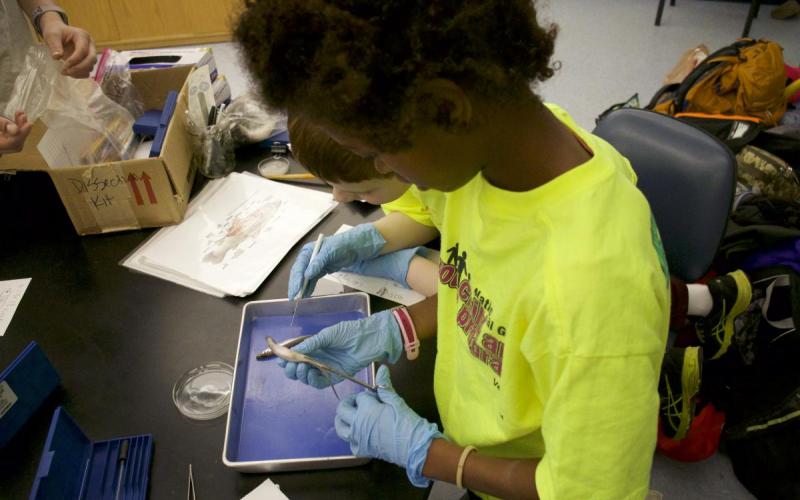 Keeping the Balance calls attention to the unique characteristics of our lake and provides a window into ongoing research in the Lake Champlain basin. During a visit to the Rubenstein Ecosystem Science Lab students learn about our dynamic watershed and pollutants that are threatening the balance of the lake. We then dissect fish from Lake Champlain to learn about anatomy and with the aid of microscopes examine the digestive tract in search of microplastics. We are proud to offer this program free of cost to any school in the basin!
Apply Online for the Watershed Alliance Programs listed above
or for more information about any of our educational programs or to apply please contact:
Vermont programming: watershd [at] uvm.edu
New York programing: Nate Trachte at ntrac002 [at] plattsburgh.edu (518) 564-3172
---
Partnership Programs
Teens Reaching Youth (TRY) 4-H20
TRY 4-H20 is a partnership program between UVM Watershed Alliance and UVM Extension's 4-H Teens Reaching Youth program. TRY is an environmental leadership opportunity for youth in grades 7-12. It is a teen-led environmental education program with an embedded service-learning component designed to teach environmental literacy and responsibility to younger youth. TRY for the Environment includes five program areas — energy FUNdamentals, waste solutions, food systems, forest and trees, and TRY 4-H20 — to connect young people to real-world environmental problems in which they can be key change agents helping to create real-world solutions. Learn more about UVM Extension's teen and leadership programs.
For more information on this program contact Caroline McKelvey caroline.mckelvey [at] uvm.edu
World Water Day
Join the Champlain Basin Education Initiative for World Water Day 2021! Each year, we collect student work from across the Lake Champlain basin that celebrates water. On Tuesday, March 23rd, 2021, we will gather virtually to view the submission gallery and hear from an invited speaker about local and global water issues. Awards will be presented at the event. View submission examples.
CFES Brilliant Pathways Partnership
The primary focus of our partnership with CFES Brilliant Pathways is to offer unique STEM learning opportunities to their GEAR UP partner schools. We host Watershed Science Fairs offering students hands on opportunities to engage with watershed science, and a chance to interact with college students focused on environmental science and natural resource management. CFES Brilliant Pathways partner schools also benefit from access to our other flagship programs, and professional development events for teachers.
High School Watershed Stewardship Program
This program is offered in collaboration with the Lake Champlain Basin Program, SUNY Plattsburgh Upward Bound, and University of Vermont Upward Bound. The Lake Champlain Watershed Stewardship Program is a multiyear program intended to promote environmental literacy and stewardship amongst adolescents. The program, established by Lake Champlain Basin Program and Lake Champlain Sea Grant, is an experiential and adventure education opportunity for individuals to not only professionally develop through engagement in service, projects, and mentorship, but also to discover their passions as they become environmental leaders within the Lake Champlain Basin. Each cohort of Upward Bound students in Vermont and New York travel around the basin on quarterly field trips with their peers visiting sites of natural and cultural significance to learn about the watershed, and explore ways to take care of them through stewardship. Participants who complete the program receive a stipend to participate in a capstone experience based on their interests, or receive a placement in a relevant internship.
Have an idea for a collaborative program? Reach out to Ashley Eaton, akeaton [at] uvm.edu