A titan of public health and icon of coolheadedness, this December Dr. Anthony Fauci will be hanging up his hat as Director of the National Institute of Allergy and Infectious Diseases (NIAID) and Chief of the NIAID Laboratory of Immunoregulation.
With nearly 40 years of service in these roles, Dr. Fauci's tenure extends back into the Reagan administration. As he notes in his August 22, 2022 announcement, Dr. Fauci has presided over "so many scientific and public health challenges…including HIV/AIDS, West Nile virus, the anthrax attacks, pandemic influenza, various bird influenza threats, Ebola and Zika, among others…"
A career bookended by two deeply divisive and lethal pandemics, AIDS and COVID-19, Dr. Fauci's leadership guided seven presidential administrations through sometimes perilous health crises, offering a sober perspective and evidence-based expertise that helped shape domestic responses that rippled around the globe.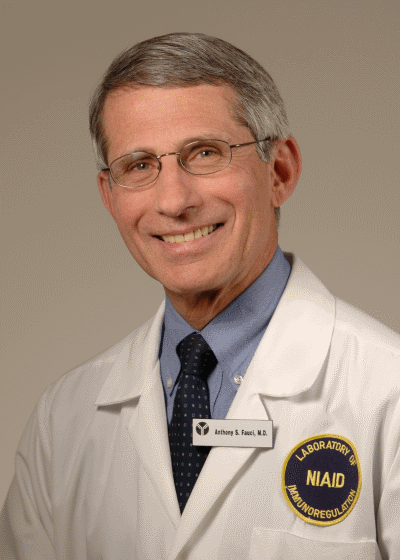 "He is a champion for science, medicine, and public health," says Jan K. Carney, MD, MPH, associate dean for public health and health policy and professor of medicine at Larner College of Medicine at the University of Vermont.
A true practitioner of public health, Dr. Fauci understands the imperative to communicate science-based information clearly and compassionately to people who, for reasons ranging from personal to political, feel distrustful of or disenchanted with the medical establishment. In 1990, Carney says, when AIDS activists staged protests that consumed parts of the National Institute of Health (NIH) campus, Dr. Fauci recognized the importance of giving people living with AIDS a seat at the scientific table.
"Dr. Fauci bridged the divide between scientists and the people their research would benefit, creating lifesaving partnerships that endured for decades," Carney explains.
In an era paradoxically defined by profound scientific achievement and an escalating mistrust of experts, Dr. Fauci has succeeded in meeting the moment with a stay-the-course calm that puts political rancor to the side. Even with uncertainty and anxiety running amok, Dr. Fauci has been consistent in his conviction that public health should not be politicized. Now, as he writes, he will endeavor to "inspire and mentor the next generation of scientific leaders as they help prepare the world to face future infectious disease threats."
It is the end of an era indeed, though Dr. Fauci notes he is transitioning into the next phase of his career, not making a full stop. "I still have so much energy and passion for my field," he writes.
Explore how you can contribute your energy and passion to the post-Fauci era of public health with UVM certificate programs.