Welcome to the Graduate College at the University of Vermont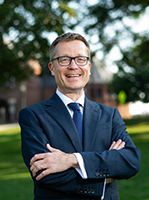 Graduate education is central to the University of Vermont's academic mission to advance inclusive excellence in research and education. As a premier public research university, we cultivate innovative graduate education and postdoctoral training of the highest standard, in line with the University's Amplifying Our Impact: Strategic Vision for UVM (2020).
Our vision reflects the national conversation about inclusive, student-centric graduate education that supports the whole student experience, is broadly purposed, and outcomes-focused. Since access, equity, diversity, and inclusion are essential to the excellence of graduate education, we strive to sustain a welcoming, inclusive environment where students and faculty from diverse backgrounds and with diverse intellectual interests feel they are seen, heard, and belong. A research powerhouse on a human scale, we aspire to live the values enshrined in Our Common Ground: respect, integrity, innovation, openness, justice, and responsibility. It is in this spirit that we prepare diverse students and trainees for a comprehensive range of careers and lives of meaning and consequence.
Transformational Growth
In the face of the world's complex, pressing problems, the societal need for advanced training through graduate education continues to expand. As we approach the Graduate College's 75th anniversary, we are embarking on the transformational growth of the scope and scale of UVM's graduate endeavor across both research and professional programs.
More than 1,700 graduate students from across Vermont, the nation, and the globe currently study and research in our well over 50 Master's and over 30 doctoral programs. Highly ranked and nationally accredited programs range across the life, physical, mathematical, behavioral, and social sciences, humanities, as well as professional training from business to interdisciplinary healthcare. Committed to creating accessible, flexible pathways to graduate education, we are continuously refreshing our portfolios of Accelerated Master's Programs for UVM undergraduates as well as low-residency and fully online degree, certificate, and micro-certificate programs.
Experiencing UVM GRAD
The Graduate College is an intellectual and resource hub and the chief advocate for UVM's graduate education community. We partner with our graduate faculty in eight academic colleges and schools, students, alums, and other stakeholders across and beyond campus. Our dedicated team provides seamless and aligned services to support an outstanding student experience. We coordinate training standards and support services for our growing postdoctoral community.
Interdisciplinary research and education are a hallmark of UVM. In our inter- and transdisciplinary academic programs, research centers, and institutes, world-class faculty guide graduate and postdoctoral trainees to formulate problems and design solutions by integrating the methods and insights of multiple disciplines. Our emerging scholars, clinicians, and practitioners are integral, then, to UVM's impact, including our unique research strengths to support the health of our societies and our environment.
Earning a graduate degree demands time, deep commitment, as well as patience and resilience. We seek to sustain an environment where each student can thrive and achieve their goals: through abundant research opportunities and rigorous intellectual engagement across broad scholarly modalities; mentoring, professional development, and career preparation; and attention to the social, physical, and emotional dimensions of the graduate life experience. Beyond campus, students connect with our communities, state, and businesses via community-engaged scholarship, internships, and entrepreneurship. They embrace global opportunities with intercultural empathy.
Impact
Our alums pursue high impact, satisfying careers in academia, government, industry and business, as well as the social impact sector. They lead their professions and serve their communities. They spark innovation, advance patient-centered, integrative healthcare, tackle public health and environmental challenges, fuel the cultural and economic vitality of communities, drive sustainable business practices, and foster the responsible framing of new technologies.
Thank you for your interest in graduate education at the University of Vermont. I invite you to explore our evolving website. If you don't find what you need, please feel free to contact me or any member of the Graduate College team.
Sincerely,
Holger Hoock, D.Phil.
Dean of the Graduate College
Dean Hoock's Office Hours
Second and third Wednesday of each month, September - December 2023 from 2-3pm
To book for immediate next office hour only:
September 13

October 11

November 8

December 13

September 20

October 18

November 15

December 20
Graduate College Mission Statement

The mission of the Graduate College is to provide the environment for high quality graduate education by stimulating and supporting the intellectual and professional development of a diverse faculty and student body; by promoting interdisciplinary and innovative forms of scholarship, research, and curricula; and by recognizing scholarly excellence.