Holger Hoock, D.Phil. FRHistS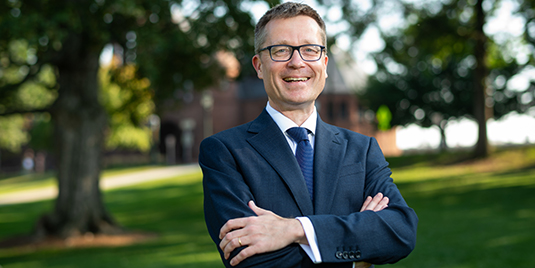 As Dean of the Graduate College, Holger Hoock collaboratively leads the University of Vermont's thriving and growing graduate endeavor. Dean Hoock's vision for the Graduate College is grounded in UVM's commitment to the shared values of openness, justice, respect, integrity, innovation and responsibility. It reflects the national conversation about student-centric, faculty-led, and university-supported graduate education that is accessible and inclusive, supports the whole student experience, and is broadly purposed, outcomes-focused, and career diverse.
Dean Hoock offers equity-conscious leadership on graduate enrollment, holistic admissions, and recruitment; program development and assessment; holistic student support, with emphases that include funding and housing, mental wellness and health, professional development and career orientation, and global engagement. He works closely with the Graduate Executive Committee, senior leadership, the faculty directors and staff of over 70 graduate programs, and with the Graduate Student Senate. Hoock collaborates with campus units, our global alum community, and regional, national, and international partners to enhance the experiences of UVM's diverse and growing graduate student population. He helps coordinate support services and training standards for UVM's postdoctoral scholars. Dean Hoock directs the Graduate College team composed of Associate Dean Alicia Ebert and other professionals who provide efficient and aligned academic and support services.
Hoock started his Deanship of UVM's Graduate College on August 14, 2023.
Academic and Leadership Trajectory
Dr. Hoock studied History, Political Science, and Law at the Universities of Freiburg and Cambridge,  earned his doctorate in Modern History from the University of Oxford in 2001, and was elected a Fellow of the Royal Historical Society in 2003. Following a British Academy Postdoctoral Fellowship at the University of Cambridge, Hoock served as Assistant and tenured Associate Professor of History at the University of Liverpool. Designated a Vice-Chancellor's Future Research Leader and awarded the UK's Philip-Leverhulme-Prize for internationally recognized young researchers (2006), he also founded the Eighteenth-Century Worlds Research Centre for the interdisciplinary study of the global eighteenth century.  From 2010 to 2023, Hoock held the J. Carroll Amundson Chair in British History at the University of Pittsburgh, with a secondary appointment as Professor of History of Art and Architecture. In 2014-17, he edited the interdisciplinary Journal of British Studies (CUP).
From 2017 to 2021, Hoock served as Associate Dean for Graduate Studies and Research at the University's Dietrich School of Arts & Sciences. In this role, he developed and implemented a shared vision for the future of graduate education that prioritizes inclusivity, student-centeredness, interdisciplinary innovation, and career diversity. He spearheaded initiatives to foster a culture of inclusive excellence in mentoring; support mental health; enhance the quality of graduate instructor training; and promote professional development. Hoock led successful efforts to grow the recruitment and support of students from groups historically underrepresented across the disciplines. By promoting interdisciplinary research, new Professional Master's programs, and opportunities supported by philanthropic, foundation, and federal grants, he contributed to the academic development of the college and the university.  At the institutional level, Dr. Hoock's collaborative leadership helped advance the research enterprise, DEI, postdoctoral and faculty affairs, and community and global engagement. He served as PI of Humanities Engage: Re-Imagining Doctoral Education (Mellon, $1.5M).
A prolific scholar of British, imperial, American, and cultural history, Hoock has published three monographs: Scars of Independence: America's Violent Birth (New York, 2017), winner of the National Society of the Daughters of the American Revolution Excellence in American History Book Award; Empires of the Imagination: Politics, War, and the Arts in the British World, 1750–1850 (London, 2010); The King's Artists: The Royal Academy of Arts: The Royal Academy of Arts and the Politics of British Culture, 1760–1840 (Oxford, 2003; pbk 2005), proxime accessit for the RHS Whitfield Prize. He also has numerous articles and book chapters to his name and has edited two collections of essays. Hoock's many international fellowships include a Kluge Fellowship at the Library of Congress, Visiting Scholarship at Corpus Christi College, Oxford, and a Senior Fellowship at the Institute for Advanced Study at the University of Konstanz, Germany.