The University of Vermont is poised and ready to build upon our reputation as a premier research institution focused on sustainable solutions with local, national, and global applications and impact. Our distinctive strengths align with the most pressing needs of our time: the health of our societies and the health of our environment."
— From the "Amplifying Our Impact" strategic framework
2020: This Year at UVM

As a year unlike any other comes to a close, we may find ourselves waiting with bated breath for the last remnants of 2020 to calmly, quietly pass us by. It is my deep wish this holiday season that each and every member of our resilient community is able to take a moment to simply...exhale. It's taken so much to get us here, and it's all been made possible by you. Thank you.
—Suresh Garimella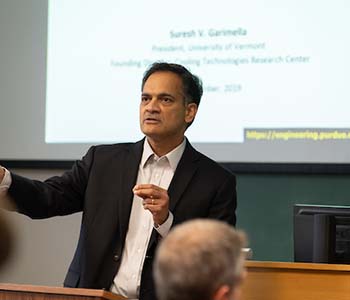 Suresh Garimella
Suresh Garimella became the 27th president of the University of Vermont on July 1, 2019.
A seasoned administrator and an accomplished educator and researcher, Dr. Garimella previously led complex and expansive portfolios at Purdue University, a top-ranked, flagship research university.
In 2018, Dr. Garimella was appointed by President Trump to the National Science Board, which oversees the National Science Foundation (continued)
and also serves as an independent body of advisers to both the president and Congress on policy matters related to science, engineering and educating the next generation of scientists.
In May 2020, President Garimella introduced the Amplifying Our Impact Strategic Imperatives strategic plan to guide UVM toward more fully realizing a new era of potential.