The University of Vermont is poised and ready to build upon our reputation as a premier research institution focused on sustainable solutions with local, national, and global applications and impact. Our distinctive strengths align with the most pressing needs of our time: the health of our societies and the health of our environment."
— From the "Amplifying Our Impact" strategic framework
Season's Greetings from UVM!
Season's Greetings!
In the spirit of the holidays, I'm sharing a look back at this remarkable year. Our community has achieved so much together and you have helped to make it all possible.
Thank you,
Suresh V. Garimella
President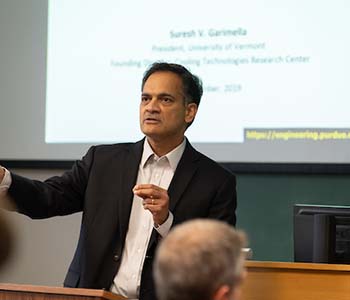 Suresh Garimella
Suresh Garimella is the 27th president of the University of Vermont.
A strong proponent of the value of public higher education, President Garimella leads UVM with firm emphasis on its status as the land-grant university for Vermont, the home state of Senator Justin Morrill who authored the land grant concept and served as a UVM trustee.
Drawing on his own experience as a product of public universities, Garimella recognizes the transformative power of education and research and the importance of access and service. This is reflected in Amplifying Our Impact, the strategic vision released in the first year of President Garimella's tenure.