The University of Vermont is poised and ready to build upon our reputation as a premier research institution focused on sustainable solutions with local, national, and global applications and impact. Our distinctive strengths align with the most pressing needs of our time: the health of our societies and the health of our environment."
— From the "Amplifying Our Impact" strategic framework
Celebrating the Start of Spring Semester 2021
Welcome to the first week of classes for spring 2021. Getting to this point has not been easy, but we can all take pride in what we've achieved—and what is yet to come. President Garimella shares his hopes for the semester ahead.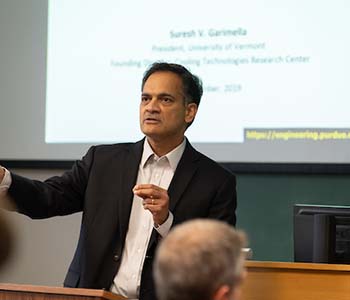 Suresh Garimella
Suresh Garimella became the 27th president of the University of Vermont on July 1, 2019.
A strong proponent of the value of public higher education, President Garimella was drawn to UVM in part because of its status as the land-grant university for Vermont, the home state of Senator Justin Morrill who authored the land grant concept.
Drawing on his own experience as a product of public universities, Garimella recognizes the transformative power of education and research and the importance of access and service. This is reflected in Amplifying Our Impact, the strategic vision released in the first year of President Garimella's tenure.