Videos and Presentations from the 2013 VMC Conference
Watch video of the welcome and keynote address, our invited speakers, the afternoon contributed presentations, and read summaries of the afternoon working sessions. In addition, the slides for some talks are available where permission was given
In addition, VMC published proceedings for the conference, including synthesis of the afternoon work sessions and abstracts from the morning talk, in February, 2014
Welcome and Keynote
Welcome, Introductory Remarks, and Remembrance of the Late Professor Hub Vogelmann
Jen Pontius, Principal Investigator, Vermont Monitoring Cooperative
Tim Perkins, Director, Proctor Maple Research Center, UVM
Keynote: Building a Vermont forest research network:
the need for increased coordination and cooperation among disciplines and across organizations.
Jon Erickson, Dean Rubenstein School for the Environment and Natural Resources, UVM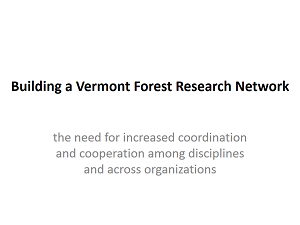 Download the keynote presentation
Back to Top
Invited Presentations: The current state and future needs for management, monitoring and research activities
Forest Health Protection
Ryan Hanavan, State and Private Forestry of USFS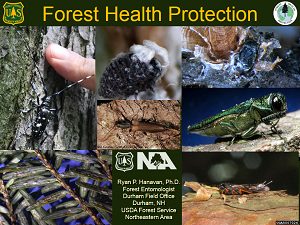 Download Ryan Hanavan's presentation
Green Mountain and Finger Lakes National Forests:
Current Issues and our Vision of the Future
Colleen Madrid, Forest Supervisor, Green Mountain and Finger Lakes National Forests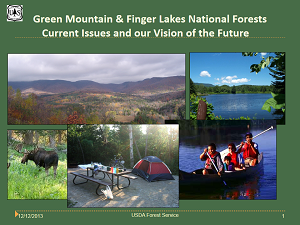 Download Colleen Madrid's presentation
Patrick Berry
Commissioner, Vermont Fish and Wildlife Department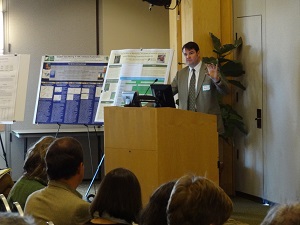 No presentation available
David Mears
Commissioner, Vermont Department of Environmental Conservation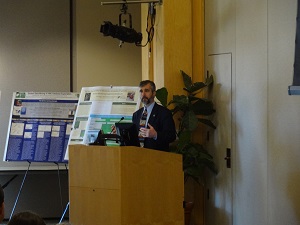 No presentation available
Michael Snyder
Commissioner, Vermont Department of Forests, Parks and Recreation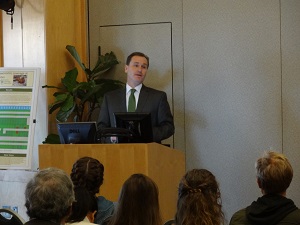 No presentation available
Back to Top
Contributed Presentations: Forest ecosystem science and monitoring, resource management, and public policy.
Session 1

Moderator: Ali Kosiba

Session 2

Moderator: Tracey McCowen

Session 3

Moderator: Elizabeth Perry

The Vermont Vernal Pool Mapping Project: Using Aerial Photo Interpretation and Field-verification to Map State-wide Distribution of Vernal Pools

Steven D. Faccio, Michael Lew-Smith, Aaron Worthley

+ ABSTRACT+ VIDEO+ PRESENTATION

Engaging Students in Resource Management & Monitoring through Experiential Education

Elise Schadler

+ ABSTRACT+ VIDEO+ PRESENTATION

Predicting Calcium Content and Lithology of Glacial Till in the Green Mountain National Forest

Gus Goodwin

+ ABSTRACT+ VIDEO+ PRESENTATION

Long-Term Monitoring of Forest Soil Mercury by the Vermont Monitoring Cooperative

Don Ross, Jamie Shanley, Scott Bailey, Thom Villars, Sandy Wilmot, Nancy Burt, Neil Kamman

+ ABSTRACT+ VIDEO+ PRESENTATION

Vermont's Disappearing Reptiles and Amphibians: Boreal Chorus Frog, Fowler's Toad, and North American Racer

James S. Andrews

+ ABSTRACT+ VIDEO+ PRESENTATION

Emerging Remote-sensing Technologies for Studying the Vermont Landscape

Sean MacFaden, Jarlath O'Neil-Dunne, James Sullivan, and Adam Zylka

+ ABSTRACT+ VIDEO+ PRESENTATION

Peeking beneath the canopy: Insights from using i-Tree Eco to monitor Burlington's urban forest

James Duncan, Aswini Cherukuri and Emily Van Wagoner

+ ABSTRACT+ VIDEO+ PRESENTATION

Forests and the Vermont Tourism and Recreation Economy

William Valliere, Lisa Chase, Robert Manning, and Greg Gerdel

+ ABSTRACT+ VIDEO+ PRESENTATION

Remote sensing of spring phenology in northeastern forests

Jennifer Pontius, Katherine White and Paul Schaberg

+ ABSTRACT+ VIDEO+ PRESENTATION

Integrated Social and Ecological Recreation Monitoring for Vermont's Forests

Nathan Reigner, Kelly Goonan, Carena van Riper, Jeremy Wimpey, Robert Manning, Chris Monz and William Valliere

+ ABSTRACT+ VIDEO+ PRESENTATION

Collaborative study and management of the Camp Johnson sandplain forest

Denise Martin, Peter Hope, Valerie Banschbach, Doug Green, Declan McCabe, and Doug Facey

+ ABSTRACT+ VIDEO+ PRESENTATION

Vermont's Soil Climate Analysis Network (SCAN) sites at Lye Brook and Mount Mansfield – 10 years of soil temperature and soil moisture data collection

Thomas Villars

+ ABSTRACT+ VIDEO+ PRESENTATION

A preliminary analysis of relationships between red spruce woody growth and high-resolution pollution critical loads and exceedance values for Vermont

Paul Schaberg, Benjamin Engel, Gary Hawley, Shelly Rayback, Alexandra Kosiba, Jennifer Pontius and Eric Miller

+ ABSTRACT

Maple syrup production declines following masting

Joshua Rapp

+ ABSTRACT+ VIDEO+ PRESENTATION

A Proposed Vermont Water Monitoring Council – Results of a Needs Survey, and Next Steps

Neil Kamman, Keith Robinson and Steve Gillespie

+ ABSTRACT+ VIDEO+ PRESENTATION
Back to Top
Next Steps Concurrent Working Sessions: Reflect on questions and needs from the morning sessions to find new synergies and formulate actions to maintain these activities.
Forum A: Connecting across organizations
Moderator: Jim Duncan, Vermont Monitoring Cooperative
This work group will initiate a dialogue on the current barriers to, and opportunities for more formal collaboration and communication across organizations. Participants interested in expanding their professional network and including their organization in ongoing collaborative efforts are encouraged to participate in this discussion. The input from this discussion will be used to guide future VMC efforts and resources.
GOAL: Formulate a plan to maximize communication and collaboration across organizations over the coming year.
Forum B: Canaries in the coal mine: Identifying key metrics for monitoring forest resources
Moderator: Sandy Wilmot, Vermont Department of Forests, Parks and Recreation
Dwindling research and management resources, increasing biotic and abiotic stress agents, and the complex nature of ecosystem interactions make identifying a priority list of measurements and metrics required to guide future research, monitoring, management, and policy an urgent need. This group will consider how these data can be collected in standardized, comparable, and efficient ways. This working group will be tasked to draft a "key indicators" memo that will be offered to guide future VMC, state and federal agency efforts.
GOAL: Draft a memo defining key indicators, the data needed to measure them and a plan for bringing those data together.
Forum C: Lye Brook Wilderness area
Moderator: Diane Burbank, Green Mountain National Forest
Meeting participants interested in ongoing or future work at the Lye Brook Wilderness Area are encouraged to join this discussion to coordinate across organizations and disciplines. Lye Brook is unique in that it is the only Class I Wilderness Area in Vermont, and includes a rich archive of existing data. This workgroup will formulate a plan to bring together key partners in an ongoing collaboration focused at this VMC intensive research site.
GOAL: Establish a formal subcommittee with a plan for ongoing communication, priorities and opportunities for research and monitoring at Lye Brook.
Back to Top