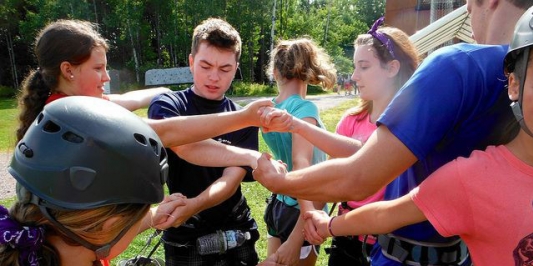 Vermont 4-H offers a wide variety of opportunities which enable teens to develop knowledge, skills, attitudes, and aspirations needed for success in the 21st century. Teens can participate in programs focused on LEADERSHIP, CITIZENSHIP, and LIFESKILLS, through exploring a variety of topics.
Check out the following programs:
4-H World Changers
Vermont 4-H is joining forces with Ohio 4-H and UVM's College of Engineering and Mathematical Sciences to offer a special program! Meet teens from other parts of the country; share your ideas and talk about where you live; learn to code and develop an important workforce skill; and build a website to take action on something that matters to you! Inspired by Girls Who Code, this program is designed for grades 6-12 youth who have an interest in STEM, coding, and making a positive impact in their community. Starts Thursday, October 15 and will run 6 sessions from 7-8 pm. View this flyer (PDF) to learn more, and sign up here!
Advanced Leadership Immersion
Everyone is called to lead. Whether it's a project, a group, a business or a country, you will find yourself asked to step forward and lead many times throughout your life - and effective leadership is a learned set of skills. That's why, this October, Vermont 4-H has partnered with the Governor's Institutes of Vermont to offer the Advanced Leadership Immersion (ALI) to students looking to take their leadership to the next level. ALI will meet online the second weekend of every month from October through May for classes and leader chats, plus schedule their own discussion groups and social events. Tuition is "pay what you can." Application is required, opens September 1, and will remain open only until filled.  Visit https://giv.org/apply-fall for more information and registration.
Citizenship Washington Focus (4-H Members Only)
Registration for this event is now closed. Vermont will send participants to CWF again in July 2022.
For over 50 years, thousands of 4-H youth between the ages of 14-19 have traveled to Washington, DC and stayed at the National 4-H Center to participate in CWF, a life-changing week that empowers 4-H'ers to take their leadership skills to the next level for themselves, their communities, and their world.
Visit the National 4-H Youth Conference Webpage or watch the CWF 2013 YouTube video to learn more.
Leadership Washington Focus (4-H Members Only)
Leadership Washington Focus (LWF) is the only national leadership development experience exclusively designed for 4-H'ers entering grades 7-9. Participants ​will ​be ​immersed ​in ​the ​culture ​and ​history ​of ​our ​nation ​through ​on-site ​workshops ​at ​D.C.'s ​most ​spectacular ​sites. ​ This program will take place at the National 4-H Youth Conference Center in Chevy Chase, Maryland, just 1 mile from Washington, D.C.
Vermont will send participants to LWF in July 2021. Dates to be announced in the Fall 2020. Applications will be due by January 15, 2021.
Natural Resources Management Academy
Teen Time: Shaping Your Future, National 4-H Conference
National 4 H Conference is the pinnacle experience in 4 H Civic Engagement, providing the opportunity for young people to connect, learn, engage, lead and impact their communities, their nation and their world. At the conference, participants prepare and present briefings on important societal topics to federal officials in Washington, D.C. Youth also have the opportunity to engage in personal development experiences that increase their knowledge, resources, and skills while discussing topics affecting youth. Participants not only learn while at the conference: you will be empowered to create positive social change in your communities and have the opportunity to practice and apply your skills in a real-world setting. Application deadline is February 10, 2021; Vermont 4-H will be offering a full scholarship ($325) to 8 Vermont teens to participate! This is a virtual conference. (Flyer, PDF) Apply here
Transferable Skills Workshop
What are transferable skills? And how do students recognize these skills in themselves? The 4-H program has been doing this for over 100 years, though we call them life skills. Help your students gain these critical skills by participating in a customized workshop through experiential learning activities. Students will have a fun and safe way to build skills and recognize ways to use these skills in real world situations. Download the
"Helping Students Gain Transferable Skills" (PDF)
Want to know more? Watch our Across the Fence Episode!
TRY for the Environment
Recipient of the 2015, 2016 and 2017 Governor's Award for Environmental Excellence

TRY stands for Teens Reaching Youth and is an environmental leadership opportunity for youth in grades 7-12. It is a teen-led environmental education program with an embedded service learning component designed to teach environmental literacy and responsibility to younger youth. TRY for the Environment includes five program areas—energy FUNdamentals, waste solutions, food systems, forest and trees and TRY 4-H20 —to connect young people to real-world environmental problems in which they can be key change agents helping to create real-world solutions.
"The Teens Reaching Youth program has allowed our students to become experts on energy and sustainability issues. It has enabled them to become agents of change through education."
- Don Taylor, Main Street Middle School teacher

The TRY program consists of five program areas:
Each program area curriculum includes 6 different one-hour lessons that are fun, hands-on, and easy to teach!
Energy FUNdamentals highlights wind and sun energy engineering. Grades K-3
Climate Change Through Waste Solutions focuses on the 4Rs—reduce, reuse, recycle and rot. Grades 1-3
Food Systems explores the food system and the need to protect our soil, seeds, pollinators and climate. Grades 2-4
Forests & Trees investigates the basic concepts of forest and tree stewardship. Grades 2-4
TRY 4-H20 examines the water cycle, watersheds, water quality and health, and aquatic life. Grades 3-4.
TRY Lessons are taught by TRY teams consisting of 2-4 teen teachers and adult mentor who are trained to teach specific lessons to younger students. Teams must apply to the program and be selected.
Information and application for 2019-2020 is available! (End of this article)
TRY teams commit to teaching their program curriculum to 2 different groups of at least 15 youth.
Teams choose who they teach, and where and when they teach. This allows a lot of flexibility in how to fulfill your commitment of teaching two programs.
All programs must be concluded by May 24, 2019. Vacation camps, afterschool programs, libraries, in-school, weekends and summer programming are all options!
Everything you need to be successful will be given to you, including training, teaching materials and ongoing support.
Who can be a TRY team member?
Team members must be in grades 7-12 and should have an interest in learning and teaching about renewable energy, waste solutions or food systems. It's okay if you don't have any knowledge of the issues or know how to teach. We will train you!
Your team must be able to commit to teaching the program to two different groups. That's a minimum 12-hour commitment (plus your preparation time).
Who can be a TRY team mentor?
Some ideas of people to ask:Teacher, parent, afterschool instructor, community member, college student (21+ years old), 4-H or Scout leader, Green School Energy Challenge advisor, or any caring adult who wants to mentor your team!
Applying to TRY!
Program Partners
TRY for the Environment - Apply to be a Teen Teacher!
TRY stands for Teens Reaching Youth and is an environmental leadership opportunity for students in grades 7-12. It is an environmental education program taught by teens and designed to increase environmental literacy and responsibility in younger youth. TRY for the Environment connects young people to real-world environmental problems by allowing them to be key change agents contributing to real-world solutions.
NEW for 2020-2021: Due to Covid-19 restrictions, the TRY program will be limited to two content areas. Each content area will consist of three, 45 minute lessons that are designed to be delivered virtually - either when students are in the classroom or at home. As in past years, teens will be required to teach the lessons to two different groups of students. We will offer the TRY teaching opportunity to teens twice - Session 1 (January - March with training in December) and Session 2 (March - May with training in February). 10 teams will be accepted for each session - 5 teams in each content area. Learn more and apply: Flyer, PDF
VTeen 4-H Trail Stewards
June - September 2020
Elmore State Park in Elmore; and Little River State Park in Waterbury
We know that young people care about and want to protect our lands. VTeen 4-H Trail Stewards is a partnership with Vermont Department of Forests, Parks and Recreation, and an integral part of trail maintenance on state lands. Maintain your trails from June 1—October 19, 2019, twice a month (every other week) for approximately 4 hours each visit. Maintain your trails from June 6—September 26, 2020, twice a month (every other week) for approximately 2-4 hours each visit.
Check out a video of last year's trail stewards at Elmore State Park! 
VTeen Leadership Weekend
This year's event is November 20-22, 2020. Registration will be available in Fall 2020.
Open to all Vermont teens in grades 7-12. A fun-filled weekend developing important skills and traits that will help you stretch and improve your leadership, communication, problem solving, teamwork and other transferable skills to take back to your club work, school and community.
Space is limited to 50 participants. 
VTeen Science Exploration!
Join us every Wednesday afternoon from 3:30 - 4:45 pm at our weekly virtual teen science cafe where you will meet a scientist, learn about their work, explore different science pathways, engage in informal discussions and ask questions. Open to all youth in grades 7-12 in Vermont and beyond; the Fall Series runs from September 16 - December 16. The Winter Series will run from January 13 - March 17.  See the attached flyer with the schedule of topics for the Winter Series. (Flyer, PDF). To view individual flyers and registrations, please visit our "Announcements" page.
Watch recordings of previous teen science cafes here.
Youth Environmental Summit (YES)
The Youth Environmental Summit is a FREE annual event for students in grades 6-12 who want to learn about environmental issues and find ways to take action. We hope to inspire, encourage, and prepare youth for a life of environmental responsibility, service and leadership by increasing awareness and knowledge of environmental issues and fostering leadership skills.
NEW THIS YEAR! This year's Summit will run for 3 weeks with a kick off on Friday, October 30 and stay open until November 20. This allows you to attend when it works with your schedule! Using FlipGrid we have built a virtual community learning space to make sure the sharing, learning, and networking that usually happens at YES will still happen! Download the YES Flyer (PDF) and YES workshop descriptions (PDF, updated 9/8/20).  Register online at https://www.surveymonkey.com/r/2020virtualYES.