Calling all STEM enthusiasts! We encourage all high schools and/or out of school clubs to form a team (or two, or three!) to participate in the 2024 Vermont Science Olympiad on Saturday, April 6, 2024 (tentatively 9-5 p.m.), hosted by the University of Vermont. Students and teachers alike say it was one of the most inspirational and memorable experiences of their educational life.
See what it is all about! Watch this short video clip from the 2023 tournament. (Stop at 7:17)
Registration will open soon. Please contact Lauren Traister with any questions.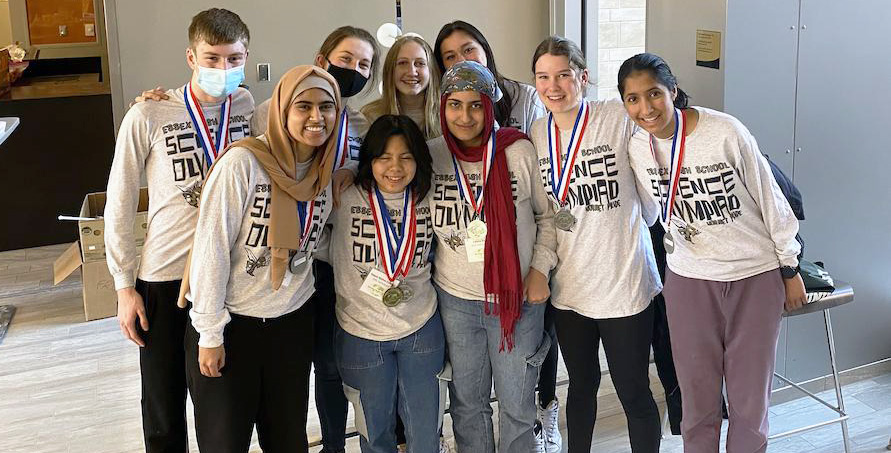 What is Science Olympiad?
Science Olympiad is a national non-profit organization dedicated to improving the quality of K-12 science education, increasing student interest in science, creating a technologically literate workforce and providing recognition for outstanding achievement by both students and teachers.
Science Olympiad functions much like a sports team, requiring preparation, commitment, coaching and practice. Each team is allowed to bring up to 15 students in grades 9-12 who cross-train for a variety of events in their skill set. (Schools may have more than one team.)
Science Olympiad events are held in every state in the country, with the intent of boosting students' knowledge of and engagement with a wide range of science-related fields, including genetics, chemistry, anatomy, physics, geology, mechanical engineering, and technology. The tournaments are rigorous academic interscholastic competitions that consist of a series of team events, which students prepare for during the year. These challenging and motivational events are well balanced between the various science disciplines of biology, earth science, chemistry, physics and technology. There is also a balance between events requiring knowledge of science concepts, process skills and science applications.
The winner of each state level competition is offered the opportunity to compete at the national level, but the emphasis of the day-long event is on active participation and teamwork that brings students, teachers, university faculty, graduate and undergraduate students, volunteers and others together to create a community of science enthusiasts who work toward a shared goal.
Why Should Students Participate?
"I cannot begin to tell you in how many ways this competition changed our students. Each of our kids brought something and overcame something."
—Burr and Burton Science Teacher Rebecca Allen
Top 5 Reasons
Employment in STEM occupations has grown 79% since 1990, from 9.7 million to more than 17.3 million today, outpacing overall U.S. job growth. In 2018, the Pew Research Center estimated that 71% of all jobs required STEM skills.
Science Olympiad lights pathways to apprenticeships, college and careers while developing essential employability skills such as communication, organization, and teamwork — identified as the three top soft skills in new employees according to a LinkedIn survey of hiring managers.
Teamwork is a required skill in most scientific careers today, and Science Olympiad encourages group learning by designing events that forge alliances. In Elevated Bridge, an engineering whiz and a kid from wood shop can become gold medalists. Similarly, a talented builder and a student with a good science vocabulary can excel in Write It Do It, one of Science Olympiad's most popular events.
Extracurricular programs like Science Olympiad offer young adults a glimpse into the future by providing opportunities for mentoring and achieving results. More than three in four female students interested in STEM who have a mentor feel they will be successful pursuing a STEM career.
All events require teamwork, group planning and cooperation. The emphasis is on learning, participation, interaction, having fun and developing team spirit. Coaches and students are reminded of the words of Bill Koch (Olympic Cross Country Ski medal winner), who said, "Winning isn't everything. The striving for excellence is — it's the trying and the caring that is important — winning is a bonus."
And, it's really fun!
Coaches Corner
In the "Coaches Corner" we will provide resources for coaches to get a team started as well as tips and advice to succeed.
Want a mentor? Reach out to one of our experienced coaches on help getting started!
Lesley Riffenburg, Science Teacher, Peoples Academy: lesley.riffenburg@lsuu.org
Edwin Eckel, Science Teacher, St. Johnsbury Academy: edwin.eckel@stjlabs.com
We will be holding a New Coaches Meeting on Oct 4 @ 3:30 pm and Oct 12 @ 5:30 pm. Join us to hear from the Vermont tournament director and experienced coaches to learn just what Science Olympiad is all about and why your school and students should participate. Email Lauren.Traister@uvm.edu to get the Zoom link.
Take a deeper dive into the world of Science Olympiad
Learn the Rules
2024 Rules to be released 9/5/23; access them here: https://www.soinc.org/rules-2024
Division C Event Descriptions
Check out the Science Olympiad website.
Coaches Workshops
Check here regularly for updates from Science Olympiad: https://www.soinc.org/join/workshops They offer regular Wednesday Workshops plus other opportunities both live and recorded. And they have a YouTube Channel with lots of content: https://www.youtube.com/user/ScienceOlympiadTV
Coaches are encouraged to check out the Science Olympiad Coaching Program. It provides 26-weeks of lesson plans to use for Science Olympiad practices along with notes and resources for running a Science Olympiad team. You can find these in the Science Olympiad Store. Coaches who purchase the program also have access to special workshops and online resources.
Practice Tests and Event Information
Here is a wiki that describes the events in more detail
Here is a wiki with archived tests from previous years
Sample Schedule (from 2022)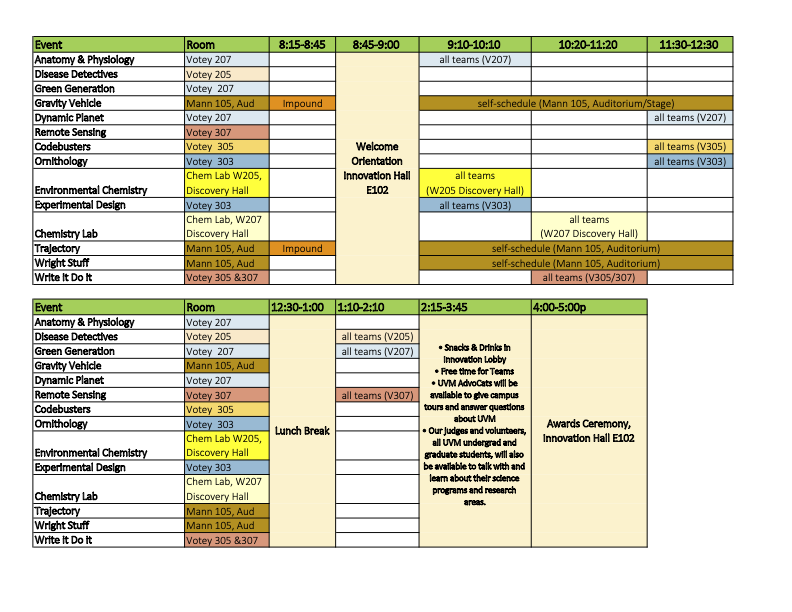 ---
For your own Science Olympiad experience, check out MYSO for free Lesson Plans and STEM career videos!