Agriculture
Safety
Farm safety is no accident. The Vermont Farm Safety Program educates farmers on training employees about safety issues to reduce farm injuries and accidents. Programs include workshops, farm safety audits, assistance with identifying safety hazards on farms and developing strategies to eliminate them, and collaboration with other agencies and organizations to serve the needs of Vermonters. New efforts are aimed at increasing tractor safety with regards to the use of rollover protective structures.
Find instruction on ...
Floods
Fire
Farm safety, assessment and biosecurity planning
Animal biosecurity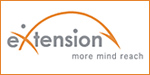 UVM participates in eXtension: A national organization creating rich education for local Extension programs.
Visitor biosecurity
Wildlife biosecurity
Winter, Snow and Ice
Last modified March 06 2014 02:59 PM