2022 Vermont Dairy Farm of the Year: Molly Brook Farm, Cabot
Molly Brook Farm, a seventh-generation farm in Cabot, has been named the 2022 Vermont Dairy Farm of the Year. Myles and Rhonda Goodrich own and operate the 565-acre hillside farm, which has been in the same family since 1835. It has been a registered Jersey operation since 1917 and is renowned internationally for its superior Jersey genetics. Since 2018, it's been a successful certified organic dairy with a high-producing herd that has earned a number of quality milk awards from Stonyfield Organic, where they ship their milk. Read more on the 2022 award.
Important Dates & Links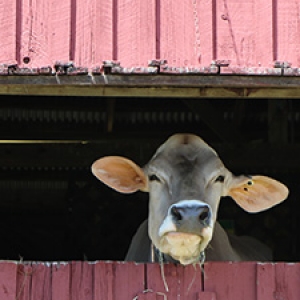 2021 Winner: McGarry Dairy
2021 Vermont Dairy Farm of the Year: McGarry Dairy, West Berkshire
Ed McGarry always knew that he wanted to be a dairy farmer. It's a passion shared by his wife, Diane, and youngest son, Brian, who operate McGarry Dairy, a 115-head Holstein operation in West Berkshire, Vermont.
Although they would say that being able to do what they love is enough reward, they recently were recognized with one of the biggest honors bestowed by the dairy industry in the state, that of being named the Vermont Dairy Farm of the Year for 2021. Read more on the 2021 award.
2020 Winner: Sunderland Farm
2020 Vermont Dairy Farm of the Year: Sunderland Farm, Bridport
Sunderland Farm, a sixth-generation dairy operation in Bridport, can best be described as a farm with a future that's not forgotten its past.
Although it can trace its beginnings back to the mid-19th century when thousands of Merino sheep grazed its pastureland, the farm has never stopped moving forward. The farmers are quick to adopt new technology, including robotic milkers, to make their operation more efficient and cost-effective. Their attention to detail when it comes to their cows is evident by their exceptional milk quality, high quality forages and ongoing measures to improve cow comfort. More on the 2020 award.
2019 Winner: Wonder Why Farm
2019 Vermont Dairy Farm of the Year: Wonder Why Farm, Cabot
The 40-year-old dairy farmer and his wife, Jennifer, own Wonder Why Farm, a 235-head operation on a quiet country road in Cabot, Vermont.  His "What if?" way of thinking has helped them transition from milking 15 cows on his father's farm in 2002 to managing a certified organic herd with around 120 milkers on their current farm, which they first leased in 2005, and later purchased, from his uncle, Walter (Rusty) Churchill. More about the 2019 award.
Watch this Across the Fence Video about Wonder Why Farm:

2018 Winner: Aires Hill Farm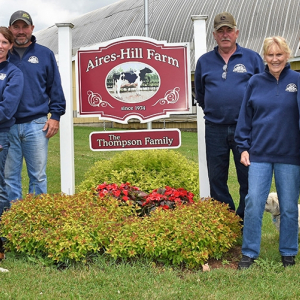 2018 Vermont Dairy Farm of the Year: Aires Hill Farm, Berkshire
When Franklin Thompson began milking cows in 1826 on a 130-acre parcel of land abutting the Canadian border, little could he know that seven generations later, his Berkshire farm would still be operational--and thriving. Or that it would be the recipient of one of the most coveted dairy awards in the state, that of being selected as the Vermont Dairy Farm of the Year. This year's winner, Aires Hill Farm, is a 400-head Holstein operation on 550 acres of owned and rented land. Managed and co-owned by Karie Thompson Atherton, Aires Hill epitomizes everything that an outstanding dairy farm should, including exemplary management practices and herd performance, high-quality milk production and a strong commitment to promoting the dairy industry.  More about the 2018 Award
Across the Fence Video:

2017 Winner: Fairmont Farm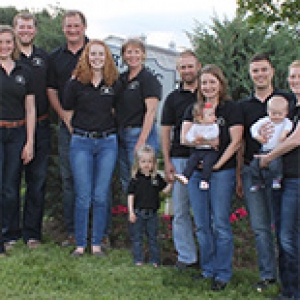 Fairmont Farm, East Montpelier
Fairmont Farm stood out among the 2017 nominees for its efficiently managed herd, sustainable conservation practices and early adoption of new technology. It also was recognized for its commitment to educating the public about agriculture through farm tours, 4-H and summer day camps for kids. About the 2017 Award | Photos and Info about the Fairmont Farm
Watch this Across the Fence Video about Fairmont Farm:
 
2016 Winner: Lanphear Farm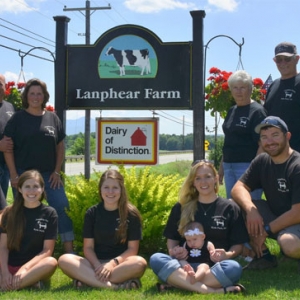 Lanphear Farm, Hyde Park
The Lanphear Family Farm, a 530-cow Holstein dairy in Hyde Park, embodies all that a topnotch dairy operation should including a well-managed herd, high quality milk production, efficient management and strong work ethics. Owners Kirk and Katrina Lanphear pay meticulous attention to detail when it comes to their herd and daily operation of the farm. But they also are deeply committed to family, not only managing the farm to allow time for family activities but making decisions to ensure that their agricultural enterprise remains sustainable and affordable for the next generation. About the 2016 Award | Photos and Info about Lanphear Farm (PDF)
Watch this Across the Fence video about the Lanphear Farm:

2015 Winner: Keewaydin Farm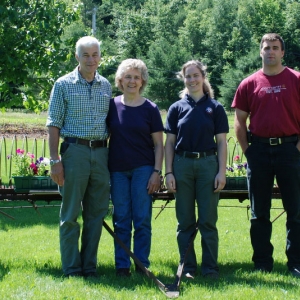 Keewaydin Farm, Stowe
2014 Winner: Dolloff Acres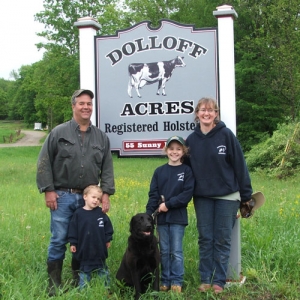 Dolloff Acres, Springfield
All Winners Since 1948
Vermont Dairyman of the Year Winners, 1977-2017
2017 Fairmont Farm
2016 Lanphear Farm
2015 Keewaydin Farm
2014 Dolloff Acres
2013 The Gervais Family Farm (Bob and Gisele Gervais)
2012 Chaput Family Farms (Mike and Reg Chaput)    
2011 The Kimball Brook Farm (JD and Cheryl DeVos )
2010 The Longway Farm (Dickie, Julie, Travis and Adam)
2009 The Richardson Family Farm (Gordon, Scott, Amy, and Reid)
2008 Brian and Bill Rowell
2007 HJ & Anne Howrigan & Sons (Lawrence, K. Michael & Harold Jr.)
2006 Two River Farm – The McNall's      
2005 Keith & Chelsea Sprague
2004 Jacques Couture
2003 Walter & Margaret Gladstone
2002 Maurice & Lois Maxwell & Sons
2001 Onan & Lorenzo Whitcomb
2000 Ray & Linda VanderWey & Sons
1999 Dean, Tim, & Jay Hamilton
1998 Mark & Mike Lourie
1997 Roger & Claire Rainville
1996 Ted Young & Mark Rodgers
1995 Fred & Sandy Stone
1994 Robert & Gail Ketchum
1993 Walter Bothfeld & Sons
1992 John & Gail Osha
1991 Claude & Gail Lapierre
1990 John Malcolm
1989 Austin Cleaves
1988 David & Janet Russell
1987 Walter & Sally, Miles & Maria Goodrich
1986 John & Donna Hall
1985 Timothy Leach
1984 Robert & Bettelee Crawford
1983 Dustin White
1982 Elwin Neill & Son
1981 Robert & Arthur Vasseur
1980 Magloire Audet
1979 Roland T. Simmons
1978 Mr. & Mrs. Charles McLane
1977 Bernard & Herbert Spencer
Bicentennial Dairy Farms, 1976 **
Roger & Mae Leach
Ed & Joan Lewis
Arthur Ranney Farm
Harold & Vera Nelson
Merrill & Felicia McLaren
Vermont Dairyman of the Year Winners, 1962-1996
1975 Gordon J. Booth
1974 Leonard Germain
1973 Alfred E. Dunklee
1972 Delwin Lewis
1971 Mrs. Ransom Conant
1970 Marcel Dubois
1969 Paul E. Miller
1968 Arthur Clifford
1967 Lloyd Patterson
1966 Harry Durgin
1965 William Strohmaier & Sons
1964 Edmond Vercherreau *
1963 Percy Martin *
1962 Henry Buxton *
Vermont Green Pastures Winners, 1948 – 1961
1961 Kenneth Hallock
1960 John D. Ware *
1959 L.E. Maxfield & Sons
1958 Donald E. Lewis
1957 Bushey Brothers
1956 David Batchelder
1955 Orin Thomas *
1954 Robert R. Kilborn
1953 Harlow Brothers
1952 Persus Monteith *
1951 Francis E. Plumb *
1950 Melvin R. Moulton
1949 Elmer & Roderick Towne
1948 Douglas B. Kitchel
* Deceased
** VT Farms owned & operated by the same family for 200 consecutive years
About the Dairy Farm of the Year
It all began in 1947 with the following, "I challenge the other New England States to produce better pastures than New Hampshire and I bet a hat that they can't do it". That was the beginning of what turned out to be one of the most successful regional programs in New England when Governor Charles Dale, then Governor of New Hampshire, challenged the other New England States to produce better pastures. This challenge by the New Hampshire Governor to his fellow New England Governors started a tradition which has involved hundreds of dedicated farmers, farm families and agri-business leaders over more than 30 years.
As the New England dairy industry has changed over the years, so have the objectives of the New England Green Pastures program. It has evolved from one of promoting pastures and forage management to its present objective of honoring an outstanding dairy family from each of the six New England States for total management (both production and financial) of the operating farm, considering the farm family's contribution to the agricultural community.
Originally, each of the six New England Governors made the presentation to the outstanding dairyman in the individual states. Today, this function is carried out by the Commissioners of Agriculture. Except for the "Governors' Trophies", paid for by the Governors, New England dairy farmers and agri-businesses have contributed the entire budgets on which the New England Green Pastures program has operated over these many years.
The New England Green Pastures program continues to emphasize the importance of a viable dairy industry in New England. Three activities are supported by a very modest budget. First, the program honors the "Outstanding Dairy Farm of the Year" from each of the six New England states; this includes a trip to Eastern States Exposition where a banquet and evening program center around these outstanding farm families. Second, through the "Salute to Agriculture", the New England dairy story is told to the largest assembled group of consumers in New England – namely, at the "Big E". Finally, with the help of the Green Pastures program, prominent teachers and research personnel are brought to New England to conduct special in-service training sessions for Extension, agri-business and dairy leaders on problems facing the dairy industry.