Hands on Experience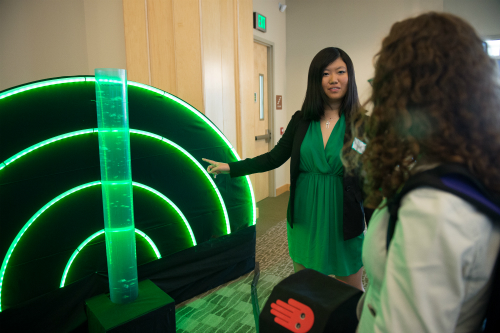 The Electrical Engineering (EE) program at UVM provides a significant amount of hands-on experience. The curriculum requires four semesters of laboratory experience in circuits and electronics. In addition, you will take courses in microprocessor-based design, signal processing, communication systems, and energy systems that also have a significant laboratory experience. Finally, both in your first and last years you will be involved in a team-based, interdisciplinary design project. Through these experiences you will develop design skills that will be invaluable after graduation.
All Bachelor of Science degrees in Electrical Engineering (BSEE) are accredited by the Engineering Accreditation Commission of ABET, 111 Market Place, Suite 1050, Baltimore, MD 21202-4012.
Flexible Curriculum
The EE curriculum at UVM has a significant amount of flexibility enabling you to customize your experience to your interests. Specifically, you will have four EE electives and four additional technical electives at your disposal. Possible course elective areas include:
Energy Systems: Explore the new frontier of alternative energy systems and smart-grid solutions. This interdisciplinary area parlays offerings from electrical engineering (energy generation, electromagnetics, power systems, etc.) and technical electives from mechanical engineering (thermodynamics and sustainable energy), policy, etc.
Internet of Things: Leverage your studies in embedded systems, sensors, and wireless communications to develop the next generation of networked devices. Applications in smart homes, more efficient and reliable energy systems, and robotics.
Intelligent Systems and Autonomy: Leverage your studies in embedded systems, control systems, and signal processing to develop algorithms and technologies for intelligent and autonomous systems. Applications are aerial drones, satellites swarms, robotics, autonomous vehicles, the smart grid, and human-machine interactions.
Biomedical Engineering: This interdisciplinary program enables you to apply electrical engineering areas such as electronics, sensors, and signal processing for solutions related to human health. Applications include prosthetics, medical imaging,  and artificial organs.
Furthermore, EE students can readily use their technical electives towards minors in Mathematics, Computer Science, Physics, etc. to best fine-tune their EE degree to their interests.
Professional Licensure
College of Engineering and Mathematics
Department of Electrical and Biomedical Engineering
Electrical Engineering
Bachelor's Degree