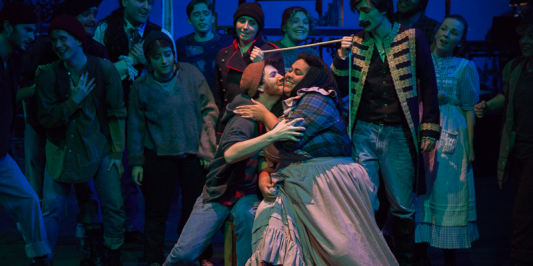 News and Events from the UVM Department of Theatre.
Stay informed about happenings and events in the UVM Department of Theatre.
UVM Theatre grad attends Stagecraft Institute of Las Vegas - Summer 2018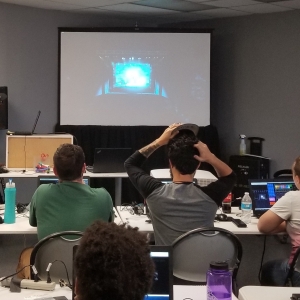 UVM Theatre grad Andy Shores (2018) spent the summer after graduation at the Stagecraft Institute of Las Vegas. Here is an article about that experience that SILV recently posted on their website -
Shores grew up in the Philadelphia suburbs and discovered technical theater in high school. After heading off to college at the University of Vermont, Shores decided to work in theater for a living. At school, Shores served as a light board operator and followspot (or spotlight) operator, and eventually became the production stage manager and lighting designer.
After graduating in May of 2018 with a bachelor's degree in theater, Shores immediately went to Las Vegas to attend the 2018 SILV training and is currently on the search for jobs in lighting in the industry.
"Andy came to SILV 2018 as the student of John Forbes, who was a student of my husband, Donald," said Jane Childs, director of SILV. "Forbes was a student of Don's in his first teaching job at UCSB way back in the early 1970s. That was the beginning of a lifetime of work and sharing that literally culminated in SILV. Always amazing to note when life goes full circle and then starts all over again: Andy is proof that the ripples of Don Childs are still making waves!"
Here are Shores' thoughts on SILV and Vectorworks:
What drew you to pursue theater design as a career?
I got into technical theater in high school. A friend asked me to run followspot for a children's theater production our school was doing. I stayed on tech crew for all of my years in high school, working my way up to being the main lighting guy.
I went into college as a neuroscience major, however, because I didn't think I could actually make a career out of theater. That changed my sophomore year of college when I took fundamentals of lighting as my fine arts elective. It was there I met the man who would become my mentor in lighting design, John B. Forbes, who showed me that there are a lot of paths forward in the entertainment industry. By the end of the year, I had switched my major to theater, and the rest is history.
What drew you to apply to SILV?
John, my mentor, was a student of the founder of SILV, Don Childs, and is still very good friends with Jane Childs, the current director of SILV. He spoke often during my time at college about it being an incredible opportunity. I wanted to expand my skill set post-graduation before starting to apply for jobs, so it seemed like a no brainer.
How would you describe your experience at SILV?
Intense. I got what I hoped to out of the program and much, much more. The hours are long and the schedule is always changing, but if you can handle it, you will walk out of the program with so much more than you walked in with. It's truly not comparable to anything I've done before. You just learn. You learn about stagecraft and about technology, and also about how to be a respectful human being that others want to work with.
How was your experience learning about Vectorworks and Vision?
Frank Brault is a great teacher. He wants you to learn and shows genuine enthusiasm when you've figured something out. Combine that with his knowledge of the programs and you've got a stupendous class. I went from feeling like I had a very basic grasp on Vectorworks Spotlight to feeling like I have command of the software. I am now working with it rather than struggling with it. Likewise, with Vision, now that Frank got us going, it is a tool I know I can use proficiently if I ever need to.
What features of Vectorworks and/or Vision do you think will be the most beneficial to you?
Being able to simply draft in 3D will be super helpful to me in the future as a designer, and the visualization Vision provides will help me massively as both a programmer and designer. Being able to specify every parameter of every light I put on my plot combined with Vectorworks' paperwork creation has also been my savior on more than one occasion in the past, and will likely continue to do so.
What are your plans moving forward, and how has SILV helped with those plans?
Right now, I'm in a state of flux. Ideally, I'll eventually be programming rock shows or theatrical productions. The backup plan is to move to NYC with some other SILV 2018 alumni. SILV gave me the skills to get a lot of these jobs, and the network to help me find more opportunities and find support wherever I am.
A Bond built on Stage - Alumna and professor reunite for off-Broadway production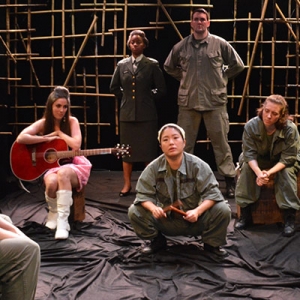 09-21-2017
By Jon C. Reidel
For the past 23 years, Jeff Modereger has told first-year students a poignant story about one of his first plays at UVM as a new theater professor. Illustrative of the healing power of good theater, the story has stayed with many students long after graduation.
One of those students, Randa Karambelas '01, was so moved by Modereger's description of the audience reaction to "A Piece of My Heart"— a play based on true stories told by women who served in Vietnam — that she vowed to produce it one day in New York. Now an accomplished actor, producer and writer, Karambelas made good on her promise by bringing the play to the off-Broadway IATF theater this month via her own production company, Little Spoon, Big Spoon, Productions, LLC.
What's more, she vowed that only Modereger could be the set designer—another promise kept.
Karambelas had one condition: that Modereger's design would be the central element. "I hired my entire production team with the disclaimer that the scene design was already established," says Karambelas. "Once everyone saw Jeff's design, they were all onboard and we built the production from there."
At first glance, it is a raked stage covered in textured fabric with bamboo lattice worked into the background. The design is deceptively simple, until the end when it underscores Shirley Lauro's entire script and the 20-year journey these women have been on. "It ties together the past, present and future in a way that I have never seen done before in theatre," says Karambelas. "And no one in the audience expects it. It's the final button."
What the audience doesn't know is that Modereger's design pays tribute to his cousin, David E. Hevle – a Marine Corps Corporal who died in 1967 while on duty in Quang Tin. For Modereger, Karambelas and the production team, the play is a tribute to his cousin. "The storytelling, the direction, the acting and each of our design elements echo the only line that is repeated throughout the play – 'to honor the brave men and women who served so well and gave so much,'" says Karambelas.
"That's the power of theater," says Modereger, a scenic designer for Broadway, television, and film. "We humanized everybody sitting in the theater. It stuck with Randa all these years. It's the reason I keep telling these stories to my students." 
For Karambelas, bringing the play to New York marks a milestone in a career that began in theater, took a turn into the corporate world, and has returned to her love of the stage.
Building from experience gained in the business world, she launched Little Spoon, Big Spoon Productions, along with business partner Chelsea J. Smith, with a focus on socially conscious artistic ventures that support related non-profits. For "A Piece of My Heart," 20 percent of all proceeds and 100 percent of all donations will benefit Hope for the Warriors, a veterans organization supporting post 9/11 service members and their families.
One of her proudest accomplishment with this production: keeping it in the UVM family, by hiring alums including Timothy Parrish '07 as a lighting designer, Danielle Varcasia '10 as an electrician and Jamien Lundy Forrest '01 as part of the technical crew.
"Jeff taught me that art can heal," says Karambelas. "As an artist, I have learned that if art doesn't move you, mark you or change you in some way, then you are doing it wrong. I am so fortunate that today, all these years later, I have been able to team with my college professor on a professional level and do just that. We've come full circle. I am very proud of what we have put on this NYC stage."
Associate Professor of Theatre Katie Gough presents "Coracles, Castanets, Cadaqués"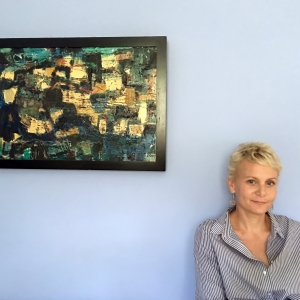 Associate Professor of Theatre and Resident Dramaturge Katie Gough will present a work in progress performance of her first play, Coracles, Castanets, Cadaqués on August 17, 2017 at 7:30PM at FlynnSpace in Burlington, Vermont. Coracles, Castanets, Cadaqués is part monologue, part comedy, part puppet show, part detective story, and part history lesson and follows the story of theatre professor who makes an appointment with a therapist. What ensues is a surrealistic autobiographical tale of lost orientation, and of learning to turn an eye into an ear in order to hear the ways that our own darkness is looped with our grandest understanding of love. Oh, and there's a tiger.
Admission is free.
Cast: Marianne DiMascio, John Jensen, Lawrence Connolly, Emer Pond Feeney, & Mary Krantz.
Sound Designer: Patricia Julien.
Movement Assistance: Jena Necrason.
Production Asst: Caitlin Durkin.
Sound Tech: Abra Clawson
Watch this teaser for Coracles, Castanets, Cadaqués -