Fall 2021 Production
Dancing Uphill - On Site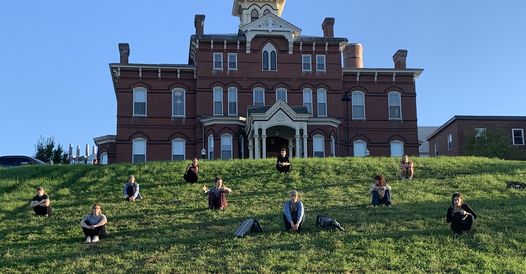 Directed by Paula Higa
Choreographed by the students
PLEASE NOTE: Due to an inclimate weather forecast for Oct. 16 & 17 the performances for Dancing Uphill - On Site have been RESCHEDULED forOctober 23 & 24 at 2PM each day.
Location: UVM Medical Center Hillside facing Colchester Avenue and the Trinity Campus
Inspired by Samuel Beckett's Theater of the Absurd, Dancing Uphill - On-site examines power-hungry and social hierarchy through competitiveness. The performance revisits past choreographies from the UVM Dance Program annual concert, Dancing Uphill while tackling non-sense logic. Like in Beckett's plays, what seems meaningless and absurd will come to a conscious end.
And if you think the performance is too "absurdist" for your mindset, we hope you enjoy the selected covers playlist!
The running time for the event is approximately 30 minutes. Parking at UVM Medical Center is not available.
Spring 2021 Production
Dancing Uphill 2021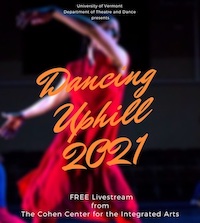 Dancing Uphill attempts to capture a glimpse into the rigor, play, and creative research that goes into dancing, dance-making, design, and production here at UVM. Dancing Uphill has been an annual UVM Dance Program tradition since 2008. Since its inception, the goal of Dancing Uphill has been to feature original UVM student choreography, as well as student performances in the context of professional faculty and guest artist work. The show also highlights collaboration with designers and, depending on the work itself, additional collaborations with musicians, composers, writers, digital artists, etc.
This year, Dancing Uphill also features student senior projects as part of the new major in Dance at UVM. We are only into our second year of this new major, and we are proud to showcase the work our incredibly smart and creative bunch continues to generate.
Dancing Uphill 2021 will be presented on April 16 and 17 at 7:30PM in the Cohen Center for the Intergrated Arts. Due to our need to adhere to protocols around the Covid-19 pandemic we will not be able to perform in front of an in-person audience. However, we are thrilled to be able to present this years performances as a FREE Live-Streamed event. The link below will enable you to view the performances either evening - no password needed. We hope you can join us for an exciting evening of dance as we present Dancing Uphill 2021. 
Fall 2020 Production
Annual Site Performance Project
Moving Through the Flood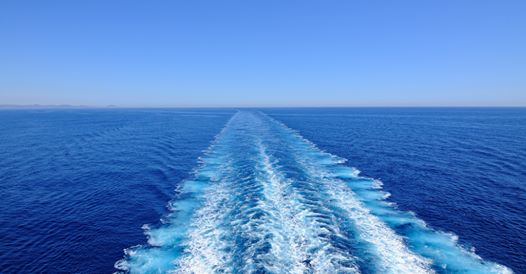 Moving Through the Flood is a site-specific outdoor performance that brings together the power of dance, theatre, and live music to transcend beyond the current circumstances that are keeping us apart. The performance will take place in the heart of the campus, in front of the Fleming Museum, unfolding at an intersection where art (Fleming), medicine (UVM Medical Center), and science (Innovation Hall) converge. Directed by UVM Theatre and Dance faculty Julian Barnett, and including artistic work from fellow faculty and students, the performance explores the metaphorical possibility of water, as it floods, washes, wakes, and ripples, to create new possibilities and rituals of live performance in the era of social distancing.
Director: Julian Barnett
Scenic Design: Sara Nelson
Lighting Design: Bert Crosby
WHEN
Friday, October 9, 2020 at 4:30PM and 6:00PM
The Fleming Green – this green space is located between the Fleming Museum, Central Campus Residence Hall and Innovation Hall
HOW TO ATTEND THE EVENT
    Attendance is limited to UVM ID holders only. You must register in advance to attend.
    Register by emailing RTTTickets@uvm.edu. Indicate which date/time you would like to attend.
    As per UVM and State guidelines, when registering you must provide your name and a phone number where you can be reached.
    When registering please indicate any special requests and/or accommodations.
    You will receive an email confirming your request to attend within 24 hours. This time frame may be longer if you submit your request on a weekend.
GUIDELINES FOR ATTENDEES
    Everyone attending the event must present a valid UVM ID to gain admittance.
    Everyone attending the event must wear face covering and maintain a physical distance of 6 feet between attendees.
    Any necessary additional guidelines, including updates in the event of rain, will be included in the confirmation email.
2019-2020 PRODUCTIONS
Annual Site Performance Project
Quantum Complications
The light is the beginning of quantum. The smallest particles of energy travel through empty spaces.
The lines confine the spaces. Pulsating energy collides and shapes the unknown.
The paper is the macro lenses of quantum complications.
Working in the new Discovery Hall, this site-specific performance intends to bring art and science together. Influenced by the work of Debra Weisberg, Tape Drawings, faculty Paula Higa and students examine quantum physics, the vast space between areas, and atomic turbulences.
Friday & Saturday, November 8 & 9, 2019
Discovery Hall
Two shows each night: 5:30 & 7:00 PM
Tickets: $5, general admission (cash or check only at the door)
NOTE: Limited availability. Please contact RTTTickests@uvm.edu to make a reservation
Dancing Uphill 2020
Wednesday-Saturday, January 22 - 25, 2020 - 7:30 PM
Mann Gymnasium (Trinity Campus)
Tickets: $10 for Students; $15 General Admission
Highlighting UVM dance student performers, the concert includes choreography by UVM dance faculty, UVM composition students, and professional guest dance artists. The show will include works by dance faculty Julian Barnett and Paul Besaw, and feature the work of guest artists Lauren Blue (UVM Class of 2012), Laurel Jenkins, and Lida Winfield. Directed by Besaw; technical direction and design coordination by Bert Crosby.
Tickets for Dancing Uphill 2020 are available for purchase at the door of the event. Dancing Uphill 2020 is being presented in Mann Gymnasium located at 208 Colchester Avenue on the trinity campus of UVM. Tickets for Dancing Uphill 2020 are $10 for UVM students and $15 for all others. Tickets can be purchased at Mann Gymnasium by cash or check only. If paying by check please make it out to the University of Vermont. Seating is General admission and the performance begins at 7:30PM.
Again, tickets for Dancing Uphill 2020 are no longer available for purchase online or at the Royall Tyler Theatre box office. They can only be purchased at Mann Gymnasium, beginning at 6:15pm Friday and Saturday, Jan. 24 and 25. Tickets are subject to availability.
---
2019-2020 EVENTS