"Not everything that is faced can be changed, but nothing can be changed until it is faced."                                                                                                                               -James Baldwin
In the Career Center, we are engaging with our employer partners to face the systemic barriers that are often present in traditional hiring practices, leading to bias, discrimination, and anti-Blackness when sourcing, recruiting, and hiring candidates. Our belief is that by sharing resources and information on more intentional recruiting processes, we can accelerate change to create more equitable and diverse workplaces.
Attracting Students of Color:
Your organization's mission, vision and values helps students of color evaluate you as a potential employer because they define your workplace culture, vision for change, development of your employees, and engagement in the community. As the Glassdoor statistics below, being transparent about your diversity and inclusion strategies is key to demonstrating your commitment to transform your workplace to meet the expectations of a diverse workforce.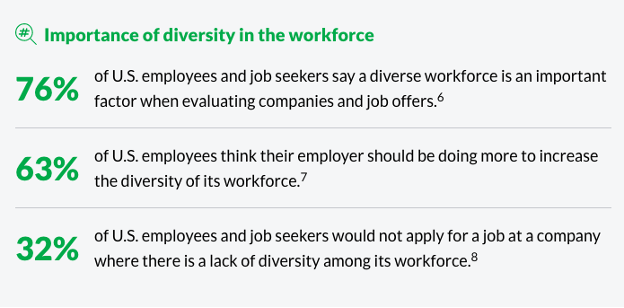 Website/company materials that speak to your commitment to diversity and non-discrimination. 

Employee directories where racial/ethnic diversity exists amongst the employees, senior management & leadership, and board of directors. 

Recruiters/Employees offering specific examples of how the company is actively contributing towards becoming more equitable and inclusive.  
Collaborations and relationships with professional organizations for people of color. 

In-house employee supports and social networks for people of color. 

Clear pathways for professional development and growth. 
Below are resources that organizations

have found helpful to be more intentional in their sourcing, recruiting and candidate selection process.