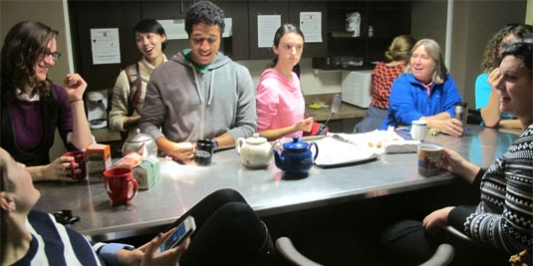 Academic Advising: What to Expect
Advisors help students learn more about their chosen field of study and the opportunities associated with it. As nationally and internationally known scholars with successful careers, our faculty have a wealth of expertise to share about the work in their field, related disciplines and career opportunities.  Often, the advisor student relationship will continue beyond graduation, providing references and connecting students with career opportunities.
Find your Advisor
Your current advisor appears under the Advising link in your myUVM portal. Faculty will contact their advisees in advance and provide their office hours. If your schedule does not allow you meet during their regular hours, please email them with an alternate day and time.
What to Expect
Advising help is available through scheduled meetings, which happen once each semester before course registration. You will go over common questions and be provided guidance.
Your faculty advisor will provide one-on-one advising sessions to help you with:
course selection
fulfilling major requirements
distribution and minor requirements
planning for off-campus studies, internships and other opportunities
navigating your four-year path
career ideas and opportunities