Paul Munter 2022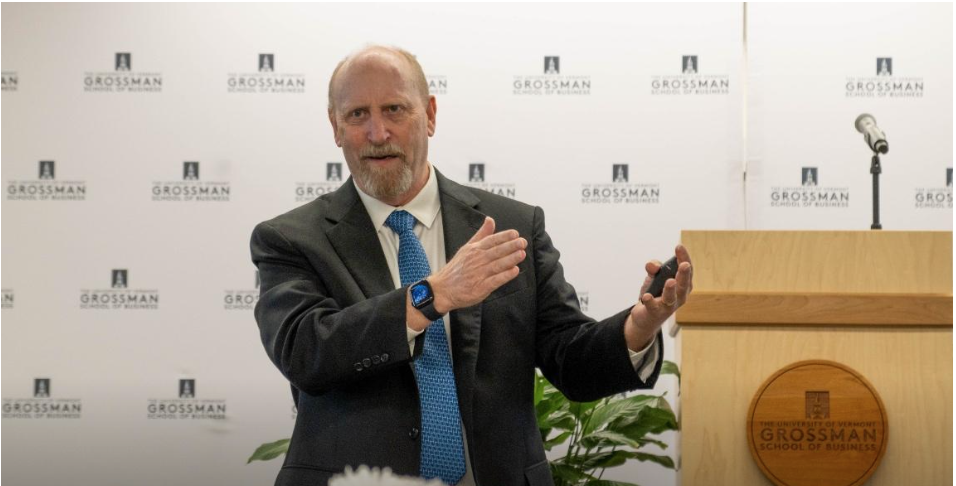 Paul Munter, Acting Chief Accountant of the Office of the Chief Accountant (OCA) at the U.S. Securities and Exchange Commission (SEC), to Ifshin Hall Thursday, spoke in April 2022 as our 2022 MAcc Director's Speaker Series special guest. Dr. Munter talked to the mission of the SEC and role of OCA to uphold their mission of protecting investors, maintaining fair, orderly, and efficient markets, and facilitating capital formation. 
His engaging talk touched on many aspects of the financial markets and what is important to their efficient operation, including the need for "clean" accounting, financial data, and reporting that instills trust in investors. In addition, he noted how technology is increasingly enabling both the delivery and consumption of that information.
Prior to joining the SEC staff, Dr. Munter served as professor of accounting at the University of Miami and a national office partner of audit quality and professional practice for KPMG. He earned his PhD in accounting from the University of Colorado, Boulder and his B.S. and M.S. in accounting from Fresno State University. He is a CPA in Colorado, New York, and Florida.
Sharon Basel 2019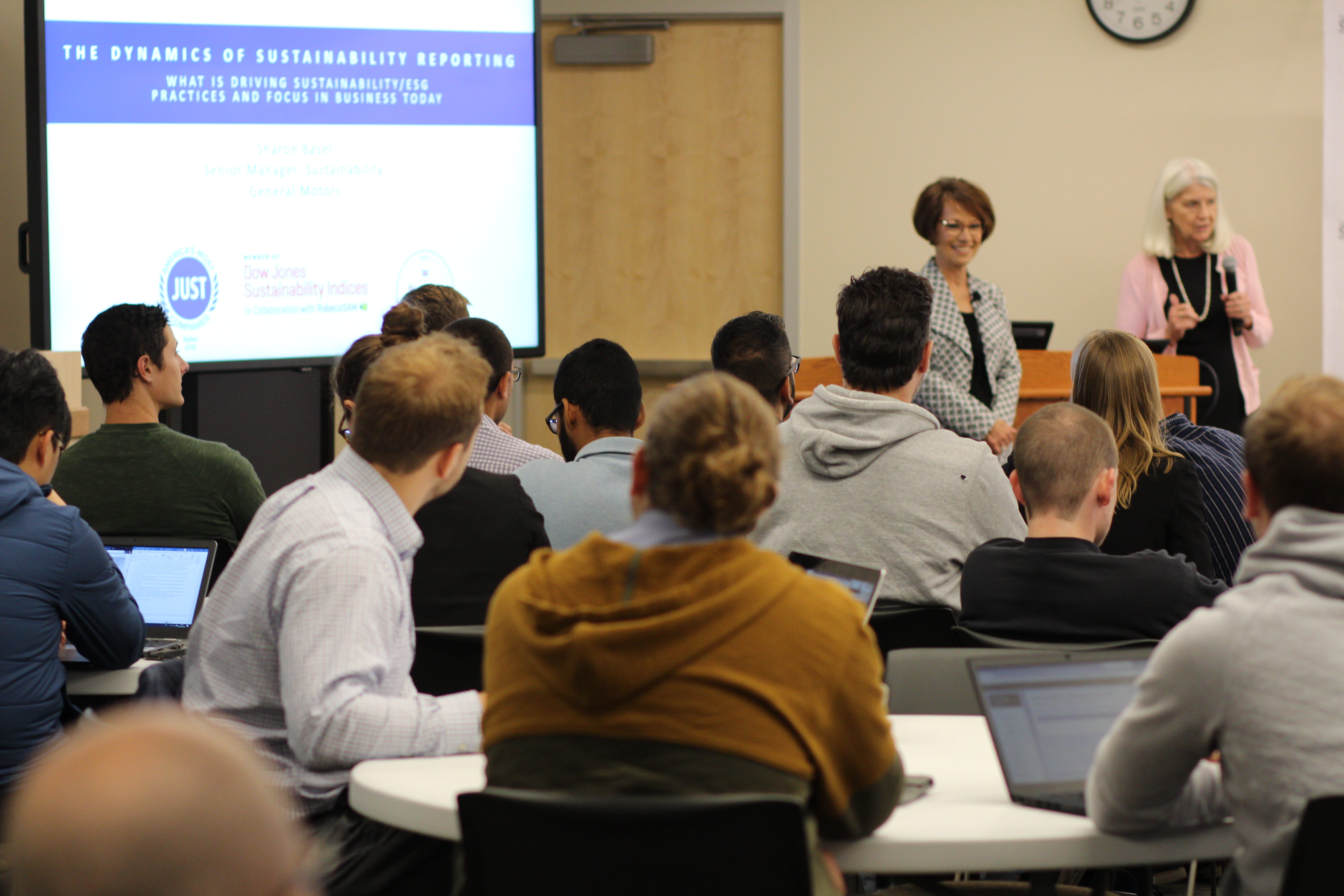 Sharon K. Basel, Senior Manager, Sustainability and Global Public Policy at General Motors Company spoke at the Grossman School on Wednesday, October 16 in the Keller Room. Ms. Basel provided a dynamic, well-informed presentation on GM's efforts toward sustainability and effective sustainability reporting.
In her role at GM she leads the global reporting and non-financial disclosure strategy for the company's sustainability initiatives worldwide, including development of the company's annual sustainability report and its investor rating, ranking and assessment responses.  In addition, she leads General Motors' stakeholder engagement process through its partnership with Ceres.
Sharon has worked in a variety of functions in GM in her 37 years with the company including manufacturing, product development, vehicle safety, and product and sustainability communications.  She earned a Bachelor of Science degree in Industrial Management and Engineering from Purdue University.
Holger Erchinger 2019, 2017 & 2016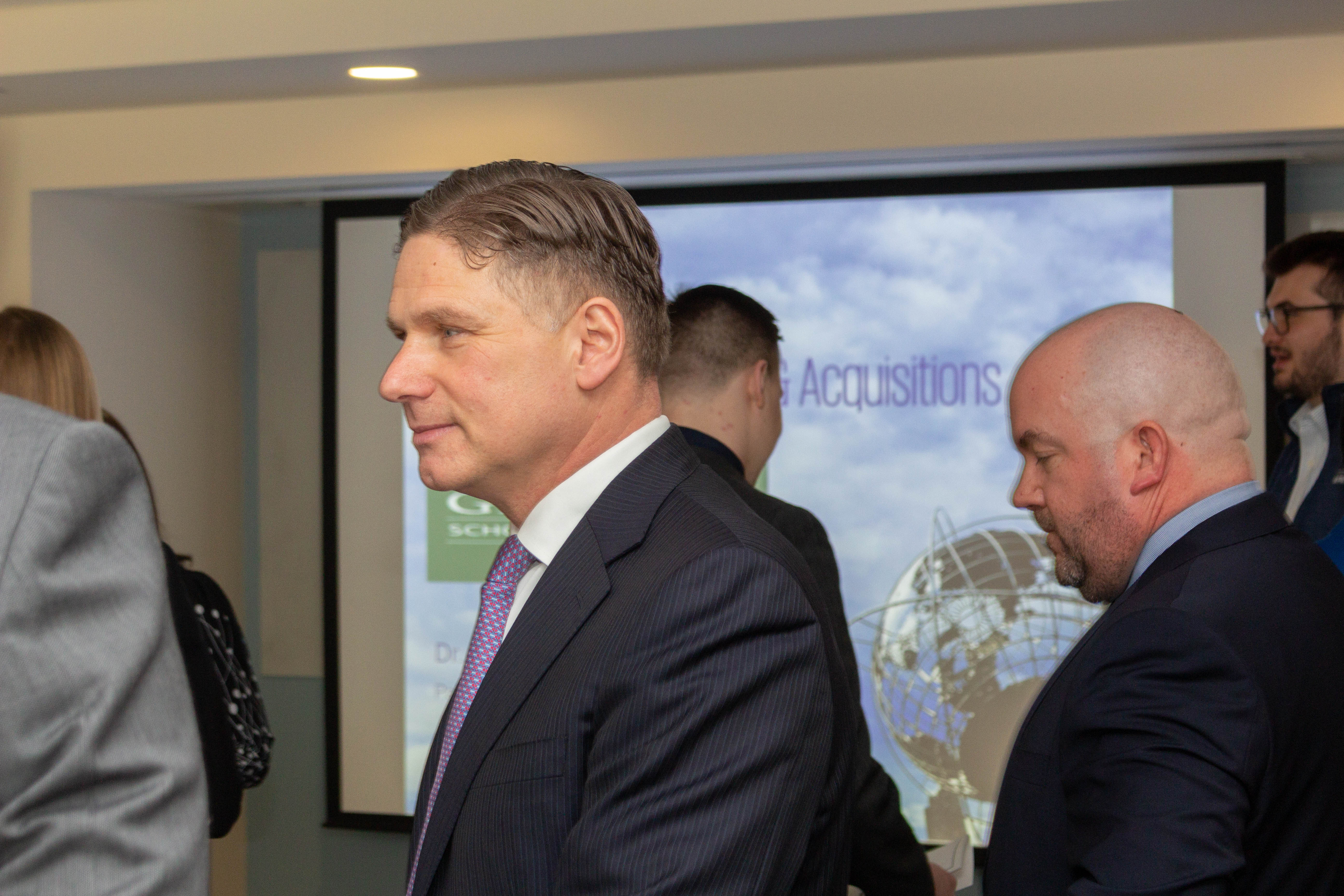 On April 15, 2019 Dr. Holger Erchinger addressed the MAcc students with a presentation on "Cross-Border Mergers & Acquisitions." The topic provided an overview on various aspects relating to structuring, reporting, accounting, and valuations of M&A transactions involving companies crossing borders of different jurisdictions. The presentation included a discussion of public tender offers, private M&A deals, regulatory reporting aspects as well as accounting and auditing related implications, including acquisition accounting and integration of different accounting frameworks including key differences between US GAAP and IFRS.

Holger Erchinger is an Audit partner with KPMG LLP (KPMG) in New York and the Partner in Charge of the U.S. Germany Corridor within KPMG's International Business Corridors. He is responsible for coordinating and supporting cross-functional inbound and outbound corridor revenue and business activities related to KPMG's Audit, Advisory, and Tax service offerings. Holger also serves as the IFRS topic team leader in KPMG's national office. Holger has been with KPMG for 23 years working in various KPMG offices in the United States and in Germany providing audit and audit-related services related to capital market transactions including IPOs and debt offerings, cross-border mergers and acquisitions, IFRS accounting conversion and advisory services, and SEC filings and reporting.
Raymond Bromark, 2018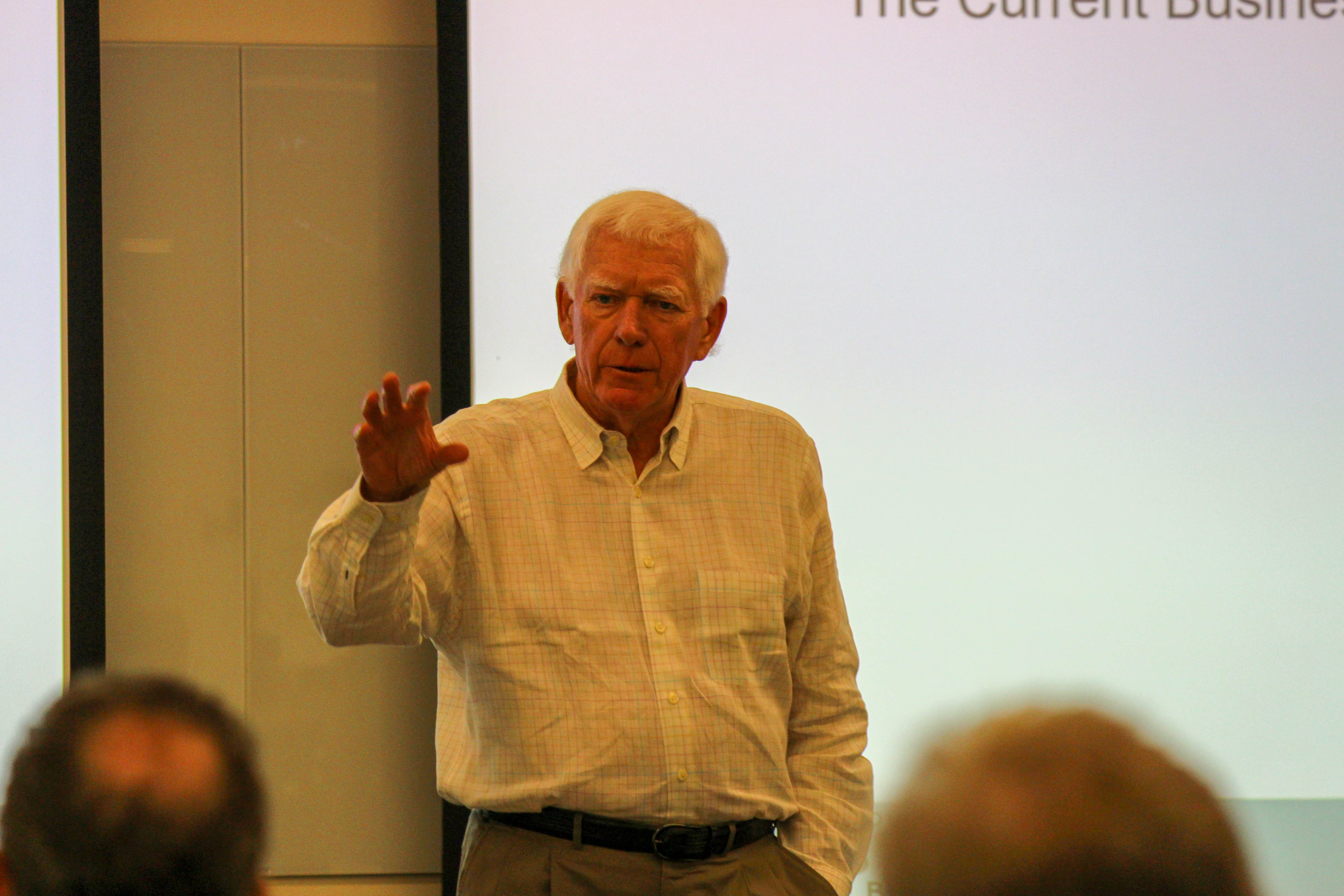 On Monday, September 17, Raymond Bromark, CPA spoke on the importance of effective communication within the accounting profession. Mr. Bromark is a member of the American Institute of Certified Public Accountants and in previous years has participated as a member of the University of Delaware's Weinberg Center for Corporate Governance's Advisory Board. Mr. Bromark was PwC's representative on the AICPA's Center for Public Company Audit Firms' Executive Committee. He has also been a member of the Financial Accounting Standards Board Advisory Council, the Public Company Accounting Oversight Board's Standing Advisory Group, the AICPA's Special Committee on Financial Reporting, the AICPA's SEC Practice Section Executive Committee and the AICPA's Ethics Executive Committee.
During his time in PwC's national office, Mr. Bromark was responsible for firm communications with accounting and auditing standard setters. In his current role as the Audit Committee chair of a public company board, he interacts with the SEC.
The event took place in the Grossman School of Business Ifshin Hall event space.
Cindy Fornelli, 2017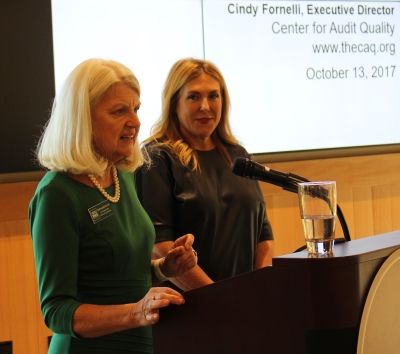 On Friday, October 13, 2017 Cindy Fornelli, Executive Director of the Center for Audit Quality (CAQ), spoke to the current MAcc cohort, as well as local CPAs and accountants at the UVM Alumni House.
Highlights of her talk included that this is a great time to enter the accounting profession, CAQ's 10th Annual Main Street Investor survey results and the multi-pronged efforts across firms to find top talent.
CAQ's talent initiative helps attract and retain the best and brightest, enhance diversity, educates students about the auditing profession, communicates benefits of an auditing career, highlights the variety of career paths, and works to dispel myths and misperceptions about a career in auditing.
Cindy also emphasized the connection between the U.S. Securities & Exchange Commission (SEC), the Public Company Accounting Oversight Board (PCAOB), and other legislation and the auditing profession. Also included were the major investments the auditing firms are making in data analytics, the importance of increasing cybersecurity and the auditor's need to identify the implications of a breach on the financial reports and the internal controls of an entity, and the continuing fight against financial statement fraud.
Lisa Parker, 2017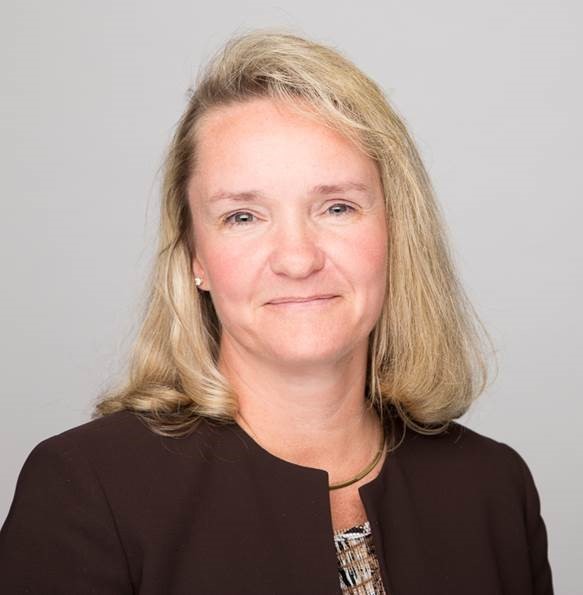 Lisa Parker, a senior project manager with the Governmental Accounting Standards Board (GASB) spoke to an audience from UVM and local firms on Thursday, November 9, 2017 in Waterman Memorial Lounge.  The topic was The Reexamination of the Financial Reporting Model and this prompted many questions regarding why the GASB is committed not only to establishing standards but also to ensuring that they continue to be effective.
Lisa is a certified public accountant and a chartered global management accountant.  She also is a member of the Association of Governmental Accountants, the American Institute of Certified Public Accountants, and the Maine Society of Certified Public Accountants, where she served as president. Lisa attended Boston College and the University of Southern Maine graduating with magna cum laude honors and a bachelor's degree in accounting.
Michael Kinstlick, 2017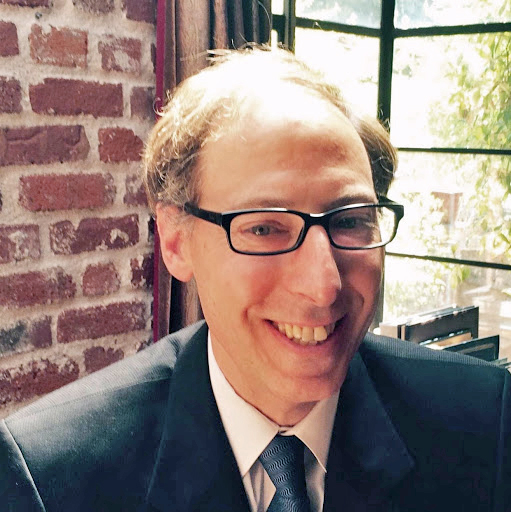 On Tuesday, April 25, 2017 Michael Kinstlick, MBA,  and former Head of Standards Setting of the Sustainability Accounting Standards Board (SASB) spoke to a large audience from UVM, and other local colleges, about the mission of the SASB to develop and disseminate sustainable accounting standards. After his talk he took questions from the crowd.
Student Hannah Averill stated "I really enjoyed hearing from Michael Kinstlick of the SASB because he gave us insight on a topic of accounting that I was not familiar with until this semester. I like the idea of holding companies accountable for their impact on the environment. I think his talk really fit into our coursework for Capstone, as well as the UVM community."
Mr. Kinstlick has long been involved in the research, analytics, consultation, codification and maintenance of the SASB standards.
Another attendee MAcc student, Brian Cuseo, said "Michael Kinstlick's presentation was helpful to round out our classroom study of sustainability accounting standards. While exploring the standards and how to apply them in class, several questions arose regarding the motivation for companies to adopt them, and the value they might bring to the financial services landscape. Mr. Kinstlick provided an insider's perspective into why investors and other stakeholders want to adopt such standards, especially on a voluntary basis." 
He continued "He was honest about some of the challenges that the SASB is currently facing regarding widespread adoption and other long-term goals. I appreciated how his perspective of the SASB's work offered more for us students to consider when developing our own opinions about the viability and value of sustainable financial reporting."
Stephanie Preter was also impressed, she said "It was very rewarding listening to Michael Kinstlick speak, as I was able to apply all of the SASB knowledge I've gained from the MAcc capstone course to understand in great depth what Mr. Kinstlick was referencing during his speech. I was even able to ask him a couple of questions, and our correspondence further enhanced my ability to understand the future implications of the standards on corporate social responsibility reporting."
Klinstlick's career has included nearly a decade at quantitative equities firm AXA Rosenberg and as founding CEO of Coppersea Distilling, a field to glass farm distillery in New York's Hudson Valley. He graduated from Columbia University with degrees in Economics and Philosophy as well as an MBA from UC Berkley and an MS in Industrial Engineering from Northwestern.
HOLGER ERCHINGER, 2016 & 2017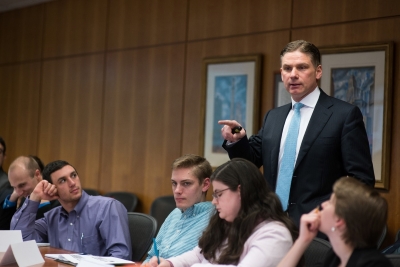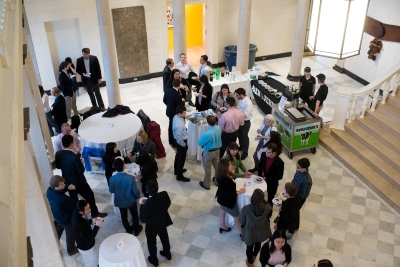 On April 7, 2016 and on May 3, 2017, Holger Erchinger, PhD., an Audit Partner at KPMG NYC, shared his knowledge on the current and future prospects of convergence and the challenges the accounting profession faces. Mr. Erchinger has over 20 years of professional experience in Germany and U.S. He is a CPA in both countries, and is responsible for helping clients in the areas of audit, audit-related and consulting services. Erchinger fully captured the key difficulties involved in convergence while also highlighting his own direct experiences in practice. A Ben & Jerry's ice cream social sponsored by KPMG Burlington followed the presentations.
Christopher Marquet, 2015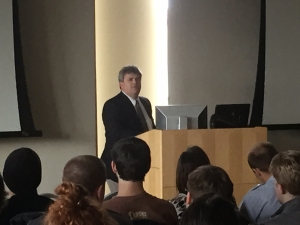 Christopher T. Marquet, CEO of Marquet International spoke on the Marquet Report on Embezzlement and the high incidence of embezzlements in Vermont to a large group of students and community members on April 8. Following the public presentation, he met with the Forensic Accounting and Auditing class. Chris generously agreed that we could post the slides from his public presentation on the website. Please see the links below for his complete biography, the powerpoint slides, and the coverage from The Burlington Free Press on April 9.
SCOTT SHOWALTER, 2014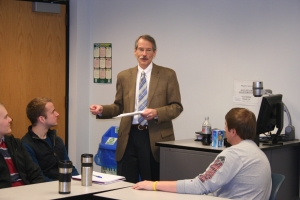 Scott Showalter, Lecturer of Accounting in the Poole College of Management at North Carolina State University spoke the government and not-for-profit class and discussed issued related to sustainability and sustainability reporting with UVM accounting students. Prior to join the NC State faculty, Mr. Showalter spent 33 years with KPMG. His roles included that of audit partner and a partner in the KPMG Executive Office managing aspects of the risk-management audit function.
Thomas Linsmeier, 2013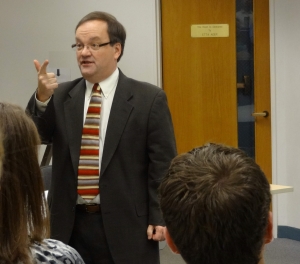 FASB Member Thomas J. Linsmeier visited campus April 1 - 2 , 2013 as the inaugural speaker in the MAcc Director's Speaker Series. His three different presentations were focused at MAcc students, local professionals, and intermediate accounting students.