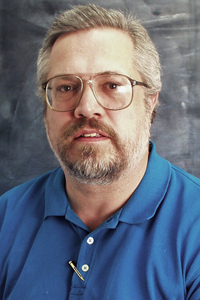 Dr. Frank Faraci, Ph.D.
Professor of Internal Medicine and Pharmacology
University of Iowa Carver College of Medicine - Iowa City, IA USA
Education
B.S., Biology: University of Kansas (1978)
M.A., Physiology: University of Kansas (1980)
Ph.D., Physiology: University of Kansas (1984)
Publications
For a complete list of Frank Faraci's publications, please visit PubMed.
Research
Dr. Faraci's research deals with vascular biology with an emphasis on studies of the carotid artery and cerebral circulation. A major focus of this work is the study of endothelium, cells that form the inner lining of blood vessels, and the role of these cells in determining vascular structure and function. His work has two major goals. The first is to better understand how blood vessels function normally. The second goal is to define mechanisms that produce vascular dysfunction in the presence of risk factors for cardiovascular disease including hypertension, diabetes, inflammation, and aging. Physiological, pharmacological and molecular approaches are used to provide greater insight into mechanisms believed to contribute to vascular disease and stroke. There is a major emphasis on the role of oxidative stress in mechanisms that contribute to stroke and vascular cognitive impairment. The research relies heavily on the use of genetically altered mice and viral mediated gene transfer. He is director of an NIH Program Project Grant on Cerebral Vascular Biology.
Dr. Faraci has worked extensively on many aspects of the cerebral circulation and mechanisms of cerebrovascular disease. He has considerable experience studying vascular diseases in models of hypertension and aging using genetic, physiological, and pharmacological approaches in transgenic and knockout mice. Identifying underlying mechanisms by which these risk factors promote SVD is one of his major goals. He has extensive expertise in the regulation of CBF and cerebral microvascular pressure.