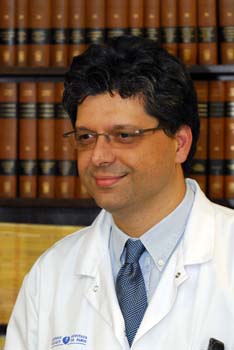 Dr. Hugues Chabriat, M.D. Ph.D.
Head, Department of Neurology
University Hospital Lariboisiere - Paris, France
Education
M.D., Neurology: University Paris V (1991)
Ph.D., Neuroscience (imaging): CEA-Orsay (1988)
Publications
For a complete list of Hugues Chabriat's publications, please visit his Google Scholar profile.
Research
Professor Hugues Chabriat is the head of the Neurology Department at the University Hospital LARIBOISIERE in Paris and coordinator of the national centre for rare neurovascular disorders in France. Hugues Chabriat is a tenured professor of neurology at Université Paris VII – Denis Diderot and the head of Dept. of Neurology at AP-HP – Hôpital Lariboisière (Paris, France). He has long been studying small vessel disease of the brain, in particular CADASIL. He has also a strong expertise in neuroimaging and particular interest in exploring the relationship between brain lesions and the occurrence of cognitive deficits and disability in small vessel disease.
Dr. Chabriat is a renowned expert in CADASIL and SVD. He is mainly involved in clinical and imaging research, particularly with respect to the relationships between cerebral lesions and the broad spectrum of clinical manifestations of SVD. He has pioneered the use of diffusion tensor imaging for assessing cerebral lesions in CADASIL and SVD. He has recently investigated other original aspects of SVD Chabriat and Dichgans have assembled and conducted a refined phenotypic analysis of the largest cohort of CADASIL patients . Dr. Chabriat will develop functional MRI in CADASIL patients and assemble a cohort of SVD patients.