How it started on March 11, 2020: "First, prepare and be ready. Second, detect, protect and treat. Third, reduce transmission. Fourth, innovate and learn," directed Tedros Adhanom Ghebreyesus, World Health Organization Director-General. It was an announcement that seemed to put the whole world on pause, hearing the word "pandemic" used to classify our new way of life.
More than 365 days have elapsed since then, filled with stories about medical professionals, frontline workers and good Samaritans following through on the doctor's orders. And the University of Vermont community is no different. Countless anecdotes, projects, initiatives and innovations by our faculty, students, staff, alumni and families have been passed around in the last year that make it clear: What started as a standstill for many was really a starter pistol for UVM.
Here's how it's going for just a few Catamounts among many who hit the ground running in the fight against COVID-19 over the last year.
How it started: "Pandemic is not a word to use lightly or carelessly," says World Health Organization, March 11, 2020
How it's going: In an address acknowledging the year mark of his announcement to transition to remote learning, President Suresh Garimella said, "We now know that this is our reality. It's still hard to reconcile how much our lives have changed over the past year and how quickly we had to pivot." Watch his address in full.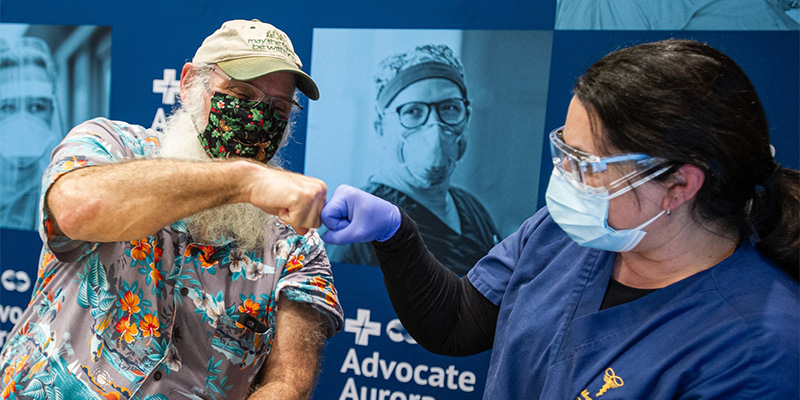 How it started: "I've been an ER doctor for 20 years. I'll never forget this COVID-19 patient," April 2020
How it's going: Less than a year after saving a patient's life from COVID-19, Dr. Halleh Akbarnia, a suburban Chicago ER physician who earned her medical degree at UVM in 1998, had the honor of administering the second vaccine dose to that same patient, 69-year-old Michael Catania. "I asked Dr. Akbarnia if she would give me the second shot and if that was possible because I wanted us to share that as a closure on the whole event," Catania told the "Daily Herald" Chicago newspaper. "We started the journey together, we're ending the journey together, and I wanted that to be a part of what we both experienced."
For her part, Akbarnia said, "This means everything. It was almost like I was hoping he was going to ask me to do this. To me, working this side of giving vaccine is about the biggest therapy that I could have. Giving him his shot was the ultimate."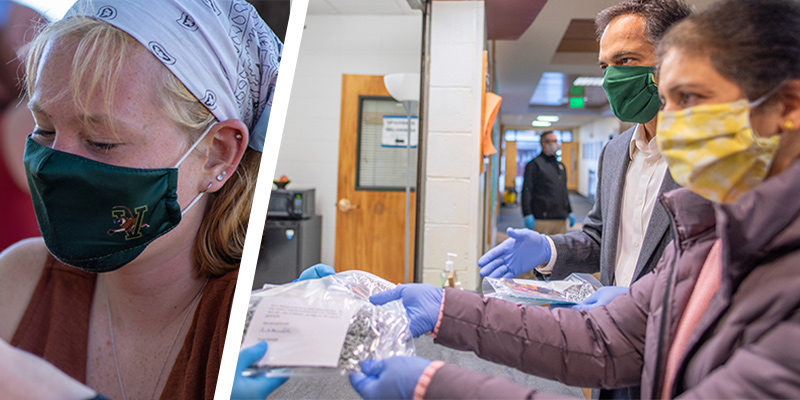 How it started: Cats wear masks, April 2020 (right)
How it's going: Cats still wear masks, but they've come a long way from Lakshmi Garimella's handmade fabric masks, which she created and distrubuted across campus with husband President Suresh Garimella early in the pandemic.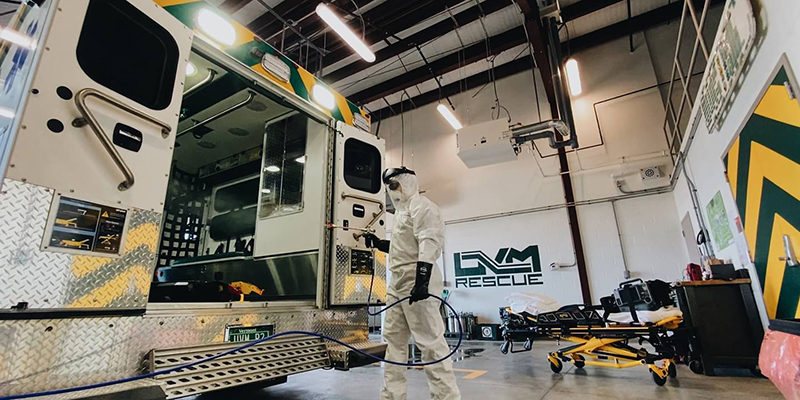 How it started: UVM Rescue Students Stay on the Front Lines, May 2020
How it's going: Emergency medical services provided by students certified as emergency medical technicians (EMT), advanced EMTs and ambulance drivers in UVM Rescue stayed in operation, with students on-call 24 hours a day, 7 days a week. Though they've certainly responded to COVID-19 calls, the team's Director of Operations Lanie Billings '21 says they take every precaution and continue to fully sanitize the ambulance after those interactions. She and her team were also among the first in Vermont to receive vaccinations in January with other emergency medical service providers.
The first thing Billings did after receiving her vaccination? "I think I went back to run a call. I was on duty and I think I remember going to my appointment and coming right back and I just hopped on the ambulance and kept on going. It never stopped."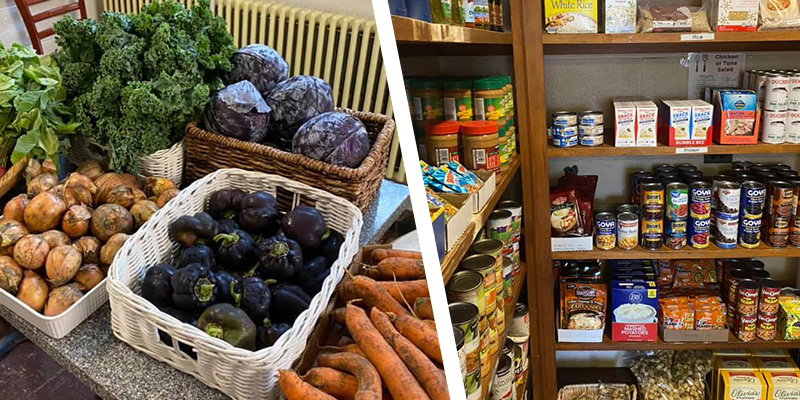 How it started: UVM Launches Food Pantry for Students, February 2020
How it's going: Since it's opening, Rally Cat's Cupboard, a low-barrier food shelf available for all UVM students, has been visited over 1,300 times and has distributed close to 11,000 pounds of food. "Our beginnings have been quite unique. Although COVID-19 slowed the operations of so many businesses and organizations, it required an even deeper need for our service," says co-founder and director Natasha Lovell '21. Rally Cat's Cupboard is located at Hills 015 and is open Mondays from 4–8 p.m. and Fridays 10 a.m. – 2 p.m. Stay up-to-date on offerings by following @rallycatscupboard on Facebook and Instagram.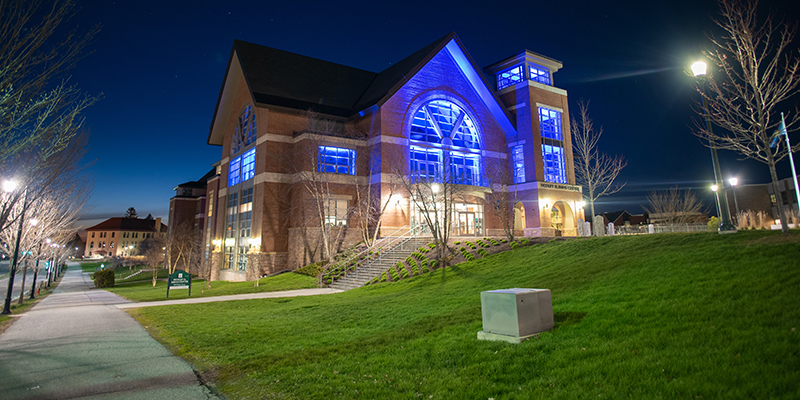 Sun sets, lights up on Davis Center. A wave of blue lights illuminated buildings across the country in honor of healthcare workers on the front lines, April 2020.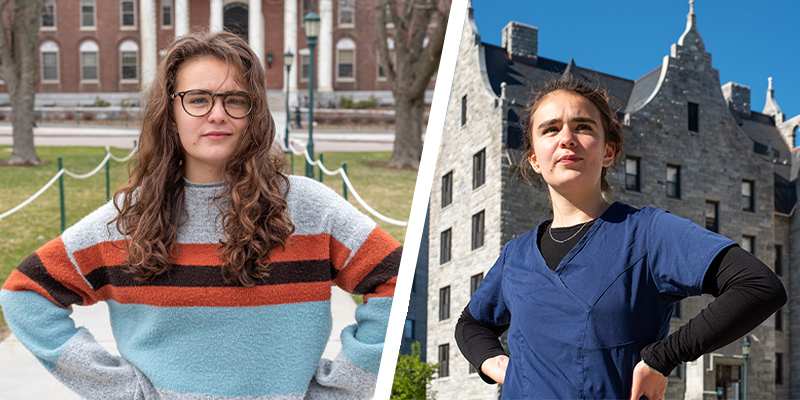 How it started: UVM Among First to Offer Early Graduation to Nursing Students to Help During Pandemic, April 2020
How it's going: "I feel like, weirdly enough, I'm not at all that same person," says Kathryn Calisti '20, one of the 95 nursing students who graduated early last spring. Now a post-surgical and trauma nurse at UVM Medical Center, the advice she wishes she could give to the spring 2020 version of herself: "I think I would tell her to breathe. I would tell her to get ready," she says.
"It's interesting. Going into nursing, I didn't know what a world outside of a pandemic looked like for a nurse. I really didn't think much of it knowing I wasn't going into a COVID floor. But what I didn't realize are the repercussions that a pandemic has on the hospital as a whole. The ICU can be reserved and then this-or-that happens, and some people get pushed out of the ICU a little too soon," Calisti explains, and then pauses. "I guess I would tell her to have confidence in herself."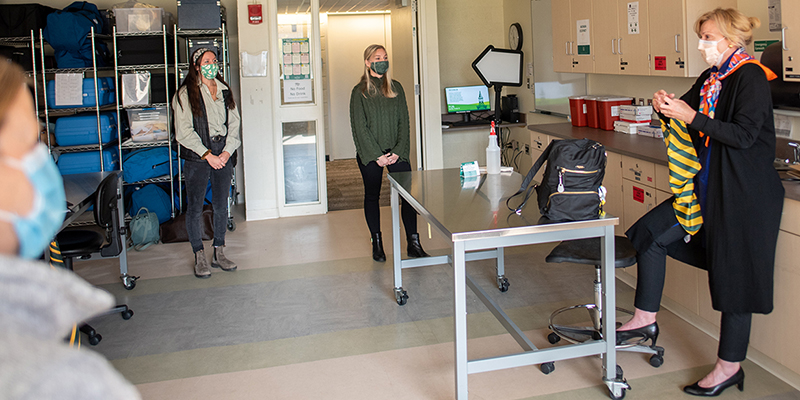 "If they can do it here it tells us that we can do it in our communities," said Dr. Deborah Birx in a visit to UVM, part of a national tour of best practices in higher education's COVID response. "You can see that there is a coalition of the willing to really ensure that students, staff, faculty and communities remain safe," said then-Coronavirus Response Coordinator for the White House Coronavirus Task Force, October 2020.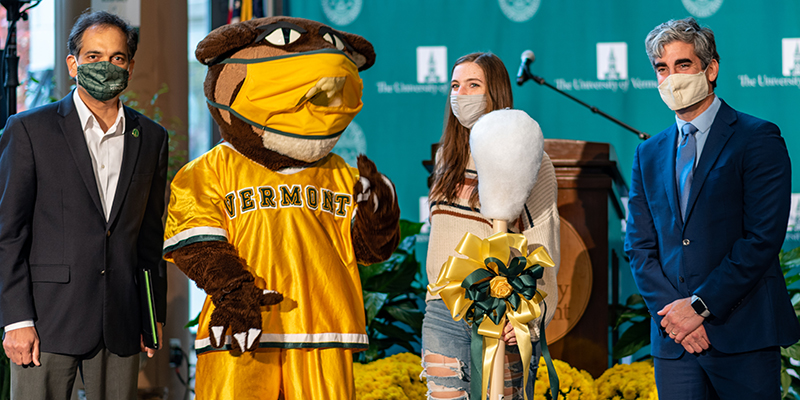 In less than three months, UVM's extensive testing protocol reported its 100,000th distributed test, October 2020.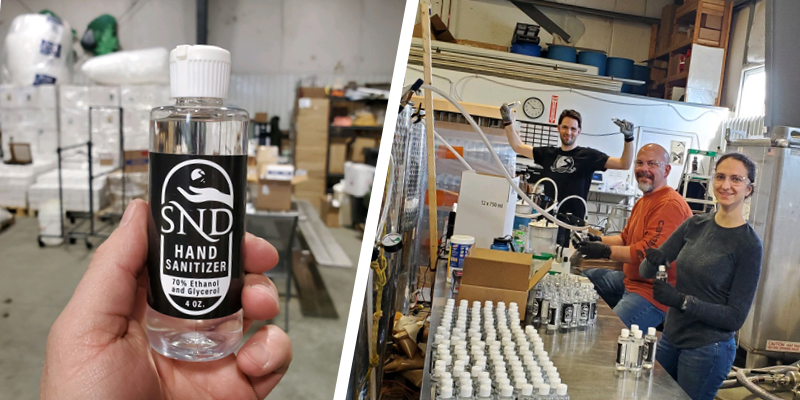 How it started: Grain Alcohol Keeps Vermont's Helping Hands Safe, March 2020
How it's going: About 100,000 bottles of hand sanitizer later, the co-owner and president of Smugglers' Notch Distillery, Jeremy Elliot '00, is back to doing what he loves most: Making liquor. Having made an abrupt and total pivot from spirits to personal hand sanitizers in March 2020, the top-shelf liquor is once again flowing for distributors and flying off shelves "like a narwal jumping out of the water, it's out of control."
It's been about eight months since they produced their last bottle of hand sanitizer, which pioneered the shift for other distilleries across the U.S. "It's been a really interesting year and I think that everything we stood for — making the best products that we can make with the best ingredients — has worked out our way. People trust us and it's really shown true during this pandemic," Elliot says.
"We're just moving forward at light speed. I think the whole world is going to be there pretty soon — hopefully in like four months, but maybe it's more like 14 months, who knows, right? But we've still got to keep moving forward and no one can give up. That's what it's about right now."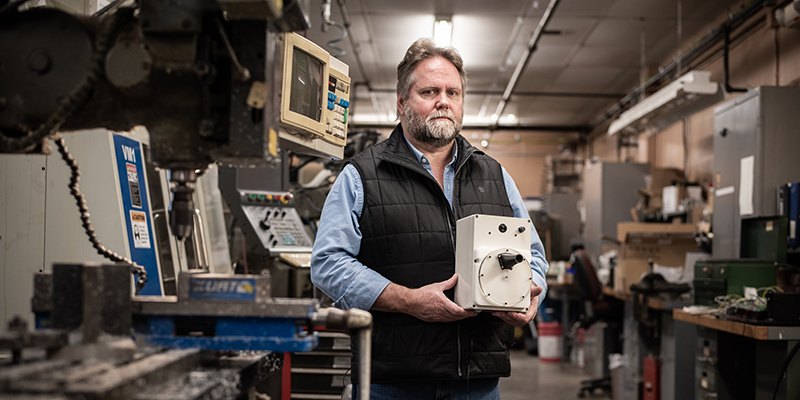 How it started: Vermont Team Invents Emergency Ventilator, April 2020
How it's going: The looming threat of a potential ventilator shortage was fortunately avoided in Vermont and most of the U.S. "No doubt, this partly reflects the fact that the federal government put a lot of resources into getting U.S. industry (the likes of Ford, GE, etc.) to manufacture conventional ventilators in large numbers," says lung expert Jason Bates.
But the intense effort from Bates and UVM colleagues to develop a simple, emergency-use device, named the "Vermontilator," is taking on a new territory. "It is clear, from talking with individuals who work in resource-poor locations, that countries in the developing world are not so fortunate — some having almost no mechanical ventilator capacity at all," says Bates. With those communities in mind, they're now in the process of "extending the capabilities of the Vermontilator to function as a low-cost, general-purpose mechanical ventilator for surgery patients, in addition to those that might be critically ill with COVID."
A recent UVM Ventures grant allows engineers Mike Lane, Carl Silver and Jake Kittell at UVM's Instrumentation & Modeling Facility (IMF) Lab to create a new working prototype of a Vermontilator with enhanced capacity to adjust for inspiratory and expiratory durations, as well as lung inflation pressures. "We are still at the beginning of this next process, so nothing concrete to report yet," says Bates, "but I am motivated to give this a good try."

After a sleepy spring, Burlington slowly began to bustle again, July 2020. Environmental science major and Honors College student Abigail Berkowitz '24, plus mom, dad and sister, made the journey from Chicago to what would be Abigail's new home come fall.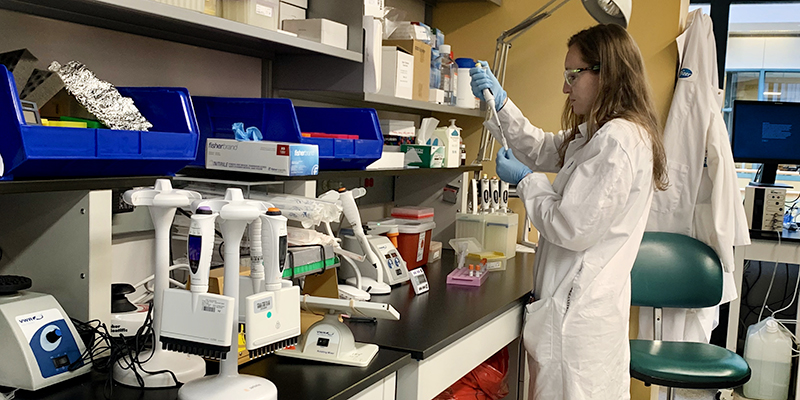 How it started: Pfizer Alumna Races Toward a Vaccine, April 2020
How it's going: It was the project of a lifetime for senior associate scientist Estee Dilli '15 and her colleagues at Pfizer — and a lifeline for billions around the globe. On December 11, 2020, Pfizer's vaccine became the first proven inoculation against COVID-19 approved for distribution. As an assay developer for the pharmaceutical company, Dilli worked tirelessly to help establish the specific controls that would be used, beginning with clinical trials, to measure immune responses to the virus and vaccine. The impact of her months-long work hit like a ton of bricks once the dust finally settled.
"I was getting ready to go home for the holidays to see my family for the first time in over a year. The same day, my mom received her first dose of the Pfizer vaccine (she is a clinical pharmacist who has been working in the hospital in the midst of the pandemic). There really was nothing like that sense of relief knowing that she would be able to go do her job with a little less fear now. Then — with texts and phone calls from people I knew who had just received their vaccine and were thanking me — I could see that this allowed them to do their work with that same sense of relief. My response was always the same, and that was thanking them for trusting science."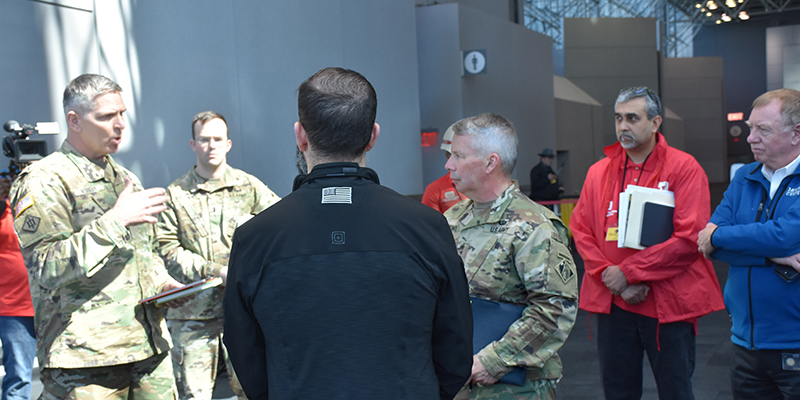 How it started: NYC's Javits Center Becomes Basecamp for Fight Against Coronavirus, April 2020
How it's going: While the convention center in New York City hasn't hosted any events in the last year, it's been the scene of an enormous undertaking by Lieutenant General Todd Semonite G'88, former Chief of Engineers and Commanding General of the U.S. Army Corp of Engineers. Under his guidance, the Javits Center and other large scale facilities across the country were quickly transformed into field hospitals. The Javits Center transformed once again, months later, into a round-the-clock basecamp for vaccinations.
Following the approval of Johnson & Johnson's vaccine, state officials instituted expanded hours for vaccine appointments to 24 hours a day, seven days a week. Since the initial supply has scaled down, so too have the hours, with nearly one million city residents fully vaccinated.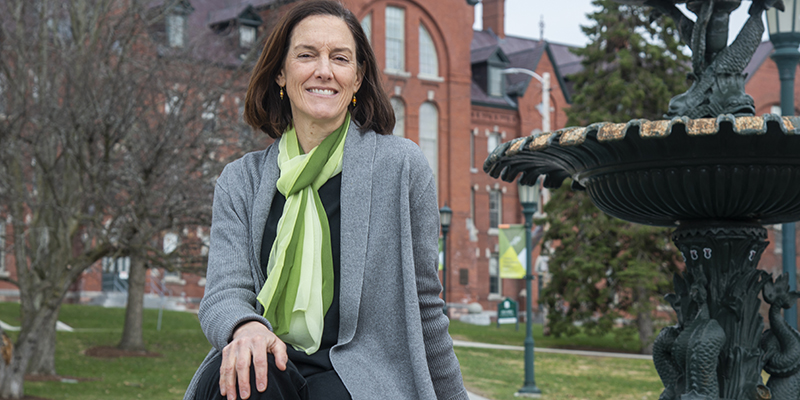 How it started: Course on the Sociology of Disaster Goes Remote During Ultimate Case Study, April 2020
How it's going: UVM's pioneering scholar in the field of disaster sociology Alice Fothergill is teaching SOC 121: Sociology of Disaster again this spring, with this semester's course meeting in person, masked and socially distanced — and welcomes class discussion around life with COVID-19.
"It is so important that we make sense of it sociologically. So, even though it has been a rough year for everyone, it is really important that the students know how the disaster has played out so differently for people of different incomes, resources, and backgrounds," she says. "We were not all in this together — there were vast differences in who was exposed, who had access to health care, who lost their jobs and who died. The pandemic is not unlike other disasters, so it's important that the students understand how this is a pattern, this is not new. Disaster researchers have found this for decades and decades."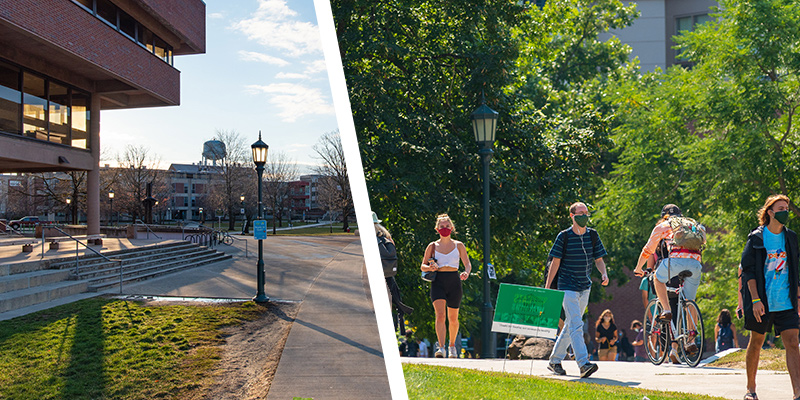 Writing by: Joshua Brown, Kaitie Catania, Andrea Estey and Thomas Weaver. Photos by: Advocate Health Care, Joshua Brown, James D'Ambrosio, Ian Thomas Jansen-Lonnquist, Sally McCay, Rally Cat's Cupboard, and UVM Rescue.