The University of Vermont is poised and ready to build upon our reputation as a premier research institution focused on sustainable solutions with local, national, and global applications and impact. Our distinctive strengths align with the most pressing needs of our time: the health of our societies and the health of our environment."
— From the "Amplifying Our Impact" strategic framework
UVM's Tuition Frozen for Five Consecutive Years and Introducing the UVM Promise
As Vermont's flagship and land-grant university, we are committed to making UVM affordable and accessible to everyone. Hear what our president has to say about the latest initiatives to help our students and families pay for college.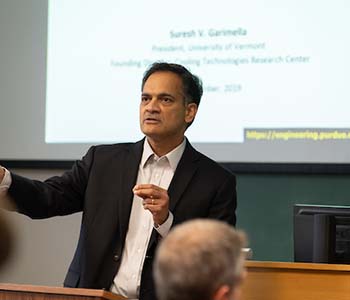 Suresh Garimella
Suresh V. Garimella is the 27th president of the University of Vermont (UVM). Under his leadership, UVM has underscored its reputation as a premier flagship research university dedicated to providing an outstanding student experience and committed to fulfilling its land-grant mission.
As president, Garimella has prioritized access and affordability for UVM students, freezing tuition five consecutive years, attracting record numbers of undergraduate applications, and enrolling the most diverse and talented undergraduate students in the university's history.
He has announced a new program called the UVM Promise that makes students from nearly half of Vermont's families eligible for four years full-tuition coverage. Through cross-campus collaboration, he has motivated a significant expansion of experiential learning opportunities, global experiences, career preparation, and academic advising and support resources to ensure student success.