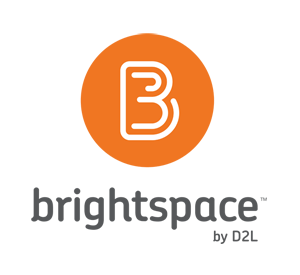 Brightspace is UVM's new LMS (Learning Management System), replacing Blackboard in Fall 2023.
Brightspace is another tool available to faculty to effectively teach a course. In general, LMS's have a standard set of capabilities – much of the familiar functionality you had in Blackboard should be available in Brightspace.
Getting Started with Brightspace
Pin a Course for Faster Access
Brightspace allows you to "Pin" a course, making it available in your "Pinned" tab and making it appear at the top of your course list for easy access.  To do this, either:
In the "My Courses" widget, click on the "Push Pin" icon in the top-right corner of one of your course images.
OR
In the course selector ("Waffle Icon"), click on the "Push Pin" icon to the right of a course's name.
Accessing Course Content
From within a course, click on "Content & Activities" in the menu bar to view that course's table of contents.
On this page, you can find a listing of all available course content, including materials, assignments, and quizzes.  Content is organized in one or more modules, which can be viewed in this list or accessed directly using the page's sidebar.
For each module, and in the course's table of contents, a progress indicator may be shown, indicating the percentage of available items that you have accessed or completed. This feature must be enabled by the instructor and will not appear in all courses by default.
Posting in a discussion area
For an overview of Brightspace's discussion features, please reference their documentation found here.
To participate in a course discussion, open the item and either click "Start a New Thread" or select an existing thread to read or reply to.
Starting a new thread will allow you to enter a subject, write the content of your discussion post, and optionally add file attachments.  When finished, click "Post".  This will make the discussion post visible to both the instructor and other students.
Submitting an assignment
For more detailed information on submitting and managing assignments and accessing assignment feedback please reference the Brightspace documentation found here.
To submit an assignment, open the corresponding item and select one of the following:
Upload

Upload a File (PDF, Word Doc, Media File, etc.)

Record
Choose Existing

Submit a file that you've uploaded previously
Managing Brightspace Notifications
You can configure Brightspace to send notifications for new announcements, new course content, grade releases, and more. Notification settings apply to all courses, except those that have been manually excluded.
Click your name in the top right corner, then select Notifications from the dropdown
Under Contact Methods, you can choose to enable or disable notifications by email and text message.

Under Summary of Activity, you can opt for a daily or weekly summary of each course.
Under Instant Notifications, you can opt to receive notifications to either or both your selected the Contact Methods.
Under Customize Notifications, you can opt to allow the inclusion of grade values in your notifications. You can also choose whether to receive notifications from classes you've signed up for, but that have not yet begun.By default, some course email notifications are turned on (i.e, course announcements, assignment due dates, upcoming quizzes). Text notifications are not turned on by default but can be enabled if desired.

Under Exclude Some Courses, you can search through your enrolled courses and click the X to opt out of receiving notifications for those courses.
After you've made your notification setting selections, click Save.
Configuring Brightspace Account Settings
To access your Account Settings, click on your name in the top-right corner of the page, then select "Account Settings".
There are three sections of settings that a student can customize.  When finished, click on "Save" or "Save and Close" at the bottom of page.  To revert your changes and exit the page without saving, select "Cancel".
Account Settings
Pronouns and their visibility
Font size
Accessibility settings for screen readers and videos
Date, Time, and Language
Online Status
External App Authentication
Discussions
Settings for the appearance and behavior of your discussion post editor.
Email
Options for your bright space email communications, including the option to forward outgoing messages to your UVM email account, set a signature, or whether to show external email addresses in the Address Book.
Viewing Grades and Feedback
To view your grades for a course:
Open the course whose grades you'd like to inspect.
From the menu bar, select Grades and Feedback.
From the dropdown menu, select Grades.
Grades are listed by category – Assignment, Discussion, Test, etc. – and include "Points Scored", "Weight Achieved", "Grade", and "Comments and Assessments".
For calculated grades, click on the calculator icon to view the calculation that went into the final number.
Manage Course Calendar
The Calendar tool allows students to view all of their upcoming events, such as project due dates, office hours, and in-class events, in one place.  See D2L's documentation for info on creating and managing tasks, syncing your calendar with other calendars, and changing your calendar settings.
Contact your Instructor from Brightspace
In the top bar, click on the (Mail) icon, then choose "Email".
In the Compose New Message form, enter your instructor's email address or click on "Address Book" to search for their contact information.  Fill in the subject and body, attach any files you'd like to send, and click "Send".
Any response from your instructor will go to your UVM email account and won't be displayed in Brightspace.
Learn More About Brightspace
D2L publishes a wide series of documentation for teachers and learners on their site here.
Alternatively, this YouTube playlist provides an introduction to various parts Brightspace.
Brightspace Pulse Mobile App
The Brightspace Pulse app is a mobile app that allows students to access their courses from phones or other mobile devices.  See D2L's documentation for an overview of what Pulse is and what it can do.
What can you do in the Pulse app?
View course content

Some content, including assignments and due dates, can be viewed in the app.
Many course items will open in your device's browser.

View grades

Please note that 

final grades

can only be viewed in your browser, not in the app.

Receive notifications for:

due dates
content creation
announcements

Edit pulse app notification settings
Calendar

View upcoming due dates across your courses.
Create personal reminder events related to a specific course.
What can you NOT do in the Pulse app?
Write or submit assignments
View or take quizzes
Participate in discussion
Edit your general account settings
Frequently Asked Questions
Why can't I see my courses?
If you are unable to see one or more of your courses in your "My Courses" widget or in the Course Selector, it is likely the case that either:
You are not registered for the course, or your registration has not yet synced to Brightspace.
OR
Your instructor has not yet made the course available to students.
If you think that you should be able to see a course that you don't, first contact your instructor to make sure that the course is supposed to be available.
When will all courses be in Brightspace?
Starting in the Fall 2023 semester, all UVM courses will use Brightspace. After that point, UVM will no longer use Blackboard.
Can I use the same username and password as I used for Blackboard?
Yes! Brightspace makes use of UVM Single Sign-On. Your UVM NetID and password will work.
Can I download and save course materials?
Course content can be downloaded by students using the Ally accessibility tool built into Brightspace.  If you need a copy of some part of one of your courses, you can also contact your instructor to request this material.
What browsers work with Brightspace?
All common, updated browsers should work with Brightspace.  For a complete list of supported browsers and versions, see D2L's Browser Support page.
Where do I get Brightspace tech support?
Why can't I access my course content?
If you aren't able to see your course content, aren't able to open it, or get errors when you try to do so, try following the troubleshooting steps outlined on D2L's documentation site.
If that doesn't work, contact the Tech Team.
Why can't I find University of Vermont in the Brightspace Pulse app?
If you've tried searching for University of Vermont and nothing came up, try searching for UVM instead.
If that doesn't work, contact the Tech Team.