2020 Conference Details
$10 VMSMA Members | $40 Non-Members
Sponsored by UVM Extension & Vermont Maple Sugar Makers Association
REGISTRATION:
www.VermontMaple.org/maple-conferences
To request a disability-related accommodation to participate in this program, please contact Cory Ayotte (cory@vermontmaple.org) by January 2, 2020 so we may assist you.
Society of American Forester Continuing Education Credits available; fill out attendance sheets.
Hyde Park lunch provided by Green Mountain Technical and Career Center's Culinary Arts Program.
SUBJECT TRACKS
Classes are offered in five 'Subject Tracks': Maple Business Management (BUS), Maple Production and Innovation (MAP), Marketing and Media (MAR), Regulations and Maple (REG), Sugarbush Health (SUG), and each class is one hour long. Attendees do not need to register for specific classes.
Proceedings of the 2019 Vermont Maple Conference
Proceedings of the 2018 Vermont Maple Conference
Proceedings of the 2017 Vermont Maple Conference
Listen to an Interview (audio, 11 minutes) with UVM Extension Maple Specialist Mark Isselhardt about the 2017 Vermont Maple Conferences
Plenary Talk: Cultural Responses to Economic Change in the Maple Industry, (audio, 38 minutes), Michael Lange, Associate Professor at Champlain College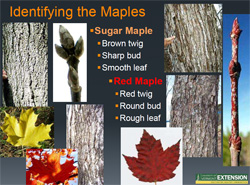 Beginning Sugarmaking: Trees, Taps, Tubing and Tanks, (pdf) George Cook, UVM Extension Maple Specialist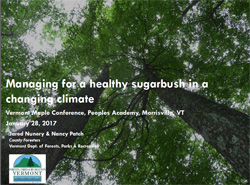 Managing for a Healthy Sugarbush in a Changing Climate, (pdf) Jared Nunery and Nancy Patch, County Foresters, Vermont Department of Forests, Parks and Recreation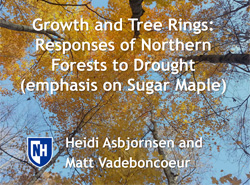 Growth and Tree Rings: Responses of Northern Forests to Drought, (ppt) Heidi Asbjornsen and Matt Vadeboncoeur, University of New Hampshire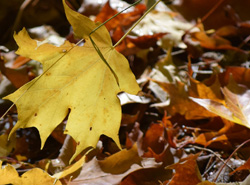 Maple Industry Panel (audio, 54 minutes), Bruce Bascom (Bascom Maple Farm), Emma Marvin (Butternut Mountain Farm) Bradley Gillian (Leader Evaporator) and moderator Mark Isselhardt (UVM Extension)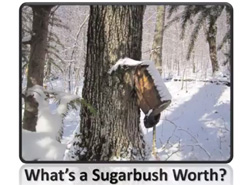 What's a Sugarbush Worth?, (video) Robert Guay, Manager of Appraisal Services, Yankee Farm Credit
---