Who is Dudley H. Davis?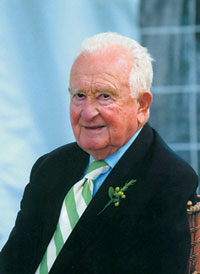 The Davis Center is named for the late Dudley H. Davis (UVM '43) whose families and friends donated $7 million to the project.
Dudley H. Davis was a straight-shooting banker who began his career as an assistant cashier at Merchants Bank in 1946 and retired in 1994 after a phenomenal 36-year run as its president. Over that time, he provided the financial backing that gave rise to some of Vermont's biggest business success stories, including IDX Systems Corp. and Ben & Jerry's.
He was also a generous benefactor of the University of Vermont. Davis died on November 29, 2004, just days after his children announced a commitment to name the University's new student center the Dudley H. Davis Center in their father's honor.