Abbas Raza Successfully Defends Dissertation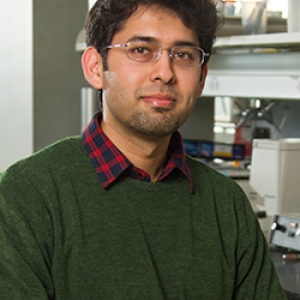 August 30, 2019
Congratulations to Abbas Raza, Dr. Cory Teuscher's lab, who successfully defended his dissertation, entitled "Sex-Specific Regulation of CNS Autoimmunity by Signaling Lymphocytic Activation Molecule (Slam) Locus". Please join us in wishing him luck in his next endeavor.
Rajiv Jumani, PhD Receives 2019 Norman R. Alpert Research Prize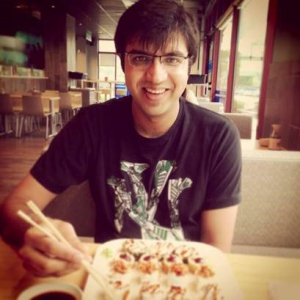 August 21, 2019
CMB Director, Matthew Poynter, Ph.D., presented the Norman R. Alpert Research Prize to recent CMB alumnus, Rajiv Jumani, PhD for his paper: Jumani RS, Alvee MM, Stebbins EE, Donnely L, Miller P, Klopfer C, Bessoff K, Teixeira JE, Love MS, McNamara CW, Huston CD. A suite of phenotypic assays to ensure pipeline diversity when prioritizing drug-like Cryptosporidium growth inhibitors. Nature Communications. 2019. Apr 23;10(1):1862. doi: 10.1038/s41467-019-09880-w.
This annual prize recognizes the best peer-reviewed research article by a graduate student in the CMB Program and is announced at our annual Retreat. Congratulations Rajiv!
Chia and Howe Receive 2019 CMB Director's Awards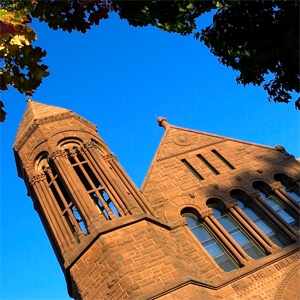 August 21, 2019
Wyatt Chia and Dr. Alan Howe received the CMB Director's Awards for a student and for a faculty member respectfully at this year's CMB/NGP Retreat. Dr. Matt Poynter, presented these awards at the Grand Isle Lake House on Wednesday, August 21 to recognize their outstanding work with the program. Thank you Wyatt and Alan for your dedication!
Brittany L. Carroll Successfully Defends Dissertation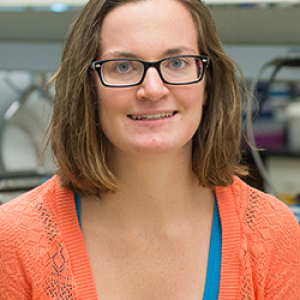 August 2, 2019
Brittany Carroll, a CMB student in Dr. Sylvie Doublié's lab, successfully defended her dissertation, entitled "Caught In Motion: Structural Studies of Nucleic Acid Repair Enzymes". She will be working with Dr. Jun Liu, PhD at the Microbial Sciences Institute at Yale University School of Medicine. Congratulations, Brittany!
Boyson and Mistri Receieve Fellowship from the American Association of Immunologists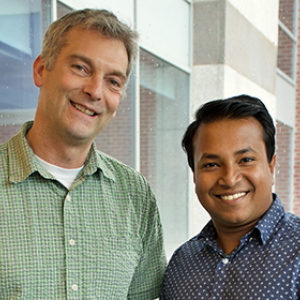 July 17, 2019
Congratulations to Somen Mistri and his PI, Dr. Jon Boyson! They received a 2019 Careers in Immunology Fellowship from the American Association of Immunologists (AAI). The AAI Careers in Immunology Fellowship Program supports the career development of young scientists by providing eligible PIs with one year of salary support for a trainee in their labs.
CMB Students Co-Author on Paper in Nature Communications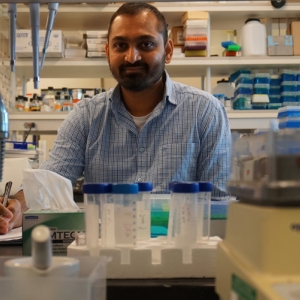 June 27, 2019
Two CMB students are co-authors on a paper just published in Nature Communications: Rajiv Jumani, '18, and Alvee Hasan, Huston lab.
The paper describes a new drug candidate for treatment of cryptosporidiosis. The work was done in conjunction with a drug company called Anacor, and supported by the Bill and Melinda Gates Foundation. Most of the studies were done at the University of Vermont, including extensive testing in a dairy calf model of #cryptosporidiosis. Additional toxicology studies are underway with hopes of beginning first human studies in December. There's currently no treatment for this intestinal parasite, which is one of the most common causes of life threatening childhood diarrhea globally (and also a big problem for the dairy/cattle industry).
Identification of a potent benzoxaborole drug candidate for treating cryptosporidiosis>>
Phillip Blake Munson Successfully Defends Dissertation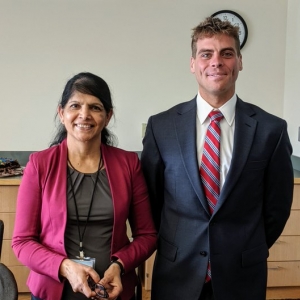 May 21, 2019
Phillip Munson from Dr. Arti Shukla's lab successfully defended his dissertation entitled "Exosomes and Their Role in Asbestos Exposure and Mesothelioma" on May 21, 2019. Next, he will be joining the lab of David Fisher, MD, PhD at Massachusetts General Hospital in the Cutaneous Biology Research Center. Congratulations, Phill!
Chris Dustin and Nicolas Chamberlain Awarded Abstract Scholarship from ATS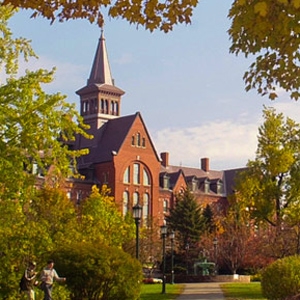 May 6, 2019
Christopher Dustin, a PhD student in Dr. Albert van der Vliet's lab, and Nicolas Chamberlain, PhD student in Dr. Vikas Anathy's lab, were awarded Abstract Scholarships from the American Thoracic Society for their abstracts to be presented at the 2019 ATS International Conference in Dallas later this month. This Scholarship includes a full In-Training Registration to this years' conference as well as 50% discount for registration at the 2020 conference.
Blas Anselmo Guigni Successfully Defends Dissertation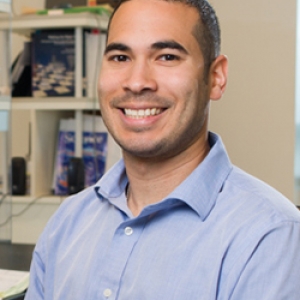 April 16, 2019
Blas Guigni, CMB student in Dr. Michael Toth's lab, successfully defended his dissertation entitled "Cancer related muscle wasting: The role of electrical stimulation in atrophy prevention" on April 16, 2019.
He will soon join the Toxicity Evaluation Division of the Army Public Health Center, Aberdeen Proving Ground, MD as an Interdisciplinary fellow/scientist! Congratulations, Blas!
Abbas Raza Awarded GSS Award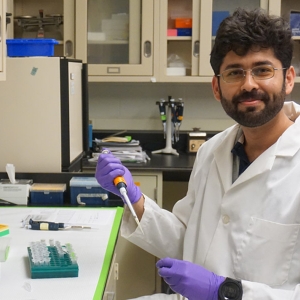 April 8, 2019
The UVM Graduate Student Senate (GSS) recently announced the winners of the the 2019 GSS awards. Among the winners is CMB student in Dr. Teuscher's Lab, Abbas Raza! He received the Innovative Research Award and will be honored at the annual GSS awards banquet.
Faculty Inventions Recognized at Annual I2V Conference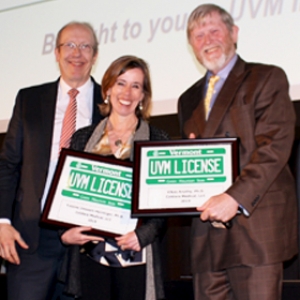 April 5, 2019
Congratulations to the several faculty members who were recognized at the 14th annual Invention to Venture (I2V) conference for their patent awards and licenses!
CMB faculty who were recognized include:
Jason Botten, Ph.D., associate professor of medicine
Stephen Everse, Ph.D., associate professor of biochemistry
Christopher Francklyn, Ph.D., professor of biochemistry
Yvonne Janssen-Heininger, Ph.D., professor of pathology and laboratory medicine
Karen Lounsbury, Ph.D., professor of pharmacology
Mercedes Rincon, Ph.D., professor of medicine
Albert van der Vliet, Ph.D., professor of pathology and laboratory science
Innovative Research Model Sheds Light on Immune Response in Dengue Infection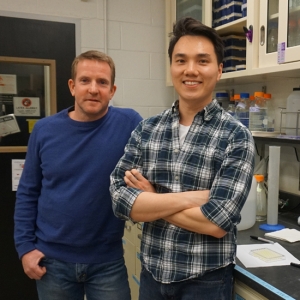 March 28, 2019
Huy Tu, a CMB graduate student and trainee on the Vermont Center for Immunology and Infectious Diseases (VCIID) Training Grant has recently provided new insights into the human immune response to dengue infection in a new paper published online March 8th in the Lancet's open access journal EBioMedicine.
Diana Gerrard Successfully Defends Dissertation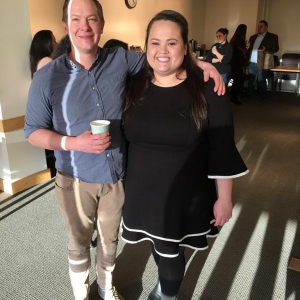 March 8, 2019
Diana Gerrard, CMB student in Dr. Seth Frietze's lab, successfully defended her dissertation entitled "Characterization of Epigenetic Plasticity and Chromatin Dynamics in Cancer Cell Models" on March 8, 2019. Congratulations, Diana!
Christopher Dustin Wins Young Investigator Award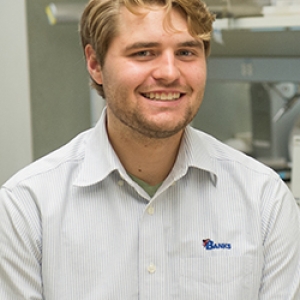 November 20, 2018
Congratulations to Chris Dustin, a CMB student in Dr. Albert van der Vliet's lab, for being selected to receive a Young Investigator Award from the Society for Redox Biology and Medicine! These awards were made available to students and postdoctoral fellows based on a submitted abstract and the presentation of the work at the annual SfRBM meeting, either in oral or poster symposia.Well done!
Joshua Rose Successfully Defends Thesis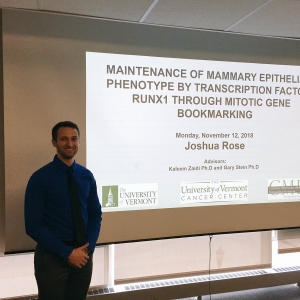 November 12, 2018
Joshua Rose, a CMB student in Dr. Kaleem Zaidi and Dr. Gary Stein's lab, successfully defended his thesis, entitled "Maintenance of Mammary Epithelial Phenotype by Transcription Factor Runx1 through Mitotic Gene Bookmarking". He is currently a Medical Laboratory Scientist II in the Medical Genomics lab within the Pathology and Laboratory Medicine Department at the UVM Medical Center. Congratulations, Josh!
Celebrating Excellence in Research – 2018 Achievements and Awards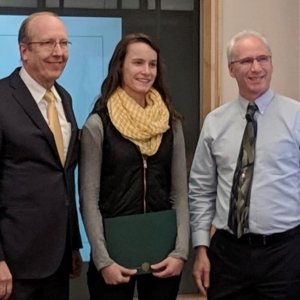 October 29, 2018
The CMB Program was well represented at this year's Celebrating Excellence in Research events through the Larner College of Medicine.
CMB students Alex Thompson and Alisa Cario were the winner and runner-up for the Junior Graduate Category and Christopher Dustin and Leslie Sepaniac were the winner and runner-up for the Senior Graduate Category in this year's Graduate Student and Postdoctoral Trainee Research Showcase!
In addition, CMB Faculty member, Christopher Huston, M.D., received the Senior Researcher of the Year award in the UVM Health Network Medical Group.
Victoria Lynn DeVault Successfully Defends Dissertation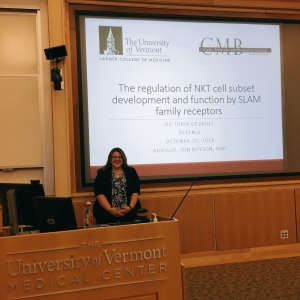 October 16, 2018
Victoria Lynn DeVault, a CMB student in Dr. Jonathan Boyson's lab, successfully defended her dissertation, entitled "Regulation of Natural Killer T Cell Subset Development and Function by Slam Family Receptors". She will be heading to Genocea Biosciences as a Scientist 1 at the end of next month! Congratulations, Vicki!
$12.3 Million NIH Grant Establishes Translational Global Infectious Disease Research Center at UVM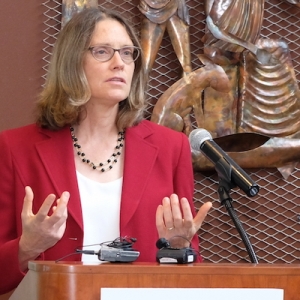 October 11, 2018
CMB Faculty members, Dr. Sean Diehl and Dr. Matthew Kinsey are among those supported by this grant. Dr. Christopher Huston is a co-principal investigator on the TGIR-COBRE.
Specifically, the TGIR-COBRE will incorporate existing research strengths in human Infectious Diseases including the research of Dr. Christopher Huston and the platforms of the UVM Vaccine Testing Center, which include human immunology laboratories, clinical trials capabilities, and collaborations with international investigators and field sites.
Michael Secinaro Successfully Defends Dissertation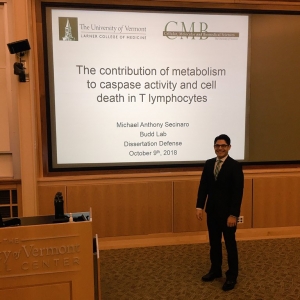 October 9, 2018
Michael Anthony Secinaro, a CMB student in Dr. Ralph C. Budd's lab, successfully defended his dissertation, entitled "The contribution of metabolism to the regulation of caspase activity and cell death in T lymphocytes". He will be starting a new job at the end of the month as a Post-Doctoral Fellow at AstraZeneca in Waltham, MA. Congratulations, Mike!
GRE Scores No Longer Required for CMB Applicants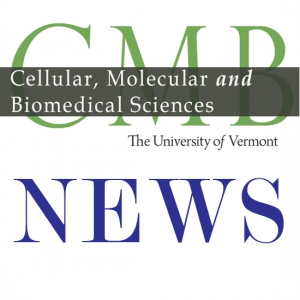 September 24, 2018
Effective September 24, 2018, CMB has joined several other institutions in the decision to eliminate the GRE as an application/admission requirement for the program.
This decision comes from the CMB Steering Committee after much discussion and research on the effectiveness of this application component in predicting graduate student success. Some literature on the matter is below:
Predictors of Student Productivity in Biomedical Graduate School Applications (PDF)
White paper summary of GRE research from the University of Michigan (PDF)
Sharath Chandra Madasu Successfully Defends Dissertation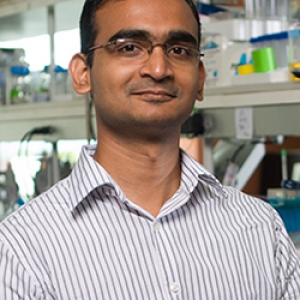 September 27, 2018
Sharath Chandra Madasu, a CMB student in Dr. Anthony Morielli's lab, successfully defended his dissertation, entitled "The metabotropic glutamate receptor mGluR1 regulates the voltage-gated potassium channel Kv1.2 through agonist-dependent and agonist-independent mechanisms in the rat cerebellum". Congratulations, Sharath!