CMB at AAI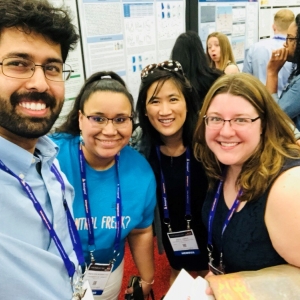 May 7, 2018
CMB students, Abbas Raza, Princess Rodriguez, Phyu Thwe and Vicki DeVault recently attended the American Association of Immunologists conference in Austin, TX. Faculty member, Eyal Amiel, attended as a former public policy fellow for the 2017-2018 season.
Phyu Thwe Successfully Defends Dissertation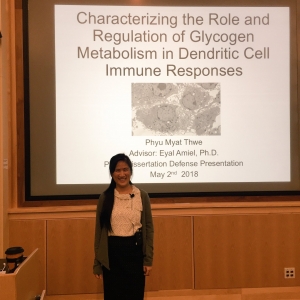 May 2, 2018
Phyu Thwe, CMB student in Dr. Eyal Amiel's lab, successfully defended her thesis entitled "Characterizing the Role and Regulation of Glycogen Metabolism in Dendritic Cell Immune Responses" on May 2, 2018. Phyu has accepted the Postdoctoral fellowship position for the Medical and Public Health Laboratory Microbiology Fellowship Program at University of Texas Medical Branch (UTMB) in Galveston. UTMB is one of the highly selective/competitive fellowship programs accredited by the American Society of Microbiology ASM.
Her training will be tailored towards learning about the role and responsibilities of a clinical microbiology laboratory director, including a rotation in the Texas Department of State Public Health Laboratories in Austin and Houston, rotations in infectious diseases and infection control, and participation in consultative and administrative activities in the microbiology diagnostic laboratory at UTMB.
Congratulations, Phyu!
Jamie Stern Awarded Academic Pathways Fellowship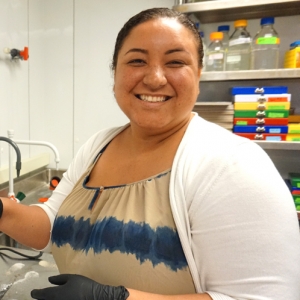 April 19, 2018
Congratulations to Jamie Stern, recent CMB graduate, who has been awarded an Academic Pathways Fellowship for two years! The fellowship is supported by Vanderbilt and the NSF and is designed to prepare recently graduated doctoral students for competitive academic careers. Way to go Jamie!
Yvonne Janssen-Heininger named University Scholar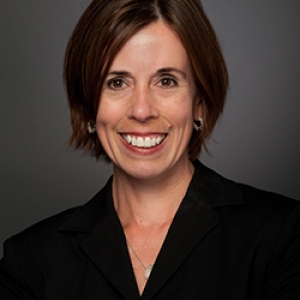 March 27, 2018
The 2018-2019 University Scholars have been announced and CMB faculty member, Yvonne Janssen-Heininger, has been named one of these three distinguished faculty members. They will be honored at the University Scholar Induction Ceremony on Tuesday, April 24 at 4:00 p.m. in Waterman Memorial Lounge.
Jamie Stern Successfully Defends Dissertation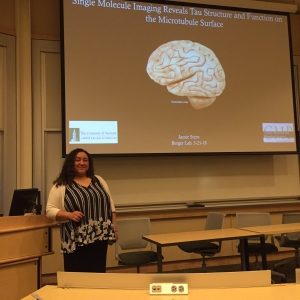 March 21, 2018
Jamie Stern, CMB student in Dr. Chris Berger's lab, successfully defended her dissertation entitled "Single Molecule Imaging Reveals Tau Structure and Function on the Microtubule Surface" on March 21, 2018. Jamie will be starting her post-doc at Vanderbilt University in April. Congratulations, Jamie!
CMB Office has Moved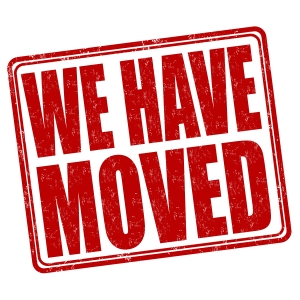 March 9, 2018
The CMB Office and Student Study Lounge has moved to the third floor of Given. You can now find our new space at Given Courtyard Level 3 South!
Rajiv Satish Jumani Successfully Defends Dissertation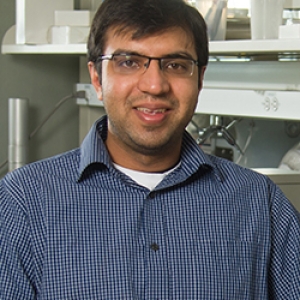 February 27, 2018
Rajiv Satish Jumani, a CMB student in Dr. Christopher D. Huston's lab, successfully defended his dissertation entitled "Methods to Identify and Develop Drugs for Cryptosporidiosis" on February 27, 2018. Rajiv will be starting his job at Norvatis Institute Biomedical Research with an Investigator I position. Congratulations, Rajiv!
Filiz Korkmaz Successfully Defends Dissertation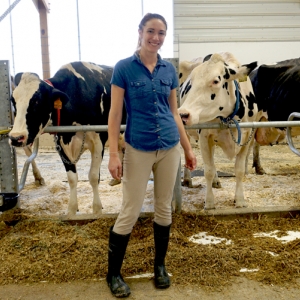 January 9, 2018
Filiz Korkmaz, a CMB student in Dr. David Kerr's lab, successfully defended her thesis entitled "An Analysis of Between-Cow Variation in Innate Immunity in Relation to Mastitis Severity" on January 9, 2018. Congratulations, Filiz!
Students Win Awards at the Society for Redox Biology and Medicine's Annual Meeting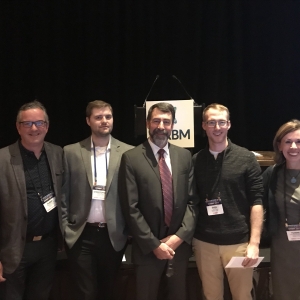 December 4, 2017
CMB students came back from Baltimore last weekend with awards from the Society for Redox Biology and Medicine's (SFRBM) Annual Meeting. Chris Dustin in the van der Vliet lab won a travel award, and Evan Elko in the Jannsen-Heininger lab earned a young investigator award! Their mentors were actively involved in the meeting as well, and are shown with their students in the photo. A congratulations is in order for all!
Wallace Named Fellow of American Association for the Advancement of Science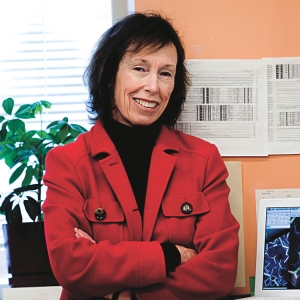 November 28, 2017
Susan Wallace, Ph.D., professor and chair of microbiology and molecular genetics at the Larner College of Medicine and CMB faculty member, has been named a Fellow of the American Association for the Advancement of Science (AAAS). Election as an AAAS Fellow is an honor bestowed upon AAAS members by their peers.
Celebrating Excellence in Research – 2017 Achievements and Awards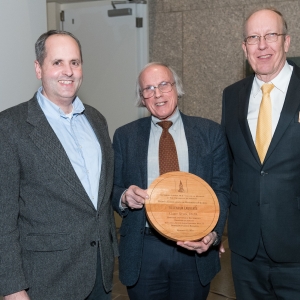 November 12, 2017
The CMB Program was well represented at this year's Celebrating Excellence in Research events through the Larner College of Medicine.
CMB students Dominique Lessard, Devin Champagne, Leslie Sepaniac, and Alex Thompson all received awards and honorable mentions in this year's Graduate Student and Postdoctoral Trainee Research Showcase.
CMB Director, Matthew Poynter, Ph.D., presented the Norman R. Alpert Research Prize to graduate student Jamie Stern. This annual prize recognizes the best peer-reviewed research article by a graduate student in the CMB Program and is announced at our annual Retreat.
And finally, CMB Faculty members Yvonne Janssen-Heininger, Ph.D., Vikas Anathy, Ph.D., Christopher Huston, M.D., and Gary Stein, PhD all received faculty awards.
UVM Co-Rec Intramural Football Champs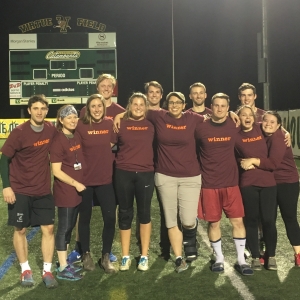 October 22, 2017
The Graduate Student Team (Factor Deuce) played the First-Year Medical Student Team (First, Do No Harm) for the championship in co-rec flag football Sunday night, and won in a defensive battle by a score of 6-0.
Shown in the photo from left to right are:
Dillon Mccarthy (Chemistry), Karen Lounsbury (CMB faculty), Hannah Naughton (CMB), Gregory Johnson (Neuro), Kendal Castele (UVM undergrad), Andrew Lombardo (CMB), Maria Bravo (past CMB), Joshua Rose (CMB), JJ Bivona (CMB), Annalis Norman (CMB), Andrew Lounsbury (UVM undergrad), Noelle Gillis (CMB)
Not shown but also on the team are Rich Downing (UVM Software Engineer) and Anne Kelsen (MMG staff).
Way to go team!
Benjamin King Successfully Defends Dissertation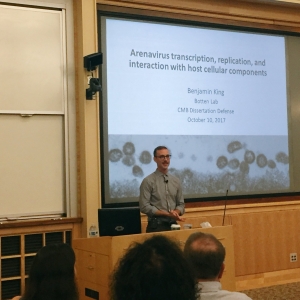 October 10, 2017
Benjamin King, a CMB student in Dr. Jason Botten's lab, successfully defended his thesis, entitled "Arenavirus transcription, replication, and interaction with host-cellular components" on October 10, 2017. He has accepted a Post Doc position at NYU working with Dr. Timothée Lionnet. Congratulations, Ben!
Research Unlocks New Clue in the 'Race Against Time' Between Microbes and Immune Response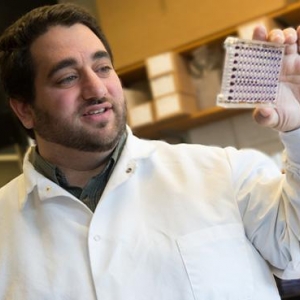 September, 7, 2017
CMB Faculty member, Eyal Amiel, with graduate student, Phyu Thwe publish new findings in Cell Metabolism.
Claire Brooks Receives Student Poster Award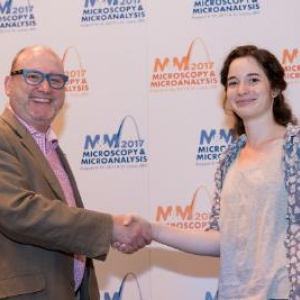 August 30, 2017
Claire Brooks in the Ruiz and Radermacher Labs received an award at the 2017 Microscopy and Microanalysis Meeting for her poster entitled: "3D Structural Analysis and Classification of EmaA, a Collagen Binding Adhesin". Congrats Claire!
Peibin Wo Successfully Defends Thesis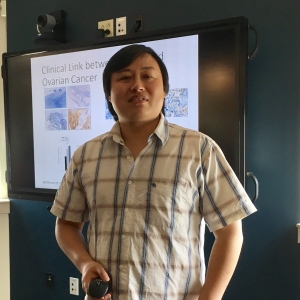 August 10, 2017
Peibin Wo in Dr. Karen Lounsbury's lab successfully defended his thesis, entitled "ASSESSMENT OF A FUNCTION FOR THREONYL-tRNA SYNTHETASE IN ANGIOGENESIS IN A MOUSE OVARIAN CANCER MODEL" on August 10, 2018. Congratulations, Peibin!
Andrew C. Little Successfully Defends Dissertation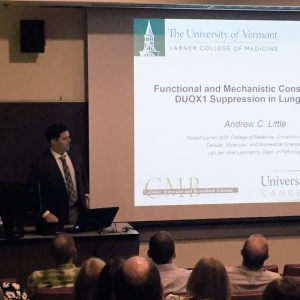 August 9, 2017
Andrew C. Little, CMB student in Dr. Albert van der Vliet's lab, successfully defended his thesis, entitled ""FUNCTIONAL AND MECHANISTIC CONSEQUENCES OF DUAL OXIDASE 1 SUPPRESSION IN LUNG CANCER"" on August 9, 2017. Andrew has accepted a position at the University of Michigan, Ann Arbor. Congratulations, Andrew!
Dr. Benedek Erdos Receives Inaugural Bloomfield Investiture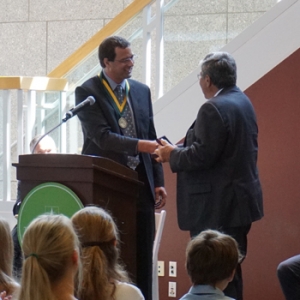 July 31, 2017
CMB faculty, Dr. Benedek Erdos, was invested in a formal ceremony as the inaugural Martin E. Bloomfield '56 M.D.'60 and Judith S. Bloomfield '59 Early Career Professor in Cardiovascular Research. It is the first time ever at the University of Vermont that an early-career professorship has been endowed.
Jason Botten's Team Recognized at Annual SPARK-VT Competition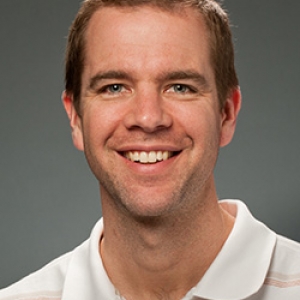 July 6, 2017
A research team led by CMB faculty, Dr. Jason Botten, was recognized for its work to create the first therapeutic for preventing and treating a life-threatening disease caused by hantaviruses. They were one of two University of Vermont-affiliated research teams awarded with SPARK-VT grants this year.
Arvis Sulovari Successfully Defends Dissertation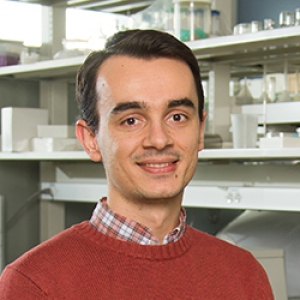 June 14, 2017
Arvis Sulovari, a CMB student in Dr. Dawei Li's lab (MMG), successfully defended his thesis entitled "Integrating Human Population Genetics and Genomics to Elucidate the Etiology of Brain Disorders" on June 14, 2017. He is now working with Dr. Evan Eichler at the University of Washington as a postdoc. Congratulations, Arvis!