Overview
CEE faculty and student research in water treatment, reuse, and environmental biotechnologies addresses key needs in  drinking water treatment, filtration, emerging contaminants, groundwater remediation, wastewater resource recovery, material recovery and reuse, agricultural runoff management, water use efficiency, nanotechnology, solid and organic waste management (water quality implications), and microplastics.
Highlighted Research Projects & Initiatives
Water use efficiency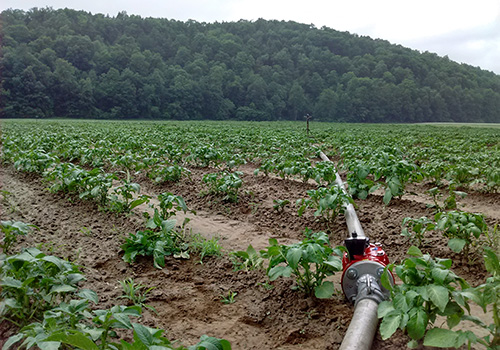 Improving irrigation water use efficiency in vegetable and crop production is a high priority for agricultural producers as they face challenges of climate change and more frequent droughts. We are currently testing various approaches to irrigation scheduling, including sensor technologies, to improve water use efficiency. We have also measured irrigation withdrawals on multiple farms through the growing season and modeled water use efficiency using a water balance approach, comparing different crops and growing environments. Working with UVM Extension, researchers are also identifying appropriate soil moisture monitoring technology for farms in the Northeast.
CEE Faculty: Joshua Faulkner
Collaborating Institutions & Organizations: USDA-SARE, Vermont Vegetable and Berry Growers Association
Agricultural Water Quality Management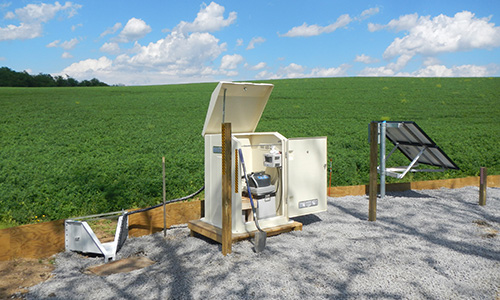 Water quality degradation from agricultural field runoff that contains excess nutrients is a pressing environmental challenge in Vermont and throughout the world. CEE researchers and collaborators study multiple treatment technologies employed at both the farmstead/production and edge of field areas. Working with UVM Extension and many other partners, we are designing and testing of novel denitrifying bioreactors, evaluating effect of best management practices (BMPs) on surface and subsurface water and nutrient fluxes, designing and testing phosphorus removal technologies, monitoring and modeling watershed hydrology and nutrient export from agricultural watersheds in the Lake Champlain Basin, and studying the effects of climate change on agricultural fields.
CEE Faculty: Joshua Faulkner, Eric Roy
UVM Collaborators: Stephanie Hurley, Carol Adair, Don Ross (Emeritus), Kristen Workman, Heather Darby, Jeff Sanders
Collaborating Institutions & Organizations: USDA-NRCS, Soil Health Institute, Newtrient LLC, USDA-ARS, Vermont Agency of Agriculture, Food & Markets