John D. Forcier, P.E. (Chair of the Board)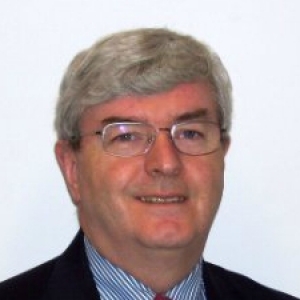 President, Forcier Consulting
John has a B.S. degree in Civil Engineering from UVM (1972). His unique experience includes 19 years in the construction industry and 25 years in consulting engineering, through planning, design, permitting and construction of small multi-million dollar municipal and private renewable energy, biogas, anaerobic digester, wastewater, and composting projects throughout the eastern United States. His related anaerobic digester/biogas experience includes farm-based, commercial, industrial, municipal, and wastewater treatment facility systems utilizing biosolids, manures, food waste, glycerin, SSO, DAF, and FOG. He was honored as the Vermont Engineer of the Year in 2000 and was inducted into Tau Beta Pi as an Eminent Engineer in 1999.
David Adams, P.E.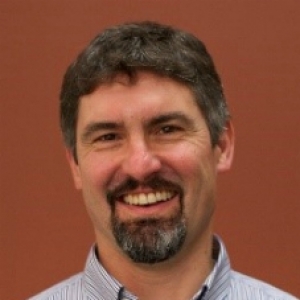 Senior Vice President / Principal Sanborn Head, Burlington, VT
Dave has over 20 years experience and is a licensed engineer in 10 states. He specializes in landfill gas-to-energy (LFGTE) projects, landfill gas system evaluations, air permitting, and interactive data management. He has a B.S. in Mechanical Engineering from UVM (1989) and M.S. in Civil Engineering from the Colorado State University (1992).
Brad Aldrich, P.E.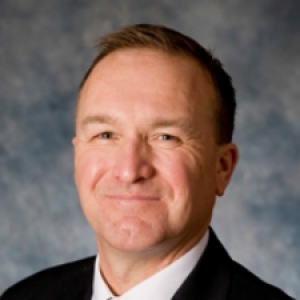 President, Aldrich + Elliott, P.C., Burlington, VT
Brad is a founding partner of Aldrich + Elliott, P.C., formed in 1995, a premier water resource engineering firm in Vermont. A proud graduate of UVM CEE (1981), Brad began his engineering career in the construction industry working for Pizzagalli Construction Company. He moved from construction into consulting engineering in the late 1980's. His current focus is on project management and construction engineering/project delivery. He has been the past President of the National Society of Professional Engineers (2008-09).
Anni Autio, PE, BCEE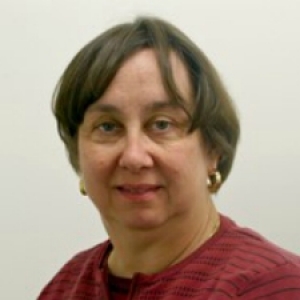 Senior Engineer, The Thompson & Lichtner Co., Inc., Canton, MA
Anni's background includes multidisciplinary team building, technical and regulatory compliance, federal government contracting, construction management, and financial reporting. She is experienced in all phases of environmental projects including air, water, solid waste, and hazardous waste, and is proficient in federal procurement and contracting requirements as well as public policy making. Anni got her B.S. degree in Civil Engineering from Worchester Polytechnic Institute (1982) and attended Executive Master of Business Administration program at Boston University (2004).
Darren Benoit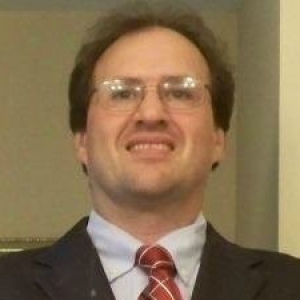 Vice President, Director of Transportation DuBois & King, Inc., Bedford, NH
Mr. Benoit is a transportation manager with over 25 years of experience working on a broad range of civil engineering projects. Over the course of his career, he has managed highway, bridge, and aviation design groups. He holds a B.S. in Civil Engineering (1993) and a Master's in Public Administration (1997), both from the University of New Hampshire. He is a registered professional engineer in all six New England states. He served for nearly a decade as the Government Relations Chairman of ASCE-NH until 2016. He is a past board member of ACEC-VT, head judge of the Northeast Regional Concrete Canoe Competition for five years, a member of the UVM School of Engineering Steering Committee and was the chairman of the 2011 New Hampshire Infrastructure Report Card update committee. He is also a past member of the ASCE National State Government Relations Committee and in 2015 was named the ASCE National Civil Engineering Advocate of the Year. He also currently serves on the board of directors for FM-LP WNHN radio station.
Carolyn W. Carlson, P.E.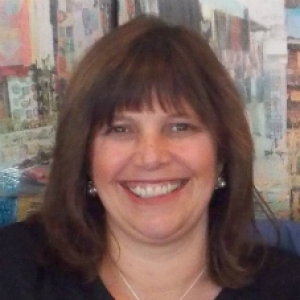 Senior Structures Project Manager,
Vermont Agency of Transportation: Highway Division/ Project Delivery Bureau/ Structures Section, Montpelier, VT
Carolyn has worked at VTrans since she graduated from UVM CEE (1985). She also has a Master's in Business Administration from UVM (1992). Carolyn routinely manages about 20 projects and a staff of 15 engineers and technicians. She has designed and managed over 100 new and rehabilitated bridge projects throughout Vermont. Carolyn has been a member of the Vermont Section of ASCE since 1985 where she served as a board member, including president of the board in 1996. She has been a member of the Vermont Society of Engineers since 1985 and has served on the board of directors for the past 13 years where she advanced through the ranks to board president during 2010 to 2011. She currently serves as the board's treasurer. She actively participates in outreach including planning for Engineers Week in Vermont, judging for MathCounts, and mentoring young engineers both at work and at elementary schools, high schools, and colleges in Vermont. Carolyn was named Vermont Engineer of the Year in 2014.
Amanda Clayton, P.E.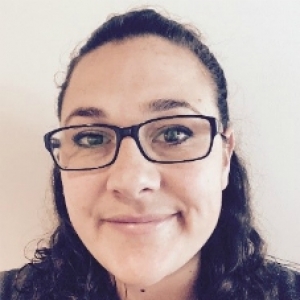 Director of Engineering & Environmental Compliance, Burlington International Airport, South Burlington, VT
Amanda has a B.S. in Civil Engineering from UVM (2005) and a Master's in Business Administration from the University of Rhode Island (2006). Amanda started her career as a staff engineer at Stantec Consulting Services, Inc. She then transitioned to a high-tech company called Utility Risk Management Corporation, where she moved up to a role as a project manager. In 2011, she began her role as the New England Transportation Consortium Coordinator, a position that was housed at the UVM Transportation Research Center (TRC). While working for the TRC, Amanda also acted as the liaison to the Vermont Agency of Transportation Research Advisory Council, and worked closely with the Spatial Analysis Lab for research projects associated with unmanned aerial systems (UAS). Amanda is a member of the Technical Advisory Committee and the Clean Water Act Committee for the Chittenden County Regional Planning Commission (CCRPC), as well as a longtime member of the Vermont Section of ASCE. Her roles on the Vermont Section Board of Directors for ASCE have included Government Relations Representative and President. Amanda is an active member of the Vermont Society of Professional Engineers Eweek Planning Committee and was named Vermont's Young Engineer of the Year in 2011.
Peter DeGraff, P.E.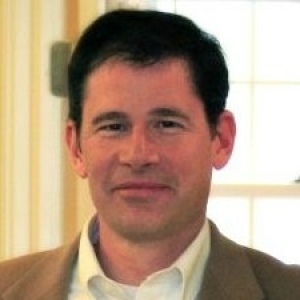 President, Otter Creek Engineering, Inc., Middlebury, VT
Peter graduated from UVM CEE (1985) and has lived and worked in Middlebury, since 1990. He is currently president and founding partner of Otter Creek Engineering. His professional career has been primarily focused on the design and construction of public community water systems throughout Vermont and he has volunteered his experience to assist with water supply projects in rural communities in Central and South America. Peter is an active participant in a number of community organizations, having served on the Porter Hospital Board since 2009, Ilsley Public Library, Sheldon Museum, and Middlebury's Town Hall Theater. He has also been a board member of the Vermont/Honduras chapter of Partners of the Americas and the Vermont Professional Chapter of Engineers Without Borders (EWB), and a technical advisor to the University of Vermont's EWB Student Chapter.
Dr. David Dougherty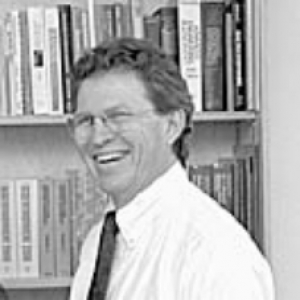 President, Subterranean Research, Inc., Boston, Inc.
Dave is a consultant on issues related to characterization, remediation, and assessment of groundwater and soil contamination. He recieved a B.S. in Engineering from Swarthmore College, and the next year earned an M.S. in Civil Engineering from Tufts University. His career started as an engineer with heavy construction specialty geotechnical contractor Moretrench American and its spinout engineering firm, working on and traveling to groundwater control projects across the country. Dave next attended Princeton University, where he earned a Ph.D. in Civil Engineering, with an interregnum at Dames & Moore and GeoTrans. His academic career began at the University of California Irvine. He was recruited to the University of Vermont, where he was a tenured faculty member in Civil and Environmental Engineering, with a secondary appointment in Computer Science. Dave was dissertation/research advisor to UVM's first awarded Ph.D. in Civil and Environmental Engineering. Since 2001 he has practiced at the consultancy he co-founded.
Steven Keach, P.E.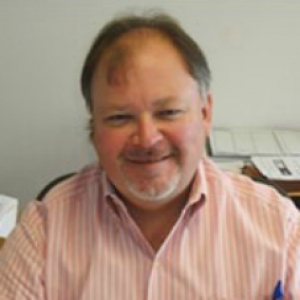 Owner, Keach-Nordstrom Associates, Inc., Bedford, New Hampshire
Steven has a diversified background with over 25 years of experience in civil/site design, land use planning, transportation systems and associated local, state, and federal project permitting. His background includes experience as a member of the Merrimack, New Hampshire Planning Board and as the Town Engineer for several communities in New Hampshire. He has routinely served as lead engineer for dozens of civil/site engineering projects. He specializes in offering municipal services and has assisted various communities in the preparation of their master plans, capital improvements programs, and engineering design assignments for a wide variety of municipal projects. Steve is a proud graduate of UVM CEE (1984).
Jessica Louisos, P.E.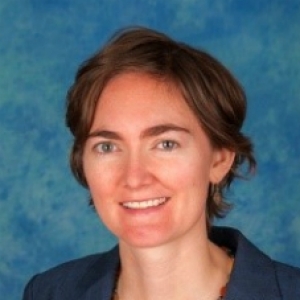 Project Engineer, Water Resources at Milone & MacBroom, Inc., Waterbury, VT
Jessica has BS (2004) and MS (2006) degrees from UVM CEE. She works on a large variety of water resource projects. Typical project goals involve river and/or water management to restore rivers or floodplains, increase aquatic organism passage, reduce flood and erosion risks, improve stormwater management, and protect or replace infrastructure. To accomplish these projects, Jessica has developed technical skills and proficiencies with a variety of hydraulic modeling, hydrologic modeling, and mapping software. She currently serves as the Past-President of the Vermont Section of ASCE and also serves as a Delegate representing Vermont at the Regional level and on the Vermont Engineers Week planning committee. She is a member of the technical society the American Society of Ecological Engineering. Jessica serves her community as Chair of the South Burlington Planning Commission. She received the Vermont Young Engineer of the Year Award in 2013.
James B. McCarthy, P.E.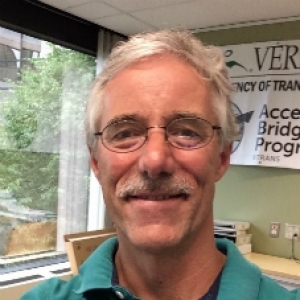 Structures Bridge Maintenance Engineer, Vermont Agency of Transportation, Montpelier, VT
J. B. is currently the Structures Section Bridge Maintenance Engineer at VTrans. This position is responsible for the VTrans' bridge preservation efforts on the Interstate and State Highway System. J. B. has worked for the Agency for over 37 years in a variety of capacities in the bridge engineering field including design, construction, inspection, program management, rail bridge engineering, and bridge preservation practices. J. B. received a BS degree in Civil Engineering from UVM (1979). He is a member of ASCE and also a longtime member of the Vermont Society of Engineers.