Submit CATcard Photo - WEBcard Registration Instructions:
ID Number - Students will use their nine digit student ID which starts with 95 and Faculty/Staff will place a 94 in front of their seven digit Employee ID. 
PIN number is your 6 digit birthdate in MMDDYY format.
You will need a valid email address, this does not have to be a UVM email address.
You will be asked to enter a password. This is not your UVM NetID password but one you select specifically for this purpose.
You will receive a confirmation email to the email address you specified immediately after completing the registration process.
Follow the instructions in the confirmation email to sign into WEBcard Center
Select Notification Preference after signing in to WEBcard Center.  This will allow the CATcard system to send you messages.  These can be set to text or email.
Select Submit ID Photo from the WEBcard Center menu.
See Important Photo Requirements below.     
Ready to begin?  Select the Sign up for WEBcard quick link.   
Issues registering?  Email catcard@uvm.edu with full name and 9 digit student ID # beginning with 95.
  Important Photo Requirements:
Photographs must be in color.
They must be in focus, with a solid white color background without designs or patterns to ensure that the cardholder's head is clearly visible.
The photograph must be a full face, front view of the cardholder, no profiles or angles.
Make sure top of head is not cut off and clearly visible.
As a guide the distance from the base of the cardholder's chin to the top of the head must occupy between 70% and 80% of the height of the photograph.
The cardholder must appear in normal street attire (no costumes), without a hat or other headgear and no dark glasses.
The photo must be that of the cardholder only (no family, friends, animals, objects, etc, are permitted).
If the CATcard office rejects your photo for not following the guidelines, AND you have setup your NOTIFICATION PREFERENCE in WEBcard, you will receive a message stating the reason and you will need to submit a new photo following the guidelines.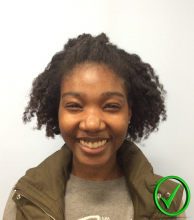 WEBcard makes it easy to:
Submit a photo for your ID, see the requirements above.

Check your CAT$cratch balance.

View transaction history.
Report your CATcard lost and remove lost hold if card found.