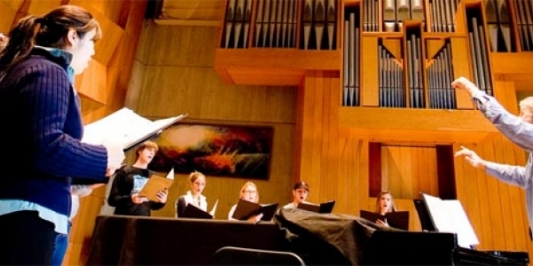 The University Concert Choir is a mixed soprano-alto-tenor-bass chorus of between 30 and 50 students. The group performs standard choral works of all styles and in several different languages. Under the direction of Prof. David Neiweem, the Concert Choir has collaborated with the University Catamount Singers, the University Orchestra, and the Burlington Choral Society.
Performances
The Concert Choir typically performs at the Homecoming Concert and Halloween Organ Concert in October in addition to a full program at the end of each semester.
Repertory
Recent repertory includes performances of Ramirez' "Misa Criolla", Mendelssohn's "Hear My Prayer", and, together with the Burlington Choral Society, several major works including Beethoven's Ninth Symphony and Verdi's "Requiem". The Concert Choir also participated in premieres of new works by Professor Emeritus Thomas L. Read and former Associate Professor Michael Hopkins.
Auditions
Auditions are held at the beginning of each semester, during the first class meeting. Students are not required to prepare material for the audition, but will be tested for range, pitch/rhythm/melody memory, and basic music reading ability.