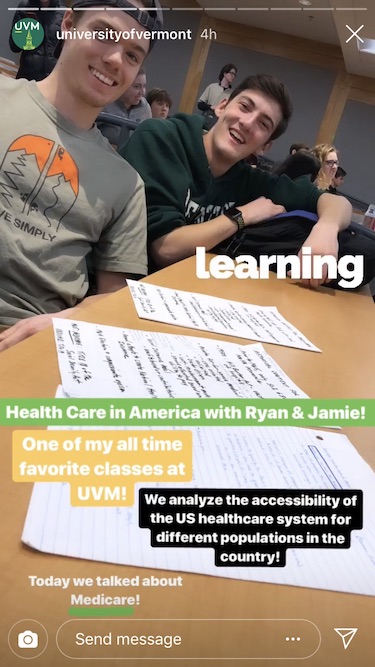 Three core introductory courses (9 credits total):
HSCI 021 Intro to Public Health
SOC 054 Health Care in America
ANTH 089 Global Health, Development, Diversity
One 100-level methods course (3 credits):
SOC 100 Fundamentals of Social Research
STAT 111 or 141 Elements of Statistics or Basic Statistical Methods
Two 100-level courses from the following list (6 credits total):
ANTH 174/SOC 155 Culture, Health, Healing
EDHE 146 Personal Health
ENVS 107/HLTH 107/NR 107 Human Health & Environment
ENVS 181 Environmental Justice
HLTH 103/ANTH 173 Foundations of Global Health
HLTH 105 Cultural Health Care
HLTH 150/HSCI 102 Epidemics – Dynamics of Infectious Diseases
HLTH 155 Racism & Health Disparities
NFS 114 Human Health in Food Systems
Two 200-level courses (6 credits), of which students are encouraged to take one methods course:
ANTH/BIOL 241 Human Evolution and Diversity
ANTH 288 Anthropology of Global Health
CSD 274 Culture of Disability
ENVS 236 Women, Health & Environment
ENVS 237 Human Ecology & Health in Arctic
NFS 244 Nutrition, Health & Disease Prev.
NFS 262 Community Nutrition
PSYS 276/CRES 276 Cross-Cultural Psychology
PSYS 279 Health Psychology
SOC 223 Sociology of Reproduction
SOC 224 Health Care and Aging
SOC 254 Sociology of Health & Medicine
Methods courses therein:
ANTH/BIOL 242 Research Methods in Human Diversity
ANTH 290 Ethnographic Methods
CDAE 250 Applied Research Methods
EDFS 209 Introduction to Research Methods
ENVS 200/HLTH 250/CDAE 295 Community Participatory Research
GEOG 202 Research Methods
GEOG 287 Spatial Analysis
POLS 230 VT Legislative Research Service (with health focus)
SOC 274 Qualitative Research Methods
SOC 275 Methods of Data Analysis in Social Research
STAT 200 Medical Biostatistics/Epidemiology
Nine credits drawn from the list of HSOC electives posted each semester, at least 3 credits of which must be taken at the 100-level or above.
May include any of the courses listed above that have not already been counted toward your degree.
ALL HSOC COURSES (CORE AND ELECTIVE) OFFERED IN FALL 2019
ALL HSOC COURSES (CORE AND ELECTIVE) OFFERED IN SUMMER 2019
ALL HSOC COURSES (CORE AND ELECTIVE) OFFERED IN SPRING 2019