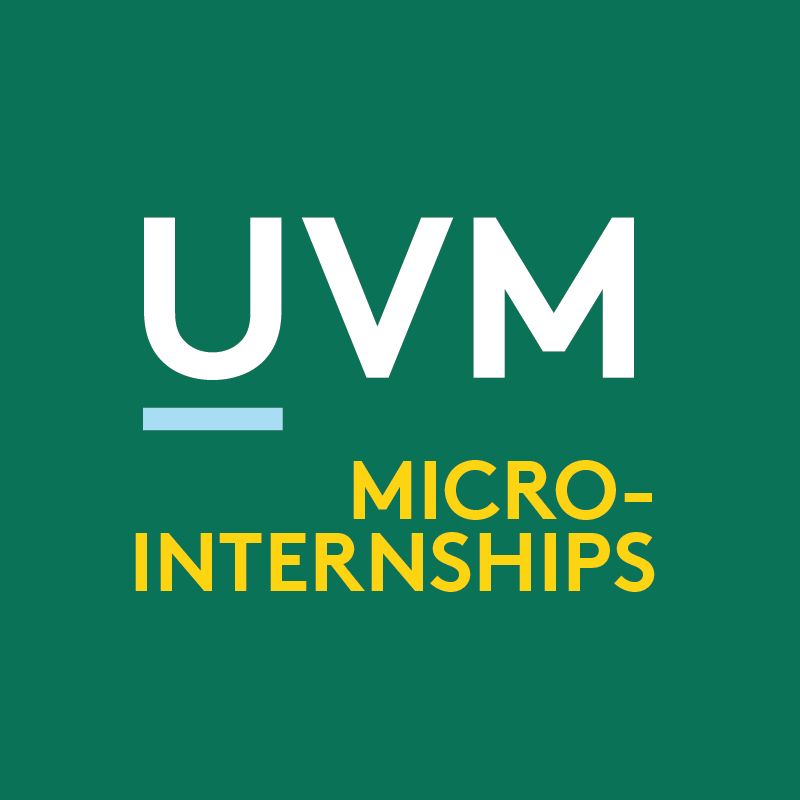 The UVM Micro-Internship Program will connect you with local business leaders who offer coveted, paid projects to build key skills and experiences that will help launch your career. In partnership with Vermont Center for Emerging Technologies and the Vermont Small Business Development Center, the UVM Micro-Internship Program identifies local startups, small businesses, and nonprofit organizations interested in connecting with UVM students who will contribute to their companies success.
What is a micro-internship?
A micro-internship is a flexible, short-term, paid professional assignment, similar to a consulting or contractor position. Unlike a traditional semester-long internship, micro-internship projects will usually involve between 5 and 40 hours of work. They can be done remotely and are offered throughout the year. A micro-internship is a great option for students who wish to gain valuable professional development experience through a short-term commitment.
What are the benefits of a micro-internship?
Micro-internships provide both a meaningful work experience and a direct source of income. While full-time or seasonal positions and internship programs aren't as prevalent due to the pandemic, the flexibility and remote-friendly nature of these projects make them a great fit for busy students seeking new opportunities. 
Micro-internships will help build your professional portfolio and network. You will have new projects for your resume and to reference during future interviews.
Build relationships with new employers to grow your network to access additional connections and opportunities.
Micro-internships provide you with a chance to display your skills to employers and to gain hands-on experience in a particular industry, organization, and role.
Micro-internships provide an opportunity to explore a wide range of possible career paths or focus your existing career goals. The flexibility of these experiences makes them a good fit for students from all class years and majors.
How do I apply for a micro-internship? 
Micro-internships are facilitated via a platform called Parker Dewey, which connects Career Launchers (you!) with companies in need of support. 
To begin exploring local micro-internship opportunities on Parker Dewey, visit the UVM Career Center Portal. Below, you'll find a step by step guide to applying for projects:
Step 1: Create a profile, which takes just a few minutes
Step 2: Search for opportunities. Use the location field to find Vermont employers, and keep an eye out for postings that reference UVM students - these are offered by employers or alums that we have partnered with. You are welcome to apply to any projects within the platform, though! Click "View Details" to read more about each project.
Step 3: Select a project and apply. Most projects have time-sensitive deadlines, so once you find a project that meets your skills, answer the series of questions as soon as possible to be considered by the employer. 
If you are selected for a micro-internship, you will receive an email that includes information on how to contact the employer so that you can discuss a start date and begin working on the project.