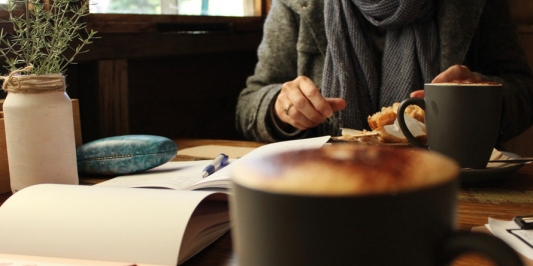 In an effort to support faculty in the pursuit of their own writing projects, WID offers both structured writing groups and drop-in writing retreats.
Writing in Good Company: Structured Writing Groups
WID's Writing in Good Company initiative provides faculty with an opportunity for  routine writing time in structured writing groups. Each small group commits to meeting regularly (typically weekly or every-other-week) for 2-3 hours.  At the beginning of each semester, groups decide amongst themselves how they would like to structure their time.  For many groups, the time spent together begins with a discussion or goal setting with the remaining time may be spent quietly writing; WID provides resources to help each group to find its format.

Writing Groups may be held in-person or through Microsoft Teams for the Spring 2022 semester, depending on survey responses and pandemic conditions.
WID posts an availability/preferences planning survey prior to each semester and uses the information collected to match faculty with colleagues who share the same availability.  To share your interest and availability for Spring 2022, complete our survey by January 21st.
Faculty Writing Retreats: Drop in During Our Retreat Time!
Due to pandemic conditions, we are only holding writing groups during the Spring 2022 semester.
WID's flexible Faculty Writing Retreat offers faculty a companionable, quiet space for writing without a commitment to a writing group.  Faculty bring their laptops or paper, and WID supplies coffee, tea, and snacks. Faculty are welcome to drop in and work for any or all of the Writing Retreat time and as often or infrequently as they wish.  WID's Writing Retreat is offered once a week throughout the semester.