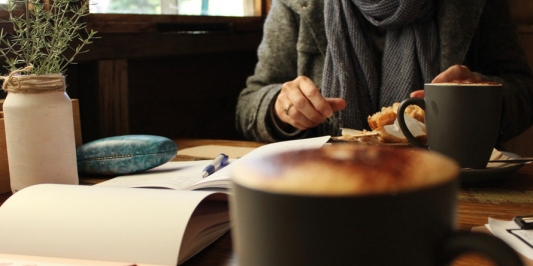 In an effort to support faculty in the pursuit of their own writing projects, WID offers both structured writing groups and drop-in writing retreats.
Writing in Good Company: Structured Writing Groups
WID's Writing in Good Company initiative provides faculty with an opportunity for routine writing time in structured writing groups. Each small group commits to meeting regularly (typically weekly) for 2-3 hours.  At the beginning of each semester, groups decide amongst themselves how they would like to structure their time.  For many groups, the time spent together begins with a brief discussion or goal setting with the remaining time spent quietly writing; WID provides resources to help each group to find its format.
For Spring 2023, a Virtual Writing Group will be held in Teams on Tuesdays, 1-3; and two In-Person Writing Groups will be held in Howe Library on Thursdays, 9:30-11:30, and Fridays, 10-12. Contact us to join one of these groups!
Faculty Writing Retreats: Drop in During Our Retreat Time!
WID's flexible Faculty Writing Retreat offers faculty a companionable, quiet space for writing without a commitment to a writing group.  Faculty bring their laptops or paper, and WID supplies coffee, tea, and snacks. Faculty are welcome to drop in and work for any or all of the Writing Retreat time and as often or infrequently as they wish.  WID's Writing Retreat is offered once a week throughout the semester. 
For Spring 2023, the Faculty Writing Retreat time is still TBD.