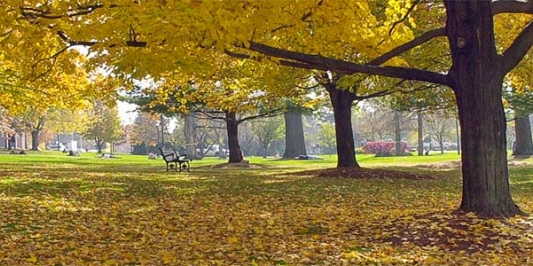 Tips for Successful Parking at UVM
This list of questions and answers is designed to help parking customers use parking resources effectively and avoid common pitfalls. 
Successful parking is defined as: finding a space where my permit allows me to park in less than five minutes from arriving at a legal lot.
Question: Why does this matter?
Answer: Parking at the University of Vermont is regulated to provide adequate space to a variety of parkers. Faculty, staff, students, visitors, contractors, conference attendees, sports fans, and Lane Series patrons (to name a few) all require successful parking to enjoy their time at the University.
While UVM has plenty of parking, the locations are not always seen as convenient by our parkers. Vermonters, natives and new arrivals alike, do not expect to have parking issues here. This is no longer true. Parking in an increasing number of cities and towns takes longer to find, and is rarely in front of a destination.
As an "Environmental University", UVM also seeks incentives and programs to encourage alternate transportation. When members of the University community must drive, UVM assigns parking areas based on need, availability, and transportation services. Because parking is self-funded through fees paid by those who choose to park, the University must make every effort to assure a parking place is available in areas where permits are sold. We must also assure that federal, state, and local regulations are followed.
To keep spaces available and to assure compliance with regulations, the University of Vermont issues citations to those who park in areas other than those assigned. Citations can involve a warning with no fine, fines from $10 to $80, or fines with a tow. While no one likes citations, even those of us writing them, they are necessary to maintaining order on campus.
Make sure you know where your car is parked when you let someone else park your car.
Question:  Why?
Answer: You are responsible for any car you have registered at the University, regardless of who actually parks the car. In this way, you help us keep all vehicles parked legally. This is also true for any parking fine issued anywhere. The ticket is issued to the vehicle rather than the operator.
Never allow anyone else to use your permit when you are not on campus.
Question: Why?
Answer: Permits are issued to the person who registers the vehicle and is not transferable. We assign parking under the assumption that everyone will not park every day. Your permit gives you permission to park only when you are personally at the University.
If your permit is lost or stolen, report it to Transportation and Parking Services immediately.
If your permit is lost or stolen, report it to Transportation and Parking Services immediately. Question: Why?
Answer: You are responsible for any vehicle displaying your permit as long as the permit remains assigned to you. To be sure that you do not receive a ticket for the actions of someone else, report the permit as lost or stolen right away. (Note: We do look for permits reported lost and will issue very expensive tickets to anyone displaying a tag reported lost or stolen. This helps us keep space available for those people assigned to the area.)
If you can't find a space in your preferred lot, move to another lot. Question: Why?
Answer: People often receive tickets out of frustration. Someone arrives on campus too late to look for a legal space, drives around a lot nearest to his or her destination and "abandons" the vehicle in an illegal space, sometimes without knowing options. The problem occurs when a person who is assigned to that space arrives and cannot park. Look at a current parking map and understand your options. Then you can quickly move to an area where you are allowed to park, saving time, frustration, and maybe even a fine.
If you forget your permit, get a temporary tag at the Transportation and Parking office. Question: Why?
Answer: At any time, the University park five thousand people park every day. Our officers are responsible for assuring that each vehicle is legally parked so you can find a spot where you are assigned. Though we have the technology that allows us to know your car is registered, this takes time. The more time we take looking up cars, the less time we have to patrol the lots. Therefore, we ask that every vehicle parked on campus has a permit clearly displayed
If you are in a hurry and have to stop for a moment, emergency blinkers do not excuse you from the parking regulations. This is true in any area, but especially true in roadways and spaces designated for disabled parking. Question: Why?
Answer: State and Federal law requires us to keep all roadways open and handicapped spaces available for persons with the proper identification. The law states that 2% of our spaces must be designated for use by those displaying handicapped placards. These laws will bring our highest fine.
If you are wondering whether a space is legal, check for the following two items: Question: Why?
Answer: The University does not wish to pollute campus with signs in every area where parking is not allowed. In fact, this would be impossible. So, if a space is not marked and the color and time do not match, you are not allowed to park in that area.
A sign at the entrance of the lot with a stripe the same color and designation as your permit, i.e. a green background with Faculty and Staff. Note the time on the lot when your permit is valid. All permits are not necessarily valid at all times. A space
Answer: We issue warnings to let you know you violated a regulation. You get one warning a year, not per violation. Please take a moment to be sure you understand how our regulations work to be sure the warning does not escalate into a fine on the next violation.
No one likes fines, not even us!