Cyanobacteria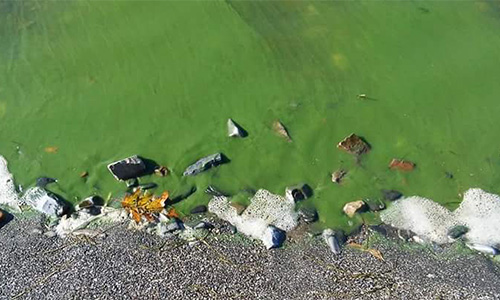 Expansive areas of photosynthesizing bluish-green cyanobacteria in lakes are called blooms. These blooms can contain toxins that can be harmful to both human and other animals' health. A variety of state, local, and regional organizations are engaged in efforts to monitor for the presence of blooms and to alert the public when they are present.
Lake Champlain Sea Grant's focus has been to educate the public about how to keep humans and dogs safe from cyanobacteria toxins. A short video is available below to help people understand how to recognize cyanobacteria blooms, health concerns that result from exposure, and how to keep your dog safe if it is exposed to a bloom.
Lake Champlain Sea Grant staff also developed a public service announcement to share key information with numerous audiences about ensuring the safety of both dogs and humans when blooms are present.
Staff also adapted a New York Sea Grant publication to better focus on Lake Champlain-area resources to help people identify and report blooms. The publication provides links to state environmental and health agencies in Vermont and New York with information on bloom biology, origin, status, and reporting protocols: