The COVID-19 pandemic is creating societal disruptions for everyone—and young people are no exception.
Schools are closed, children and teens are separated from friends and elderly loved ones, and there is a significant loss of normal, everyday routines. Such upheaval during the pandemic can cause depression and anxiety in young people.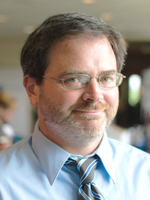 Research of other notable crises—including the 1918-1920 influenza pandemic, the Great Recession, and social disruptions due to war and natural disaster—show that there can be a lag time between the event and when people experience increased distress.
"There can be a rally around the flag effect, where initially in the immediate weeks following the start of a disaster, or in our case, a pandemic when people might really pull together and be supportive of each other," said UVM Larner College of Medicine Assistant Professor Thomas Delaney, Ph.D., in a UVM webinar that addressed children's and young people's mental health during the COVID-19 pandemic. "What you see is that over time, there might be a rebound effect where people are showing more symptoms than they may have prior to the event."
Delaney, who studies suicide prevention and teaches in the UVM Master of Public Health online program, said there is a rise of concerning behaviors in the United States that show the preliminary impacts of COVID-19, including:
Increased calls to crisis lines in the United States
Anecdotal evidence for increases in domestic violence
Possible increases in the use of alcohol, tobacco, and other drugs
Increased firearm sales
COVID-19 Mental Health: Self-Harming and Suicide
According to a report that Delaney presented in 2018, between 2004 and 2017, Vermont's suicide rate increased 30 percent more quickly than the rest of the country. Rates of youth and young adult non-fatal self-injury have also been increasing, both across the country and in Vermont.
Delaney said most people with depression and anxiety would not go on to die by suicide, and suicide deaths are relatively rare in younger people. While suicide-related thinking and non-suicidal self-harming behaviors are common in young people, Delaney said all expressions of suicide and self-harming behavior must be taken seriously.
The COVID-19 pandemic presents enormous mental health challenges for young people. Delaney says that possible increases in self-harming behaviors and suicide could be from:
General increases in social isolation and loneliness
Less access to normal supports
Separation from others in the context of them being ill or dying
Loss of normal routines and rituals
Impact of economic stresses of families
"We should really be thinking, too, about people who have existing vulnerabilities—young people who may already be struggling with depression and anxiety, or young people who have a history of self-harming or suicidality," Delaney said. "It's really important to be checking in with them and helping them to connect to services."
Other Resources and Support
If you or someone you know is depressed or suicidal, and there is cause for immediate concern, there are a number of resources listed on the Vermont Suicide Prevention Center website.
Numbers to Call or Text
Suicide Prevention Lifeline
1-800-273-TALK (800-273-8255)
www.suicidepreventionlifeline.org
VT Crisis Text Line
Text VT to 741741 – Crisis Text Line is FREE – 24/7 support.
You'll receive an automated text response first, and then a response from a trained crisis counselor. They work with you until you are cool and calm and have a positive plan for next steps.
http://vtcrisistextline.org
Veterans Crisis Line
1-800-273-TALK (8255) and PRESS 1
www.veteranscrisisline.net
Additional COVID-19 Resources from UVM Larner College of Medicine Public Health Program.